Gigi Hadid has been a model since she was discovered at the tender age of just two years old. Since she has been in and out of makeup artists' chairs for most of her life, it's safe to say she has learned a thing or two about makeup, and her signature glowy skin, smoldering eyes, and pillowy lips prove this.
Gigi Hadid keeps things simple and sticks to her favorite drugstore brand, Maybelline. She uses foundation, concealer, blush, bronzer, highlighter, setting powder, brow mascara, eyeshadow, mascara, lip liner, and lipstick to achieve her makeup looks.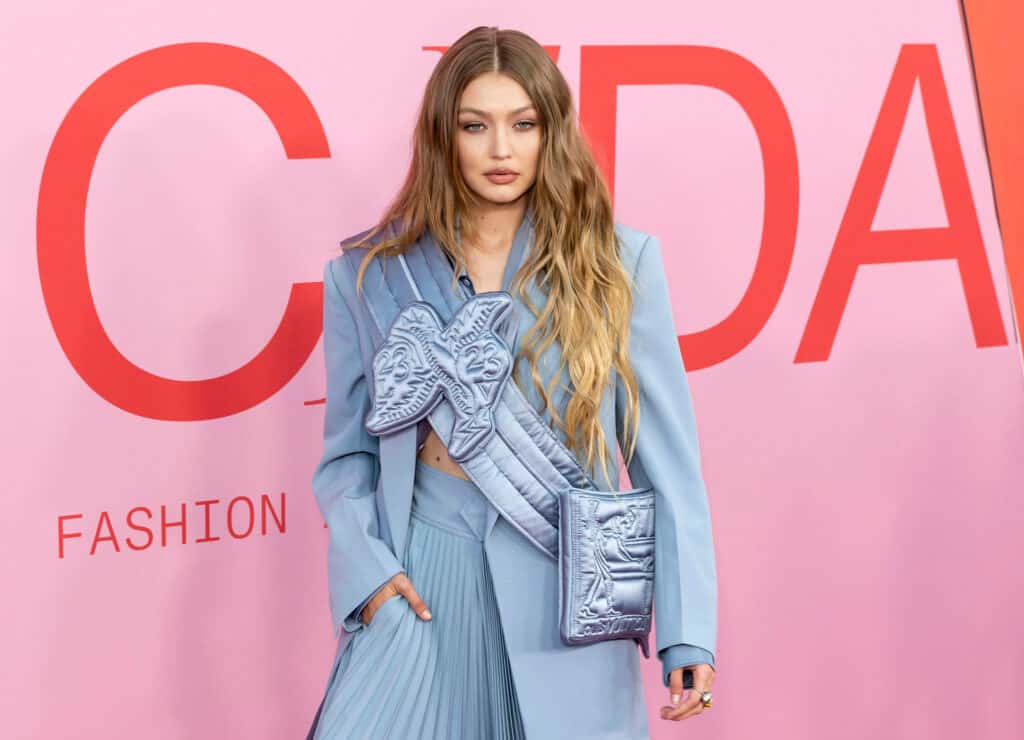 Seeing that Gigi is one of the faces of Maybelline, her makeup bag is overflowing with products from the brand although there are a few stragglers from other brands thrown in here and there. Without further ado, let's take a closer look at her makeup must-haves!
Her Face
The Malibu-born beauty's face has a natural radiance that she enhances using Maybelline's Dream Radiant Liquid Medium-Coverage Foundation in the shades 35 and 40. She is also a fan of the Koh Gen Do Aqua Foundation in the shade 013.
To erase dark circles, cover blemishes, and brighten her skin she uses the Instant Age Rewind Concealer, also by Maybelline. Overall, Gigi's makeup routine is fairly simple and she takes a no-fuss approach to enhancing her natural beauty.
Gigi is a fan of baking and does so by means of the Maybelline Fit Me Loose Finishing Powder in the shade 10 Fair Light. To chisel her face she then applies Maybelline's City Bronzer Powder and softens her face using the Maybelline Cheek Heat Blush in the shade Coral Ember.
Maybelline's Master Strobing Stick Illuminating Highlighter is used to create a fresh-faced and dewy glow. For added shimmer, the Maybelline Master Chrome Highlighter in the shade Rose Gold is applied.
Her Eyes
When applying makeup herself, Gigi likes to stick to neutral shades of eyeshadow and opts for Maybelline's The Nudes of New York Eyeshadow Palette. One of her makeup artists, Erin Parsons, enjoys creating much more adventurous eye looks on the model and frequently shares these to her Instagram account.
To add a little definition to Gigi's famous brows, the Brow Ultra Slim Defining Eyebrow Pencil in Blonde is used followed by the Maybelline Eye Studio Brow Drama Sculpting Brow Mascara or the Brow Fast Sculpt Gel Mascara Eyebrow Makeup. For her lashes, Gigi uses The Falsies Lash Lift Washable Mascara, also by Maybelline.
Her Lips
To perfect her pout, Maybelline's SuperStay Ink Crayon in the shade Trust Your Gut or the Color Show Liners in the shades Magnetic Mauve and Nude Whisper are used to line her lips.
Once her lips are lined, the shade Baddest Beige from Maybelline's Shine Compulsion Lipstick range is applied. Another firm favorite of the supermodel is the Maybelline Sensational Creamy Matte in the shade Daringly Nude.
Describing herself to an intimate audience at her mini master class to launch Gigi Hadid x Maybelline as "a nude lipstick enthusiast" it comes as no surprise that she sticks to nude lipstick. When she does play around with color, she favors classic red lipsticks such as the shade Khair from the collection which she developed in her sister's honor.
Gigi also uses Clear Baby Lips to keep her lips hydrated and generally applies this to her bare lips or before doing her lipstick.
Her Skin
It's safe to say that Gigi's enviably smooth skin is flawless and it seems that the supermodel doesn't need to work too hard to keep it that way. Speaking to Teen Vogue, Gigi's reasoning for keeping things simple is clear "I feel like if you start using 30 products on your face, the second you don't have those 30 products, your skin will need it".
She also says that "I feel like just keeping your skin clean and being good to it is enough". Some of Gigi's favorite skincare products include St. Ives' Fresh Skin Apricot Scrub and Neutrogena's Oil-Free Acne Wash Grapefruit foaming facial scrub.
The supermodel has a skincare philosophy that does not align with those of her high-profile friends but rather sticks to a few products from affordable brands.
Gigi also uses Eucerin's Intensive Repair Very Dry Skin Lotion all over her face and body and she frequently reaches for cleansing wipes when she is too tired to properly cleanse her face. Since the model constantly has her face touched during her workday, she avoids facials and says that she is "so scared of them. I don't want someone touching my face. I get claustrophobic."