Nobody oozes radiance, elegance, grace, and understated glamour the way the favorite former First Lady of The United States Michelle Obama does. The former first lady has enviable features and she sure knows how to accentuate them — or at the very least her official makeup artist does.
Michelle Obama has beautiful skin that is enhanced using foundation, concealer, bronzer, and highlighter. To play up her eyes a combination of eyeshadow, an eyeliner pencil, liquid eyeliner, false lashes, and mascara is used. Lip liner, gloss, and lipstick are the finishing touches.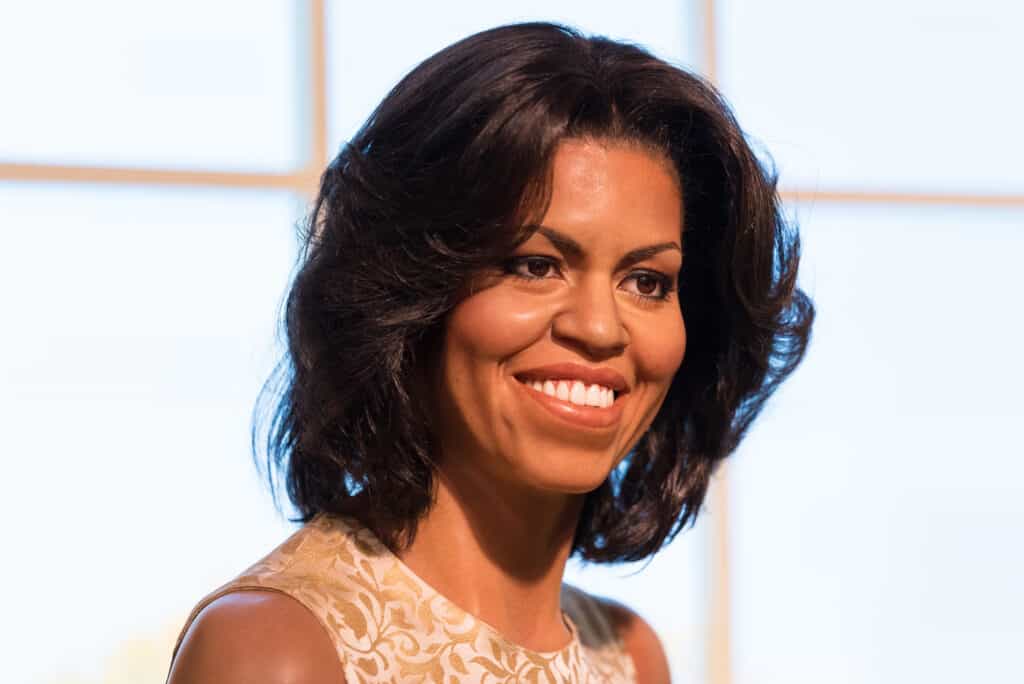 Looking like Michelle doesn't take a village, but instead takes what she calls a "trifecta". With the help of one part of her trifecta, her longtime makeup artist and loyal friend Carl Ray, you're about to discover what makeup products Michelle uses to look the way she always does: flawless.
Her Face
Carl has always liked to experiment with different products from different brands and as such he doesn't have just one product he uses as a foundation on Michelle's skin. In saying that, he does lean towards Make Up For Ever's Ultra HD Invisible Cover Foundation.
To conceal Michelle's under eye area and provide brightness the NARS' Radiant Creamy Concealer is used. To contour Michelle's face, Mac Cosmetics' range of contouring products are called on. Michelle's cheekbones are sharpened by means of Bobbi Brown's trusty Foundation Stick.
That gorgeous Michelle Obama glow is achieved with the help of BECCA Cosmetics' Shimmering Skin Perfector Pressed Highlighter in the shade Prosecco Pop, the Liquid Highlighter from Iconic London, or the Extra Dimension Highlighter from Mac Cosmetics. This highlighter is typically applied to her cheekbones, the bridge of her nose, and on her brow bone.
Carl's Instagram boasts many photos of the American icon and he often lists the products he used in the caption of those photos of his day's work on Michelle. As you will see, he tends to stick to similar products but ventures out into the product range offered by various brands.
Her Eyes
Michelle's bright brown eyes are undeniably one of her very best features. She accentuates them using neutral shadows (Too Faced's Just Peachy Velvette Matte is one of Carl's favorite shades), a little shimmer such as Cub Lidstar from Glossier, a black liner on her waterline, followed by a lick of Stila's All Day Liquid Liner on her upper lash line.
Her eyes are finished off with a pair of Miami false eyelashes from Lilly Lashes and a quick layer of Too Faced's Better Than Sex mascara. To fill in her brows and provide a frame for her eyes, Anastasia Beverly Hills' Defining Brow Pencil or the Dip Brow product is used.
Her Lips
Glossier Lip Gloss in the aptly named shade Red, Fenty Beauty's Mattemoiselle Plush Matte Lipstick, Glossier's Lipstick Gen G – Cake, and Make Up For Ever's Artist Nude Creme Liquid Lipstick are some of Michelle's favorite lip products.
To define her lips for special appearances, Carl reaches for Kevyn Aucoin's Hyacinth before filling them in with Moonglow Soft Pink Nude Lipgloss from Marc Jacobs. Carl has also said that on official visits Michelle's lips reflect the culture of the area.
Her Skin
Wearing too much makeup can wreak havoc on your skin, but luckily Michelle doesn't have to worry about that too much. Michelle is naturally blessed with smooth acne-free unproblematic skin and she uses an assortment of products to keep it that way — while keeping the signs of aging at bay.
The former First Lady of The United States is a big fan of the Peoni line of JB Skin Guru from her facialist, Jennifer Brodeur, which is the star of Michelle's collection of skincare products. Jennifer is also the go-to facialist for Oprah as well as other high profile celebrities.
The specific products she uses from the Peoni line are the L'extrait — which she uses every day — Le Nettoyant cleanser, and La Creme primer. Ice Water Eyes under-eye Collagen Treatment is used to eliminate any puffiness around the eyes and WithinUs' TruMarine Collagen Replenish on The Go collagen supplement is used for Michelle's skincare routine while flying.
Along with her more expensive products, Michelle also uses the affordable Cetaphil to cleanse her skin and moisturizes using Kiehl's Facial Cream. She finishes her skincare off with a light application of Simply Zine Ultra Sun Whip SPF 50 and is ready to brave the day.