Barack and Michelle Obama have met and made a lot of friends throughout their time in office. However, they have known most of their close friends for decades.
Barack and Michelle Obama's closest friends are Marty Nesbitt, Valerie Jarrett, Eric Whitaker, George W. Bush, Dr. Sharon Malone, Denielle Pemberton-Heard, Kelly Dibble, Beyoncé, and Jay-Z. They have other friends but these are all people who the former POTUS and FLOTUS are the closest. They are also very tight with their daughters Malia and Sasha.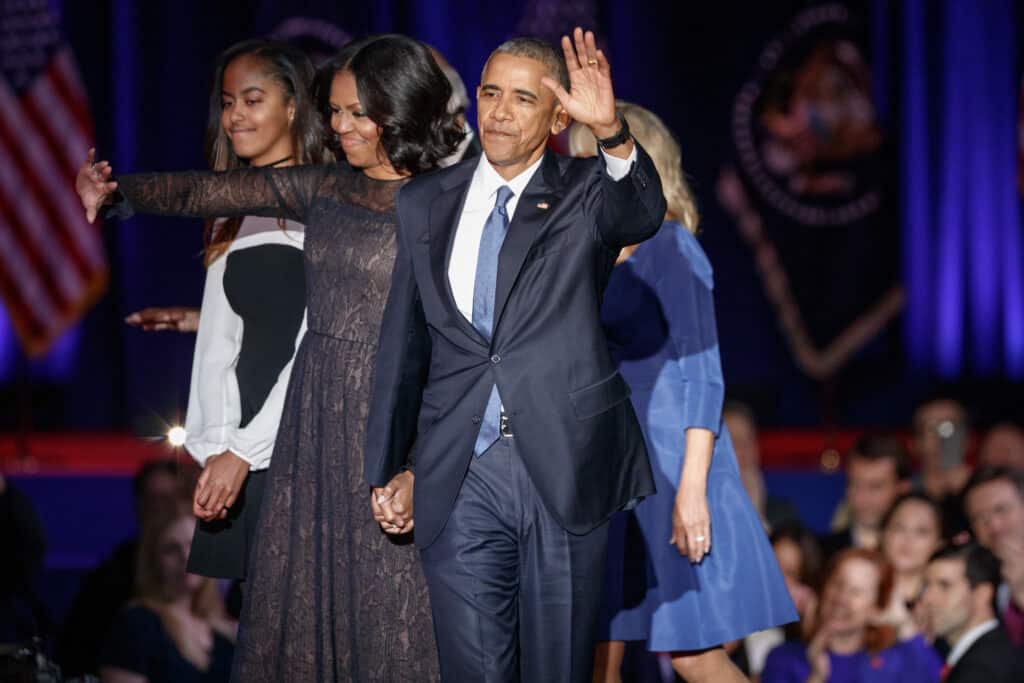 Scroll down to read more about Barack Obama's closest friends, Michelle Obama's closest friends, and the couple the two are closest with as well.
Barack Obama's Closest Friends
Of the list of people above, Barack Obama is personally closest with Marty Nesbitt, Valerie Jarrett, and Eric Whitaker. Who exactly is this group of people though?
Well all three of them stood by the former President of the United States side while he went through a grueling campaign to become the leader of the Democratic Party back in 2008. He was up against Hilary Clinton and the race was neck in neck.
Marty Nesbitt is the proclaimed best friend of Barack Obama. Nesbitt met the Obama's through Michelle's brother, Craig Robinson, and he became very close with Barack.
He worked as the campaign treasurer for Barack Obama during his 2008 campaign. Barack also entrusted Nesbitt with sketching out a life for him and his family post-presidency, as well as working with The Obama Foundation.
Valerie Jarrett has known Barack Obama since the 1990s when she was the recruiter working to have Michelle moved to Chicago for a job. She worked as Barack's Senior Advisor while he was in office.
After Obama's term as President was over, Jarrett moved on to work as a Senior Advisor for the Obama Foundation in a voluntary capacity.
Finally, Eric Whitaker is a physician who served as the Director of the Illinois Department of Public Health from 2003 to 2007. He and Barack Obama met while they were both grad students at Harvard University.
He and Barack often play pickup games of basketball together. After Barack's Presidency, Whitaker founded and began operating Pipeline Health, a company that runs for-profit hospitals in the United States.
Watch Michelle Obama impersonating her husband Barack in the below video from The Late Show with Stephen Colbert.
Michelle Obama's Closest Friends
In August 2020, Michelle Obama had an impactful discussion with three of her closest friends on her podcast. Those three friends were Dr. Sharon Malone, Denielle Pemberton-Heard, and Kelly Dibble.
Dr. Sharon Malone is an obstetrician and has appeared on The Michelle Obama Podcast on more than one occasion. The two have even gotten very candid about experiencing menopause.
Dr. Malone met Michelle during Barack Obama's early days as President. Their friendship began after Obama invited Malone to lunch.
Denielle Pemberton-Heard is the Chief Legal Officer and Managing Director of Diversified Search. Like Michelle Obama, she also has her JD, however, not from Harvard.
How Pemberton-Heard and Obama met isn't exactly known, but Michelle has said that Denielle has been a part of a solid support system during the coronavirus pandemic.
The third person on that episode of Michelle's podcast was Kelly Dibble who is the Director of Public Affairs and Government Relations for Northern Trust Corporation. She knows Michelle Obama from when they both lived in Chicago.
Michelle Obama has one other close friend that seems to shock most people when they find out who he is. That person is the former Republican President George W. Bush.
The two met when Barack Obama was inaugurated in 2009. They inevitably became friends through the seating arrangement protocol for events that involve former Presidents; they were always sat beside each other.
Other Couple's Barack and Michelle Are Friends With
While they are certainly friends with the spouses of their above-mentioned closest friends, the role of President has given Barack some celebrity couple connections. One of those connections is with Beyoncé Knowles and Shawn 'Jay-Z' Carter.
Although it is unclear when the Obama's met the Carter's, it was probably when Beyoncé performed at the Inaugural Ball in 2009. Since leaving office, Barack and Michelle have been spotted at Beyoncé and Jay-Z's concerts.
They were even filmed dancing in a box at one of the concerts in 2018.
While they have made many connections throughout their extremely successful careers, all of the people above are the ones that Michelle and Barack Obama are closest with.