Michelle Obama is an attorney, author, and philanthropist who is dubbed by many as 'The Forever First Lady'. The former First Lady of the United States is a champion for education, but what was her own like?
Just like her husband, Barack Obama, Michelle Obama has chosen not to reveal her SAT score. The former First Lady was famously quoted saying "If my future were determined just by my performance on a standardized test, I wouldn't be here. I guarantee you that."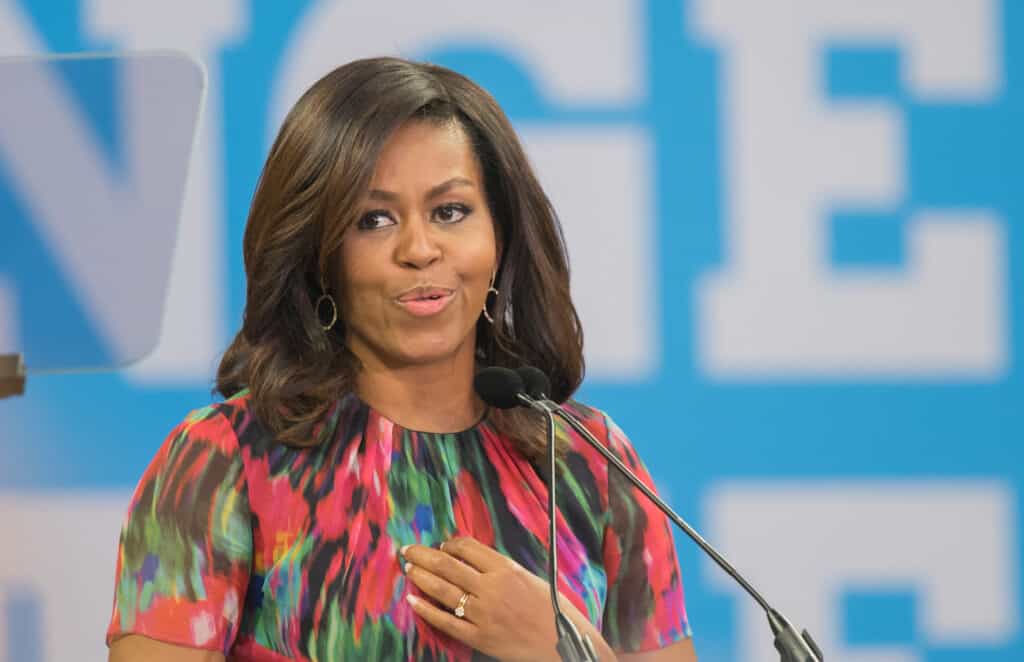 Michelle is extremely proud of her education, as she should be. Read on to find out everything there is to know about Michelle's thoughts on standardized tests like the SATs, her education, and how she fights to ensure other girls are afforded the same educational opportunities she was.
Michelle Obama's Early Education
Michelle was born and raised in the South Shore community area of Chicago. She describes her childhood as "conventional" in the sense that it was "the mother at home, the father works, you have dinner around the table."
Her first school, Bryn Mawr Elementary School, was located just down the street from her home. She skipped the second grade and by the time she hit sixth grade she was placed in a 'gifted class' for advanced learning and graduated as a salutatorian.
After graduating, she was enrolled in Whitney Young High School which was a selective enrollment magnet high school that was more than three hours away from her home.
During her time at high school, she was an honor roll student each year, served as Treasurer on the student council, took advanced placement classes, and was a member of the National Honor Society.
Michelle Obama's Higher Education
When Michelle graduated from high school in 1981, she followed in her brother's footsteps and attended Princeton University. At the university, she majored in sociology and minored in African-American studies.
Michelle describes education as "a very personal thing to me" and told Glamour Magazine "I wouldn't be here, sitting here not just in this chair but in the life that I have, if it weren't for my education." She goes on to say "Through my education, I didn't just develop skills, I didn't just develop the ability to learn, but I developed confidence."
When speaking of how her education boosted her confidence, she says "I mean, going to Princeton from a predominantly working-class community, a public school where people told me I couldn't do a whole range of things, and then going to one of the top schools in the world and being able to compete and thrive — that is an ultimate confidence booster."
Though she thrived at the college, graduating cum laude in 1985, Michelle faced both racial and economic discrimination. After graduating from Princeton University, Michelle headed to Harvard Law School and earned her Juris Doctor degree in 1988.
As a student of Harvard Law School, Michelle campaigned for hiring more minority professors and worked for the Harvard Legal Aid Bureau to assist with housing cases for low-income households.
Michelle Obama's Contributions to Education
Whether she's the First Lady or not, Michelle is committed to improving education and empowering students. In her capacity as First Lady, she supported the Let Girls Learn program, the Reach Higher initiative, hosted a Fashion Education Workshop, drafted a bill to improve the nutritional content of school lunches, and brought awareness to the "appalling" ratio of school counselors to students.
In her capacity as the former First Lady, she launched the Global Girls Alliance. This organization "seeks to empower adolescent girls around the world through education…We engage people around the world to take action to help adolescent girls and the grassroots leaders working to educate them."
The influential public figure is deeply committed to bettering girls' education. She backs up her cause by saying "When girls are educated, their countries become stronger and more prosperous. Every girl, no matter where she lives, deserves the opportunity to develop the promise inside of her."
Michelle has also publicly supported several charities that focus on children and education. Some of these charities include Healthy Child Healthy World, PeacePlayers International, George W. Bush Institute, Partnership for a Healthier America, Entertainment Industry Foundation, and Be the Change.