Oprah Winfrey is known for her impeccable tastes and widespread influence; from her popular book club to her holiday gift list, people follow her lead. It makes sense to want to know how she gets her signature makeup look, too.
Oprah Winfrey wears smokey eye-based makeup looks from various makeup brands, from the drugstore brand Maybelline to high-end Dior. She tends to wear neutral nudes in her daily makeup, then changes to a striking night look with a bold lip color.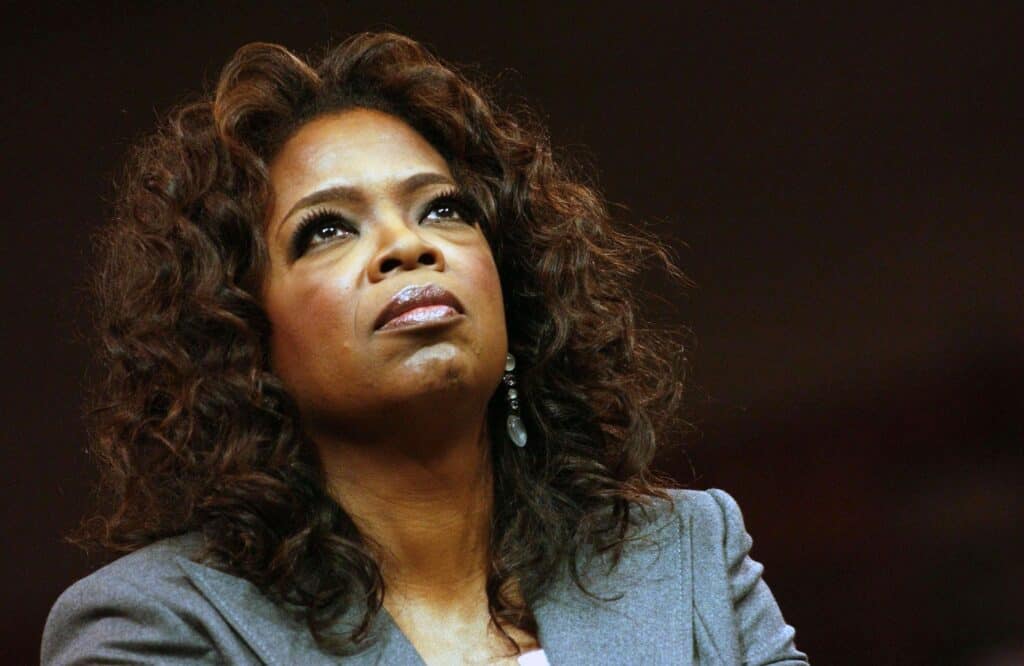 As a beloved talk show host and American icon, Oprah Winfrey understands the importance of putting one's best face forward. Thankfully, Oprah Winfrey and her trusty makeup artist, Derrick Rutledge, are gracious enough to share her beauty secrets for anyone looking to achieve a similar polished look.
Oprah's Makeup Favorites
Generally, in her day to day appearances, Oprah Winfrey goes for a toned-down yet sophisticated natural look. She often opts for a smokey eye in all her looks, although this is usually done in neutral shades for her everyday makeup.
For example, in a promotional Instagram video for her World Tour with WW (formerly Weight Watchers) in 2020, she wore a subtle brown smokey eye with a nude lip.
However, Oprah Winfrey likes to go for a bolder and luxurious look for special occasions, often choosing bold lip colors and smokey eye-based makeup looks. For example, for an online graduation Instagram post for the class of 2020, she opted for a shimmering pink lip and a lovely purple smokey eye for the special occasion.
Considering that this class graduated into the challenges of a pandemic, it was a kind sentiment to share to make their graduations special in a difficult time.
Although her look may change, and she goes between bold red matte lips to shimmering gold glosses, in the end, her makeup embodies Oprah herself; elegance and class.
Achieving the Look
If you want to achieve Oprah's put-together makeup looks, there are some simple tricks to know. For O Magazine's 2017 cover, Oprah Winfrey's preferred makeup artist, Derrick Rutledge, shared how he achieved her cover-worthy makeup look.
For the statement eye-based look that is Oprah Winfrey's signature, Rutledge used Dior's "Diorshow Pump'N'Volume Mascara," which goes for $29.50 at sephora.com. He said that the trick for truly voluminous lashes is to use multiple coats to build up the contrast to an otherwise neutral (but elegant) look.
If $30 is a little steep for you, Oprah also uses affordable options.
Derrick Rutledge uses the warm metallic neutrals of the Maybelline's "New York The City Mini Palette in Chill Brunch Neutrals," which retails for around $10 at ulta.com, to add dimension to Oprah's eyelids.
He says that layering a lip gloss over a matte lipstick gives a shine that stays. This technique also creates a two-dimensional look to the lips, creating an eye-catching plumping effect.
Although Rutledge used a product that is now discontinued, Lancôme's "Le Metallique Metallic Lip Lacquer," there are some reliable dupes available such as Kevin Aucoin's "Glass Glow Lip Gloss," which is $26 at sephora.com.
Derrick Rutledge is an expert makeup artist, especially for people with dark skin tones, having worked for incredibly high-profile clients such as Michelle Obama and Beyoncé in addition to Oprah Winfrey. He told Fashion Magazine that no matter what you add to your makeup, the real secret to fantastic makeup looks is building upon a flawless foundation base.
The trick is to use three different foundation colors (one light, one medium, and one dark) to contour and match the natural pigmentation of actual skin. That way, the base looks dewy and in his words, "kissed by the sun" instead of cakey.
Although it can be challenging to find the right foundation shade, Rutledge suggests asking for a sample instead of simply trying to match from the bottle or the shade swatch at the store, as foundations can wear differently throughout the day and in natural lighting.
Derrick Rutledge also credits a well-polished brow as the perfect final touch to create a makeup look. You can do this at home by taking a white eyeliner pencil, sketching out your ideal eyebrow shape, and then tweezing around your outline.
Oprah's signature look is a glowing foundation base, a shimmering or bold lip, and a blended smokey eye.
However, suppose you truly want to embody Oprah Winfrey's signature look. In that case, it is simply about taking the time for beauty and self-care and allowing oneself to indulge in luxury from time to time.