The color pink and cotton candy come to mind when thinking of Ariana Grande. You know that she has to smell amazing so what perfume does she wear?
Ariana Grande wears Tom Ford Neroli Portofino Acqua, Amouage Blossom Love, Trish McEvoy Sexy 9, and Viktor&Rolf Flowerbomb. She is a big fan of floral scents and has even released six of her own fragrances. They are Cloud, Thank U, Next, Sweet Like Candy, Moonlight, R.E.M., and Ari by Ariana Grande.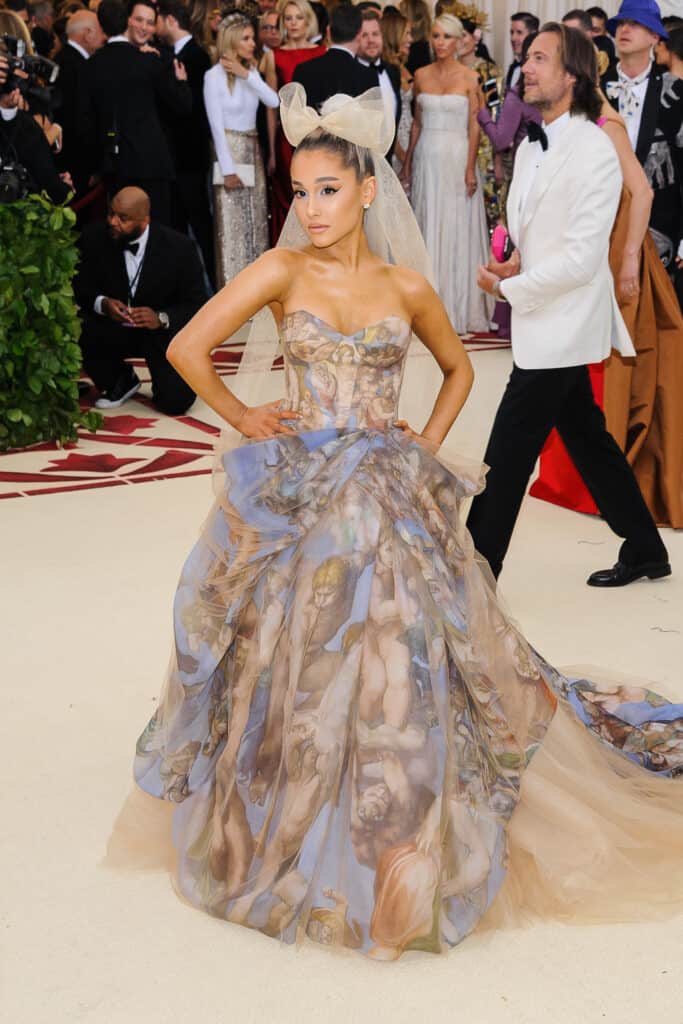 Here is some more information about the perfume that Ariana Grande wears and her own fragrances.
Ariana Grande's Favorite Perfumes
Grande is a huge fan of fragrances so it's no shock that she likes to wear a lot of different scents. Her favorites are also a range of citrusy and floral scents that give off that sweet smell you would expect the 'Positions' singer to smell like.
The first fragrance on the list that Ariana Grande wears is Neroli Portofino Acqua by Tom Ford. This is a Citrus fragrance that was created by the senior perfumer at Givaudan, Rodrigue Flores-Roux.
Flores-Roux has been behind scents made not only for Tom Ford but for Elizabeth Arden, Avon, Clinique, and Dolce & Gabbana. He is known as the master of citrus and floral perfumes and was behind the famous perfume, Clinique Happy.
As for the Tom Ford fragrance, it has top notes of bergamot, petitgrain, and lemon, followed by a heart of neroli and orange blossom. At its base, Neroli Portofino Acqua features amber wood and white musk.
Next up on Ari's faves is Amouage Blossom Love which comes in a light pink bottle and box that features cherry blossoms on it. You can probably guess what at least one of the notes in the fragrance is already.
This floral scent has top notes of cherry blossom nectar and rose liquor. At its center are ylang-ylang, amaretto accord, and vanilla, and its base features tonka bean, sandalwood, and cashmeran.
Blossom Love is not an inexpensive fragrance either. It costs $270 for a 50ml bottle.
Arianna also loves the fragrance Sexy 9 Blackberry & Vanilla Musk Eau de Parfum by Trish McEvoy. This floral fruity gourmand is highly rated by fragrance lovers with over four stars out of five on multiple platforms.
It has a medley of scents that make it a unique fragrance. With top notes of blackberry, mandarin orange, and amazon lily, heart notes of patchouli, Tiare flower, and osmanthus, and a base of vanilla, musk, cashmere wood, amber, and sandalwood.
Finally, Viktor&Rolf Flowerbomb is an explosively floral scent that was created by four award-winning perfumers for the company's 10-year anniversary. It features notes of tea, bergamot, osmanthus, orchid, jasmine, rose, vanilla, and musk to name a few.
Ariana Grande's Fragrance Line
The '7 Rings' singer has been busy in the world of fragrances since 2015 when she released her very first perfume, Ari by Ariana Grande. She partnered with the company Luxe Brands to create and distribute her fragrances worldwide.
You can watch Gabriela Francesca who reviews every single one of Ariana Grande's fragrances in the below video.
When she announced the release of the fragrance, Ariana Grande said "I love fragrance, it is something I have been obsessed with all my life. As a fragrance debut of my very own, I really wanted it to be personal, that's why I named it ARI. I love everything about it. It is so fun and true to me. The scent is sweet, yet sexy, with some surprises underneath."
The Ari fragrance comes in a round pink bottle with geometric shapes on it and a pom-pom. It has top notes of crispy pear, pink grapefruit, raspberry, middle notes of soft Muguet, rosebuds, and vanilla orchids. Its base includes marshmallow, creamy musk, and blonde woods.
The next fragrance she released was Sweet Like Candy in 2016 that featured notes of blackberry, Italian bergamot, pear, jasmine sambac, frangipani, honeysuckle, creme de cassis, marshmallow, cashmere wood, and vanilla.
Moonlight was released in 2017 and it used notes of plum, black currant, marshmallow, peony, vanilla, sandalwood, and amber. 2018 saw Cloud released which featured some less used notes like praline and whipped cream.
In 2019, she released Thank U, Next which used another unusual note of macarons, and 2020 saw the release of her perfume R.E.M. that uses a lot of sweet notes.
Overall, her perfume lines show her love for all things sweet, fruity, and floral. Something we see in Ariana Grande's taste in other perfumes too.