LeBron James is one of the greatest basketball players of all time. Famous for being drafted out of high school by the Cleveland Cavaliers, those not familiar with basketball might be wondering which position LeBron James plays.
LeBron James plays the small forward and power forward positions. Though James is considered to be one of the few players who have the skills to handle all five positions on a basketball court, he is officially a small forward and power forward.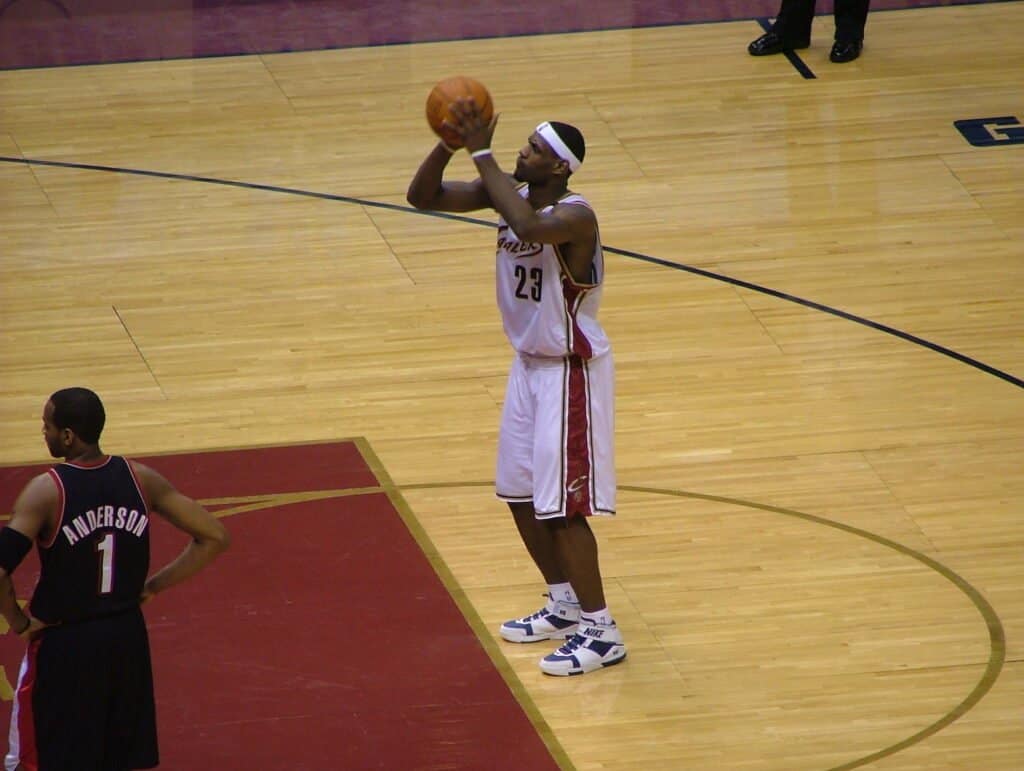 Read more below about LeBron James' meteoric rise to the NBA, the different positions on a basketball team and whether LeBron James will ever play in a different position.
Chaotic Childhood and The Makings of a Sports Superstar
LeBron James was born December 30, 1984 in Akron, Ohio. James had a tumultuous childhood, born to a teenaged mom and a convict father, the NBA star moved around a lot when he was young, while his mom tried to support the duo.
When LeBron was in fourth grade, his football coach invited the future NBA star to live with his family. LeBron's life began to turn around after the move and he continued to hone his football skills, as well as improving his attendance at school.
Though football was his first sport, James began playing basketball as a freshman in high school. LeBron's skills were unparalleled and he became the first high school underclassmen to appear on the cover of Sports Illustrated.
By the time he graduated, he had been drafted by the NBA. In 2003 he debuted as a team member for the Cleveland Cavaliers. The following year his career skyrocketed. Over the next 17 years, LeBron would go on to be considered one of the best basketball players of all time and helped to lead his team to multiple championships.
Not only that but the pro player has become a celebrity in his own right, amassing an estimated fortune of $450 million. The NBA star also routinely takes to Instagram to share snaps from games and of his personal life.
A Brief Lesson in Basketball
Now, LeBron James is obviously a tremendous athlete, but just what makes him such an incredible basketball player? To understand that, one needs to know about the five positions on a basketball team.
The point guard is the heart of the team, runs offense and is usually the best at handling the ball.
The center is the tallest player on the team, who tries to score shots and rebounds, but also blocks opponents from making baskets when playing offense.
The shooting guard is good at making shots from long distances
The small forward canvasses the entire court. They can make baskets from anywhere on the court as well.
The power forward acts much like the center, covering the basket, but has a longer shot than the center.
Positions and Prowess
Part of LeBron James' prowess as a power forward is that he's taller, faster and more aggressive than other power forwards in the NBA, but he's also able to play all the positions on the court when needed. The ball player is so great that famed NBA star Magic Johnson said of James, "First of all, let's not take anything away from LeBron James. Because LeBron James is a great basketball player, one of the all-time greatest that's ever played the game. LeBron James to me, when you think about all-around basketball players, he's probably the best of all time."
You can watch a compilation of LeBron James' best moments on the court in the YouTube video below.
In 2018, LeBron James joined the Los Angeles Lakers. The Lakers are one of the most lauded teams in the NBA, with 16 championships and dozens of other titles.
Though he is still a small forward and a power forward, when LeBron started with the Lakers, they opted to have him play point guard. Though it was not a position he was used to, it was something he excelled at. Speaking of his new position on the team, James said, "I'm getting better and better at the point guard position. Just trying to know where my guys are, put them in a position to just be able to catch and shoot, catch and lay the ball up. Just making them as comfortable as possible out there, and coach Vogel is allowing me to run the show."
There's no word yet on which position LeBron James will be playing when the NBA resumes its season after the global pandemic shutdown, but it's clear that James' unmatched skills mean he'll put on a great game, no matter which position he's playing.