So many athletes show their religion on the field or court or rink through praying and giving thanks at the end of games. So does the Golden State Warrior's star point guard, Stephen Curry, have a religion?
Stephen Curry's religion is Christianity. He has been going to church every Sunday since he was a baby and he also attended youth services on Wednesday nights every week growing up. He says his faith is responsible for his successful basketball career.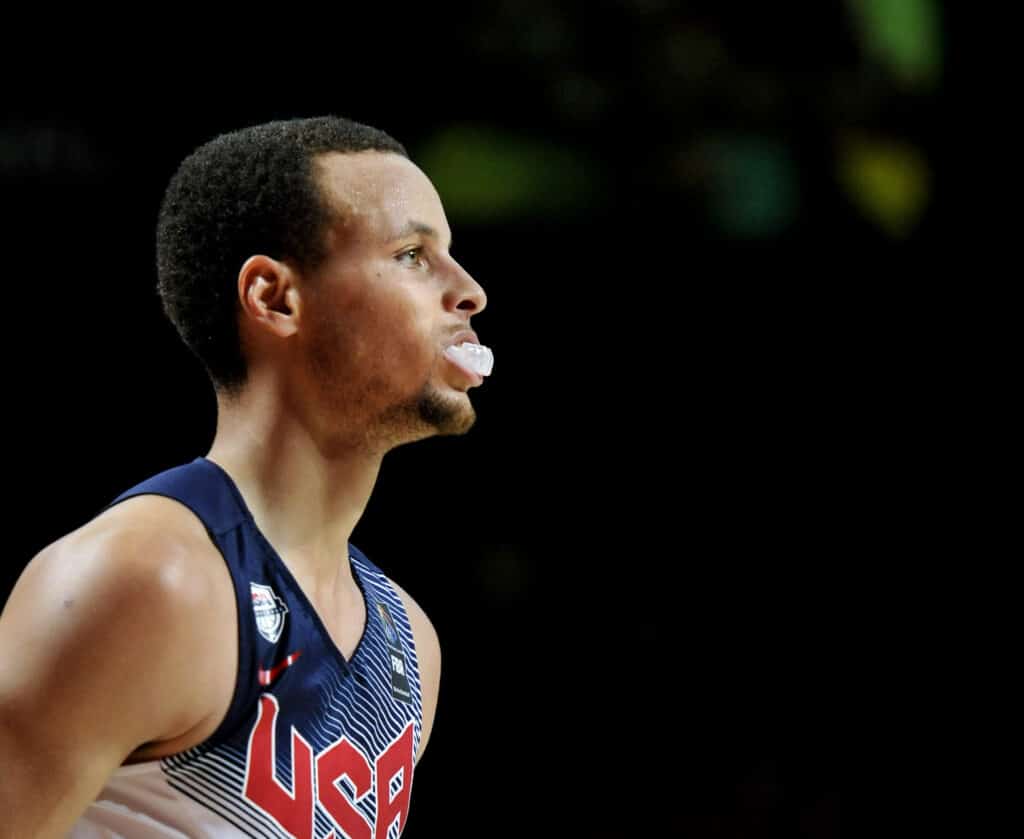 You can read more below about Stephen Curry's views on Christianity and how his faith led him to find love.
Stephen Curry Growing Up Christian
As we said above, Stephen Curry was raised under the Christian faith by his mother Sonya and father Dell. If you were unaware, Dell Curry was also an NBA player throughout the 1980s and 1990s.
While growing up in Charlotte, North Carolina, Steph Curry went to church every Sunday with his family. His parents are both very religious and felt that their children should have a fundamental faith instilled in them.
Stephen Curry has even said that it was a very big priority in their family when he was growing up. However, he has said that he didn't relate with Christianity as his own personal religion until he was in eighth grade. He thought of the religion as his parent's religion.
In one of the episodes of his Facebook series "Stephen vs. The Game", Curry revealed everything about his relationship to the Christian religion and how it affects his basketball career. He told the full story of how Christianity went from being something he saw as his parent's religion to something he saw as his religion.
He said that when he was in eighth grade one of his pastors, Pastor Jason, explained that as a Christian he needed to have his own faith in God. Curry then said that "I felt a calling, went down to the altar, and gave my life to Christ. That became the beginning of my own personal journey."
Curry then elaborated that "My faith is about the personal relationship, more so than following a certain religious tradition or practice. Challenges you to make sure that you are feeding your spirit with the right things versus what the world is throwing at us."
This experience would have happened when Stephen Curry was living in Toronto, Canada, and his father was playing for the Toronto Raptors. He was attending the Queensway Christian College and played basketball for the boy's team.
Since Steph Curry was attending a Christian school, it is clear that their religion is very important and a high priority for the family. When Dell Curry retired from the NBA and moved the family back to Charlotte, North Carolina, Stephen attended Charlotte Christian School for his high school years too.
You can watch Stephen Curry's mom Sonya Curry talking to NBA Daily about how she raised her son.
Christianity Led to Love and Marriage
Stephen Curry's faith in God and the Christian religion hasn't only helped him stay close with his family. It has also helped him find love. He met his now-wife through the church youth group.
The entire Curry family attended the Central Church of God in Charlotte, North Carolina when they returned to the US in 2002. Ayesha Alexander also happened to attend the church with her family too.
As it happens, the Alexander family had just recently moved to Charlotte from Markham, Ontario, a town just outside of Toronto. Although both families had lived in the Toronto area at the same time neither had met until they all attended the same church.
It was through the church's youth group that Ayesha would often bring Fuzzy Peach candies to share with Stephen Curry. She had a crush on him but she was not allowed to date in high school so nothing ever happened.
Ayesha moved to Los Angeles when she was 17 and when Steph when out there for a camp he reached out to her. They ended up going on a date and then she eventually moved back to North Carolina.
They were married in 2011 and that is how Christianity led to Steph Curry finding love.
On top of his love life, Steph Curry also says that his success in the NBA is due to his faith. After having a career-best game where he scored 62-points, Curry took to Instagram saying that the game was fun and "All Glory to God".
He even has a wristband he wears during games that says "In Jesus' name I play".