Meghan Trainor is really well-known for her doo-wop and soul-inspired music like the song 'All About That Bass', but she has also written a lot of music for other artists. One of those artists happens to be J.Lo.
Meghan Trainer wrote the song 'Ain't Your Mama' for Jennifer Lopez aka J.Lo. Lopez isn't the first artist to sing a song written by Trainor either. Meghan Trainor has also written songs for other artists like Fifth Harmony, Jason Derulo, and Rascal Flatts. This is all on top of her own career as a singer and performer.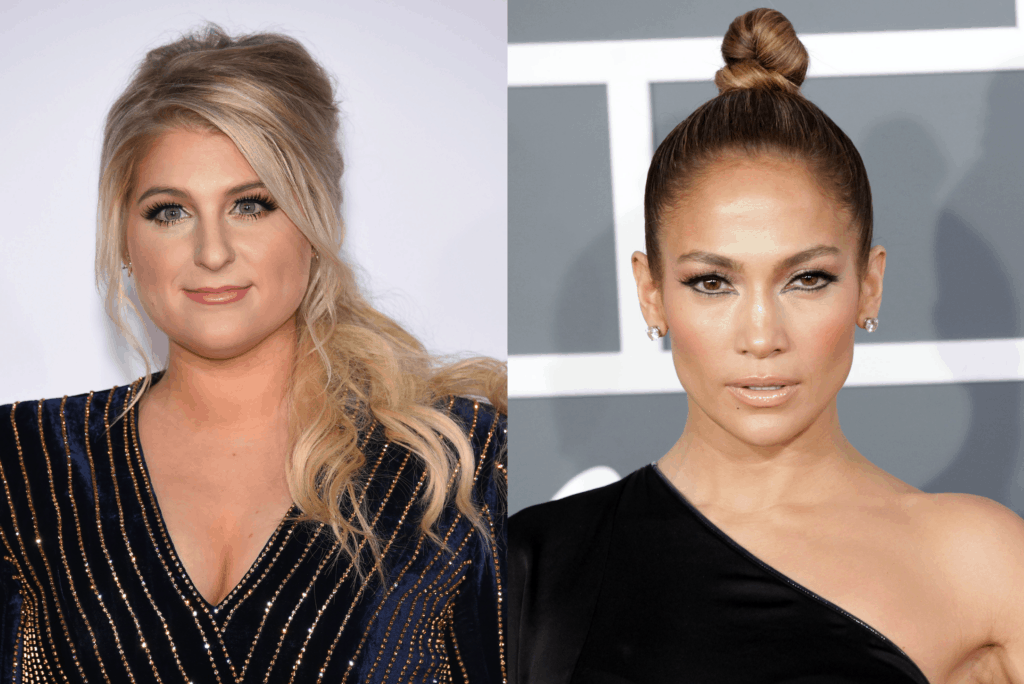 You can read more below about the song that Meghan Trainor wrote for J.Lo and what the other songs are that she has written for other artists.
Working With J.Lo
When writing 'Ain't Your Mama,' Trainor didn't actually work with Jennifer Lopez on writing the song. She wrote and recorded it and then sent it off to Lopez to see if she liked it.
This is actually something that is done frequently in the music industry, especially in the world of pop. An artist may write a song and then decide that it doesn't exactly fit their sound or style.
In that case, they will then send it off to another artist who they think the song suits much better. In the case of 'Ain't Your Mama,' Trainor did exactly that and Lopez was on board to record it herself.
However, when the song was released there was some big-time backlash that was completely unexpected. It all revolved around the fact that producer Dr. Luke was credited for working on the song.
If you hadn't heard yet, Dr. Luke is the producer that is at the center of Ke$ha's nightmarish career. Ke$ha sued him to try and void all of her contracts with his company because of his alleged sexual, physical, and emotional abuse.
The courts sided with Dr. Luke, but many people in the music industry sided with Ke$ha and Dr. Luke has been virtually blacklisted. You can read Ke$ha's full complaint here.
So when Dr. Luke's name popped up as a co-writer and co-producer on the 'Aint' Your Mama' song credits, a lot of fans got really mad at Jennifer Lopez for working with him. This was despite the fact that Lopez wasn't really aware Dr. Luke was involved.
Trainor came to her defense. She told Digital Spy "I texted her the song and she had no idea – she thought I did it alone by myself at my house, which a lot of people think because I do do that."
You can watch the 'Ain't Your Mama' music video below.
Who Else Has Trainor Worked With?
J.Lo isn't the only other artist that Meghan Trainor has written songs for. She has written over 100 songs and collaborated with tons of different artists and lyricists.
As we now know, 'Ain't Your Mama' by Jennifer Lopez is one of the songs on the list of collaborations, but what are the others? Well, Trainor first lent her writing talents to another artist back in 2014.
Trainor wrote the song 'Can't Blame a Girl for Trying' which appeared on Sabrina Carpenter's 2014 debut EP album of the same name. After that, Carpenter wanted to release a full-length LP and Trainor wrote the song 'Darling I'm a Mess' for that album.
From there, Trainor worked alongside Jonas Jeberg and Sean Douglas to write the pop group Fifth Harmony's 2014 song 'Sledgehammer.' The song was the first time the group was able to break into the American Top 40.
At some point in 2014, she also wrote the song 'Painkiller' for Jason Derulo's fourth studio album Everything is 4.
The year 2015 saw Meghan Trainor branching into the world of country music when she co-wrote the hit Rascal Flatts song 'I Like the Sound of That' alongside Jesse Frasure and Shay Mooney. She also co-wrote country music star Lauren Alaina's Road Less Traveled along with Alaina and Frasure once more.
Trainor wrote the song Someday for Michael Buble's ninth studio album in 2016. She also wrote 'You Gotta Not' for the British pop group Little Mix's fourth album.
Finally, she has also written or collaborated with artists like the Latin group CNCO, Faith Hill & Tim McGraw, Jason Mraz, John Legend, and so many more. As you can see, Trainor isn't just a popular singer, she's also a very well-respected songwriter.