She goes by many names such as J-Lo, Lola, Jenny from the Block, La Diva del Bronx, and La Lopez and many titles such as actress, singer, dancer, producer, television show host, millionaire, partner, and friend. It's undeniable: Jennifer Lopez is a woman of many talents and titles, but is 'body positive' one of those titles?
Jennifer Lopez wears a US size 6 dress and has always been proud of her Latina curves. She has a callipygian figure and her shape — which did not fit the Hollywood mold in any way — challenged the mainstream image of what a female's body should look like.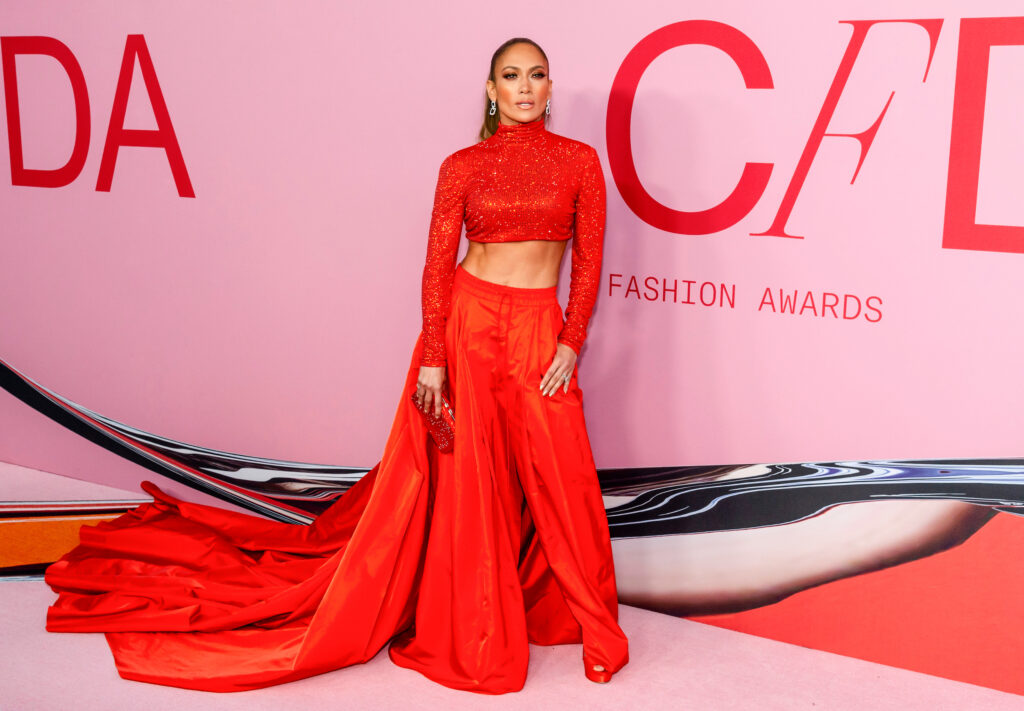 Her style has been the inspiration to the likes of Kim Kardashian, Kelly Rowland, Selena Gomez, and Demi Lovato. Let's take a look at Jennifer Lopez's dress size, style, thoughts on being an unintentional spearheader of the body positivity movement, and her other measurements.
Jennifer Lopez's Dress Size and Style
Ever since she was a teenager, Jennifer Lopez has always been on the curvier side of the spectrum and describes herself adolescent self as "a total tomboy". Though her curves are still enviable, in more recent years she has trimmed down to a US size 6.
The legendary singer-dancer is focused on fitness and it shows, she always makes time for fitness and keeps her body in shape with the help of a rigorous gym routine. Despite her getting on in years, Jennifer looks just as good — if not better — than people who are half her age.
She "rarely skips a workout" and exercises for the betterment of both her physical and mental health. While working out, Jennifer focuses on three muscle groups which she dubbed 'the three Bs', being her biceps, back, and booty.
She dresses her body in sparkling skin-tight ensembles and has long been known for her modern take on classic Hollywood style. While at home, Jennifer mainly wears exercise clothing like leggings and sports bras, but she leaves all casual comforts on the mat when it's time to hit the red carpet.
Jennifer is a big fan of highlighting her favorite body parts and often does so in dazzling dresses with daring slits and plunging necklines. According to her stylists, Mariel Haenn and Rob Zangardi, J-Lo's favorite designers are Valentino, Marchesa, and Zuhair Muradand.
When she is performing, Jennifer opts for sparkles, ruffles, sequins, fringes, feathers, and the occasional studs. She mixes things up with dresses of different lengths, finishes, materials, colors, and has a penchant for bodysuits.
Jennifer Lopez's Impact on Body Positivity
Jenny from the Block never set out to be anyone's role model or body inspiration. She grew up being told "this is how we are, and this is what's beautiful" and was taught to embrace her natural body type and encouraged others to celebrate theirs.
When she first entered the industry, she was constantly told "You should lose a few pounds" and given unsolicited advice on how she should look. J-Lo credits her mother and grandmother as her inspiration to be herself and remembers that "all the men in our family loved the women's bodies."
Jennifer says "So many people have come up to me over the years — famous people, people I meet on the street, fans, everybody — and they say that very thing: "Thank you so much. I have the same type of body. I used to think I was fat, but now I feel beautiful."
Speaking of her contribution to changing beauty standards and encouraging her fans to love the skin they're in, the celebrated artist says "I wasn't really trying to send a message. I was just being myself."
Jennifer Lopez's Other Measurements
For many people, Jennifer Lopez is the very definition of body goals. How the star has managed to keep her figure throughout her longtime career, personal stresses, and birthing two children, is nothing short of astounding.
The American singer, actress, dancer, fashion designer, producer, and businesswoman stands 5'6" tall and weighs approximately 132 lbs. La Diva del Bronx wears a US size 8.5 shoe, a size 34B bra size, and measures in at 34-26-38 inches.