Taylor Swift is really well-known for writing songs about breakups and she has also been known to write songs about people she's having problems with. One of those people has been Katy Perry.
Taylor Swift's song 'Bad Blood' was written about Katy Perry. In interviews, she said the song was about another woman with whom she got into a fight over backup dancers. This was a well-known incident that happened with Katy Perry and essentially ended their friendship. However, as of 2020, the two have apparently made amends.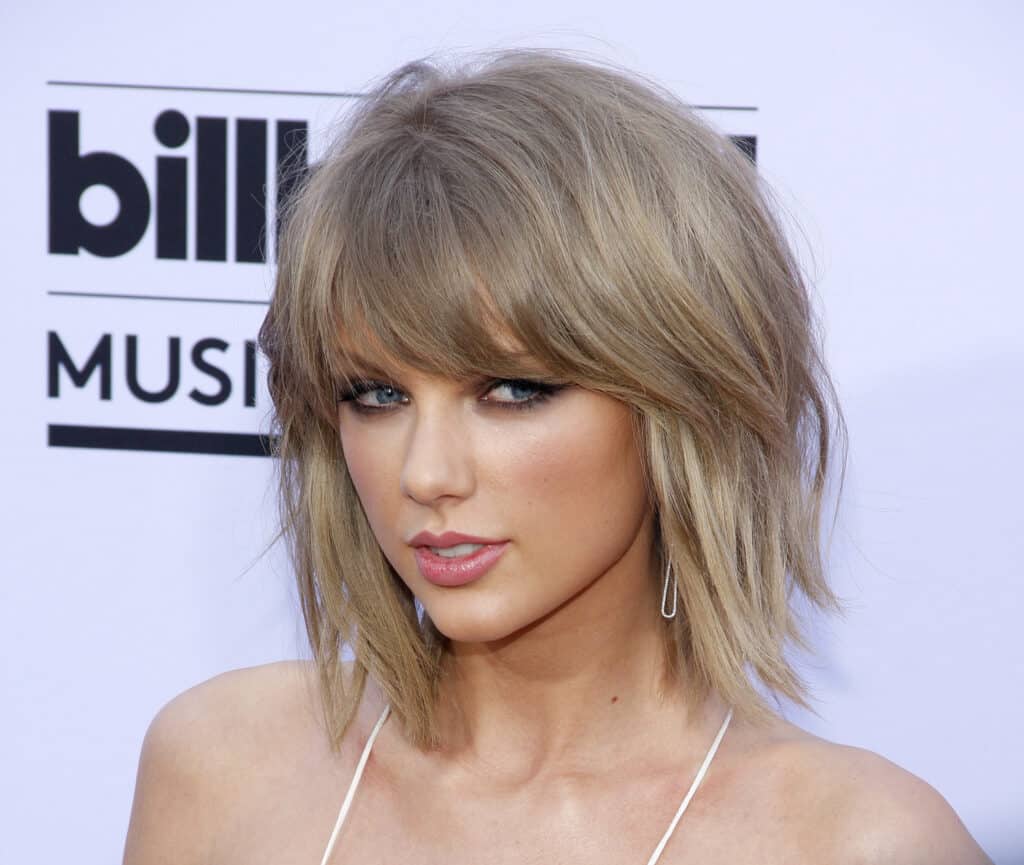 You can read more below about how Swift and Perry's friendship turned sour, their feud after, and all the songs they're written about each other.
Taylor Swift & Katy Perry Used to Be Friends
All the way back in 2008, Katy Perry and Taylor Swift were actually good friends. The very first time they were seen together in public was at the 2008 MTV Music Awards.
The pair were photographed alongside Miley Cyrus, who at the time was probably the biggest star of the three. Perry had only recently released her second studio album One of the Boys and Swift's second album Fearless was being released later that year.
In 2009, the pair were seen together again at a Grammy event and from there they started tweeting about each other. They attended a lot of each other's events too.
T-Swift posted tweets about loving Perry's song 'Waking Up In Vegas' saying that she was going to put a poster up on her wall of the other popstar. Perry tweeted about how she thought Swift's cat was adorable.
In October 2009, Swift attended Perry's birthday party and said that the other star sure knew how to throw a birthday bash. Then she invited Perry to perform at the Los Angeles portion of her 2010 Fearless tour.
The pair sang Katy Perry's song 'Hot N' Cold' while jumping around on the stage for tons of adoring fans.
It was also in 2010 that T-Swift dated John Mayer, a relationship that turned sour and resulted in Swift's song 'Dear John'. Perry also dated Mayer but in 2012, however, it wasn't some guy that started the feud between the two pop queens.
You can watch Taylor Swift's music video for the song 'Bad Blood' below. After all, it is the song she wrote about Katy Perry.
The Popstars Feud
In 2013 Taylor Swift started her tour for her album Red called The Red Tour. For this tour, she had hired on three of the back-up dancers from Katy Perry's California Dreams Tour.
Then in 2014, before Swift's Red Tour was complete, those three dancers left the tour for Perry's Prismatic World Tour. One of those dancers was Lockhart Brownlie who only danced with Taylor for 6 months before leaving for Perry's tour.
Brownlie explained to The Examiner that "We weren't really dancing in Taylor's tour anyway so I had got a little bored and I really wanted to do a promo tour. The experiences were completely different. Taylor is very untouchable. When we did see her, we had so much fun with her, but she's a lot more protected than Katy."
Brownlie also said that he felt Katy Perry is family because of the two and a half years he spent touring with her. Either way, Swift did not take the whole thing lightly and the friendship between Perry and Swift was over.
In 2014, Swift did an interview with Rolling Stone (via TIME) ahead of the release of 1989 and she said 'Bad Blood' was about another woman who tried to sabotage her arena tour. Many people quickly referred back to the interview with Brownlie and came to the conclusion that T-Swift was talking about Katy Perry.
A while later Katy Perry responded to Taylor Swift's song 'Bad Blood' with her own song. That song was 'Swish Swish' and featured Nicki Minaj who had been in arguments with Swift before.
The Perry & Swift Feud Ends
It was in 2018 that Perry seemed to want to put the whole feud to rest. On the opening night of Taylor Swift's Reputation stadium tour, Perry sent her an Olive Branch as a symbol of peace.
Swift tweeted the branch and the two began to see each other again. In June 2019, Perry posted a photo of cookies with the words 'Peace at Last' written on them in red, and fans quickly deduced that she was in Taylor Swift's kitchen.
It was only a week later that Perry appeared in Swift's music video for 'You Need to Calm Down.' The two danced together dressed as fries and a hamburger and all was forgiven.