Influential rapper Cardi B has created some of the world's most popular hit songs. Still, because she has so many memorable songs in her discography, many people might have forgotten the original single that made her famous.
Cardi B's first single under a record contract was the US Billboard #1 song 'Bodak Yellow,' which she recorded with Atlantic Records. However, before this hit, she released mixtapes titled 'Gangsta Bitch Music, Vol. 1' and 'Gangsta Bitch Music, Vol. 2', which arguably contain her real first songs. 
Cardi B has progressed dramatically as an artist since her first musical ventures, and they were already incredibly impressive. Although her discography has expanded through the years, she still is, in her own words, a boss.
Bodak Yellow
'Bodak Yellow' is a play on famous rapper Kodak Black's name, as the song's flow was influenced by and is an homage to his hit song 'No Flockin'.'
'No Flockin'' was released on YouTube in 2014, and Cardi B's tribute, 'Bodak Yellow,' was released in 2017 as a single to promote her then-upcoming album, 'Invasion of Privacy.' 'Invasion of Privacy' was her first album produced under her contract with Atlantic Records.
It became the biggest hit song in the U.S., dethroning Taylor Swift's top spot on the Billboard Hot 100 chart.
Cardi B became the first female rapper to reach #1 on the Billboard chart since 1998 when Lauryn Hill's song 'Doo Wop (That Thing)' debuted at the top spot on the charts.
In her song 'Bodak Yellow,' Cardi B raps about how hard she had to work to become such a talented rapper and how her talent is unrivaled in the music industry. She also discusses her past job as a stripper.
The official music video is full of Cardi B sporting amazingly outrageous outfits, including a black PVC dress and heels, and spitting out lyrics that are both punch-in-the-gut powerful and so witty they'll stick in your head for weeks.  
Early Career and Discography
Cardi B, born Belcalis Almanzar, made a name for herself through her viral posts on social media sites like her Instagram page and the now-defunct Vine. Her posts were known for being intimate and vulnerable – she would often post with her hair up in a towel, about to go to bed – and yet with her trademark sense of humor.
She worked as a stripper at the time, which she credits for helping her escape poverty and domestic violence. Cardi B said of her experiences stripping, "It really saved me from a lot of things."
However, she knew she had a future in the music industry and began working on songs. She remixed Shaggy's song 'Boom Boom' in 2015, her musical debut.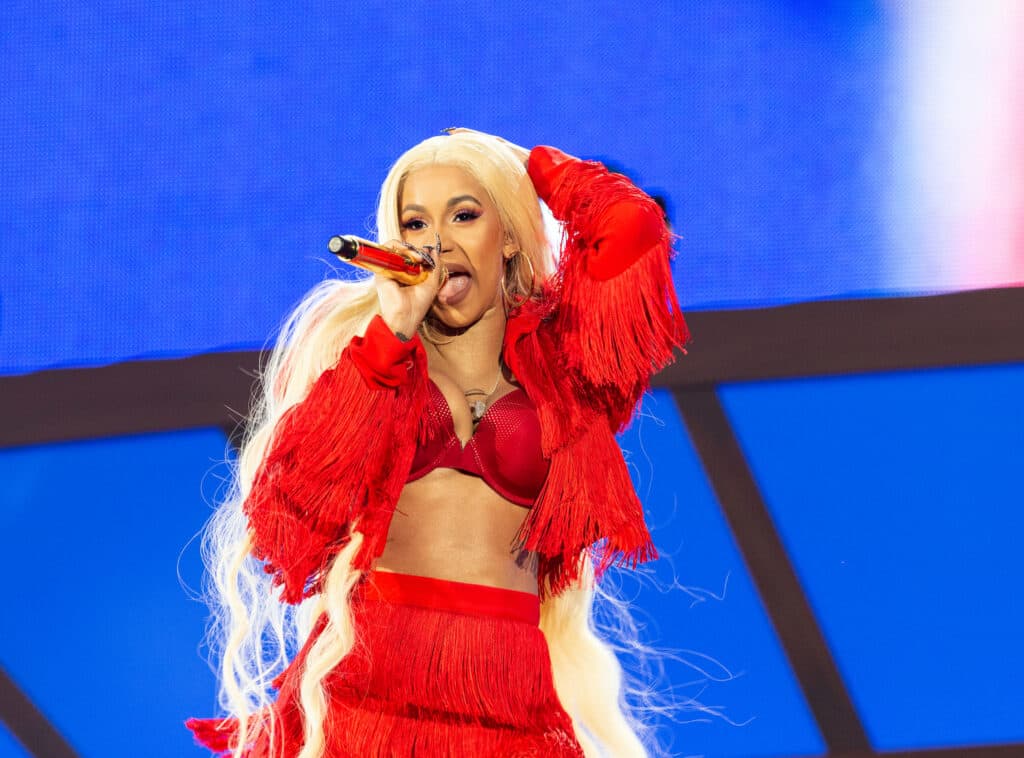 Her first music video was for her song, 'Cheap Ass Weave,' which featured Cardi B at the salon getting her hair and nails done.
Cardi B also joined the hit reality TV show, 'Love & Hip Hop' as a main cast member of seasons six and seven. Cardi B was considered the show's breakout star and left in 2017 to focus entirely on her rap career.
Craig Jenkins, a music critic at Vice, claimed that Cardi B's debut mixtape, 'Gangsta Bitch Music Vol. 1', was one of the absolute best to come from 'Love & Hip Hop.' He credits the impressive nature of the mixtape to Cardi B's honest and real persona, saying, "With Cardi, what you see is what you get, and what you get is stone-cold realness."
Cardi B would then release the follow-up mixtape, 'Gangsta Bitch Music, Vol. 2,' in 2017 before signing with Atlantic Records. The rap industry would never be the same.
Since then, she has won a Grammy award for Best Rap Album in 2019 for her album 'Invasion of Privacy.'
She has also made a name for herself in the fashion industry for sporting bold, daring looks, including the dazzling Moschino outfit she wore to the 2018 Met Gala.
Cardi B's career may have grown exponentially; however, she has remained true to herself. In a 2016 interview, she said, "I'll be the champion of being the realest. I really feel like I'm the realest. Everybody's always saying they wanna be like this person, or that person. I want to be like my own god damned self."
Cardi B keeps breaking records and redefining the music industry, so staying true to herself is a smart choice.