Many of us were introduced to Taylor Swift when she exploded into the music charts around the world with her hit song 'Love Story' that stole the hearts of millions everywhere. It was massive, but it wasn't actually the first recorded song Taylor released.
Taylor Swift's first recorded and released lead song was titled 'Tim McGraw' that was featured on Taylor Swift's debut album, also titled Taylor Swift, back in 2006.
To find out everything there is to know about this first song and album, where Taylor started her musical journey, and her path to her famous position where she is today, let's dive on into the past!
Taylor Started Big
Taylor Swift has always held a place in our minds, for better or for worse, for many years now, but it started back in 2006 when she released her 'Taylor Swift' debut studio album, but this was an album that was close to never happening at all.
Taylor, encouraged by her father, had always had a passion for playing music and songwriting and actually wrote the songs for this debut album during her freshman year of high school. She wrote most of the songs independently while co-writing others with her friend Liz Rose.
These are evidently since Taylor is clearly writing about her personal experiences about the struggles of growing up and going through her high school, as well as the romantic relationships she had along the way.
However, Taylor and her family had been trying to secure a record deal for far longer than just this debut album. Taylor's singing abilities were recognized by her father from a young age. The Swift family even took their first trip to Nashville, the US home of country music, in search of a record deal when Taylor was just eleven years old.
But the trip didn't secure anything.
Armed with a demo album produced by Nathan Chapman, Taylor was rejected from the music studios for her young age. This was a recurring pattern throughout Taylor's life.
In a later interview, Taylor said she could clearly understand why this would be a valid point for rejecting her. She said;
"I can understand. They were afraid to put out a 13-year-old. They were afraid to put out a 14-year-old. Then they were afraid to put out a 15-year-old. Then they were nervous about putting out a 16-year-old. And I'm sure if I hadn't signed with Big Machine Records, everybody would be afraid to put out a 17-year-old."
Eventually, as Taylor said, she had been eventually signed with Big Machine Records under the manager Scott Borchetta. The studio was dubious at first because Nick Chapman, who had been recording all the songs and doing all the instruments with Taylor in his shed after work at his publishing job, had no experience in the music industry.
Taylor managed to convince the record company that she and Nick had the right chemistry for producing the music she loved, and they agreed to a four-month recording contract that ended at the end of 2005.
Of course, the album, led by the lead song 'Tim McGraw, enjoyed massive commercial success. IT peaked at number forty on the Billboard Hot 100 and number six on the Billboard Country 100. It was also certified as Platinum for selling over two million copies.
From here, Taylor enjoyed her rise into mainstream music and has remained popular ever since.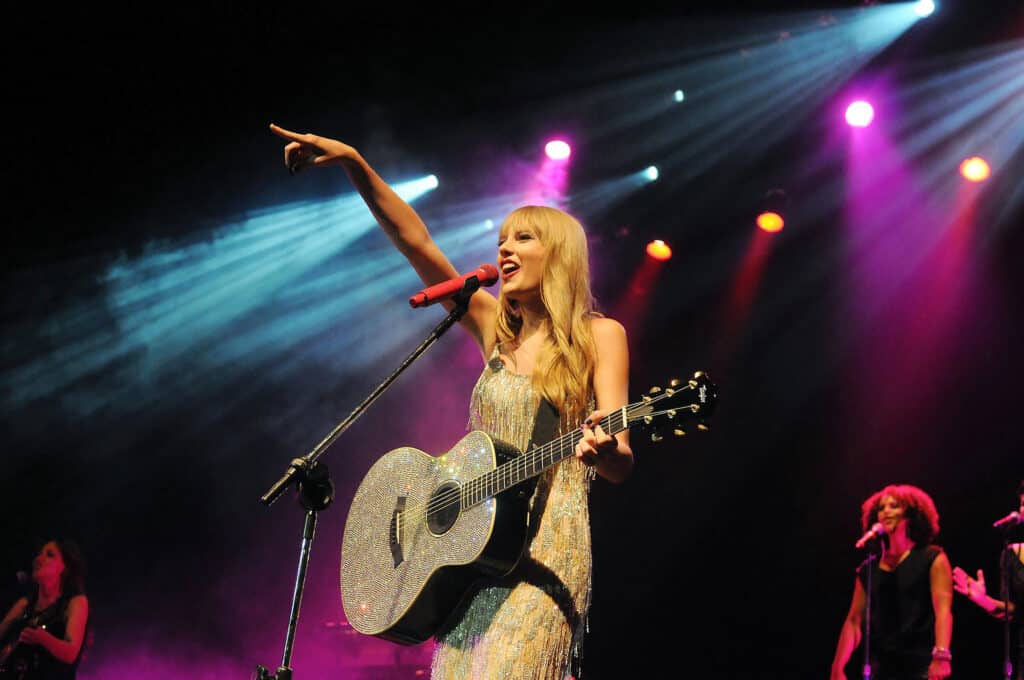 How Tim McGraw Was Born
It's quite common knowledge at this point that Taylor loves to sing about her experiences and relationships with others since a lot of her songs are about love and her past relationships. Tim McGraw is another example of this.
Taylor explained how she wrote the song in high school when she was dating her senior year boyfriend, Brandon Borello. As the end of the school year approached, the pair knew they were going to break up and head in different directions, which is clearly not a great place to be.
Swift was said to be working with Sony and ATV at the time, where she was writing songs for them, and came to Liz Rose with the Tim McGraw idea and knew exactly what she wanted it to be.
As the lyrics suggest, even though they were going their separate ways, Taylor was singing about how when Brandon hears their favorite song of their relationship, the McGraws 'Can't Tell Me Nothin', that he thinks of her and their relationship, looking back on it with a pleasant nostalgia.
Try and think of this songwriting process without smiling. Can't, can you?