Angelina Jolie is known for wearing simple and classic jewelry that goes with her timeless style. She's not one for gaudiness and flash, so what watch does she wear?
Angelina Jolie wears the Louis Cartier Tank watch. This watch is a classic from the luxury jewelry brand who introduced the first version of it in 1917. The Louis Cartier Tank watch is made of 18-carat gold and features an alligator skin wristband. On the Cartier website, the watch is valued at $9,100.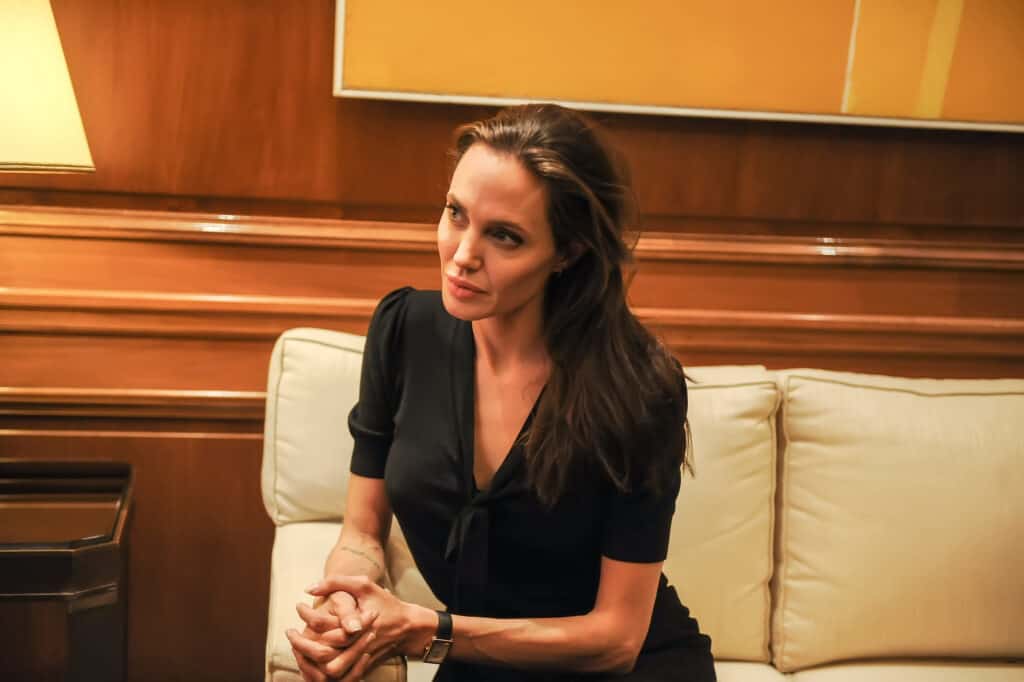 You can read more below about the Louis Cartier Tank Watch's history, other celebrities who wear it, and other jewelry that Angelina Jolie wears.
Louis Cartier's Tank Watch
There is a not so subtle reason behind the name of the Louis Cartier Tank Watch. It was created in 1917 during World War I.
What was the inspiration behind the tank watch? Well, it was the Renault FT-17 tanks that roamed the battlefield of one of the largest and most revolutionary wars the world had seen.
As this GQ article emphasizes, the tank watch was created to be the shape of the FT-17 from a birdseye view. After designing the watch, Cartier gave the very first one to the American WWI General John Pershing.
After that, there were only 6 watches available to be sold to the public in 1919. Each following year, Cartier made more of the watch available and it has become an iconic timepiece considering how trendy it still is today.
Celebrities Who Have Worn the Tank
Angelina Jolie isn't the only celebrity to be infatuated with the tight square box and sleek design of the Louis Cartier Tank watch. There have been tons of celebrities over the years who have professed their undying love for the watch.
One of those die-hard fans of the watch was Andy Warhol.
At a party hosted by the famed luxury brand, Warhol was quoted saying "I don't wear a Tank watch to tell the time. Actually I never even wind it. I wear a Tank because it is the watch to wear!"
You can watch the below video from Theo & Harris about the Louis Cartier Tank Watch and how Andy Warhol made it so famous.
Another famous woman to wear the Cartier Tank was Jacqueline Kennedy Onassis the former first lady and wife to President John F. Kennedy. Her watch was a gift from her brother-in-law, Prince Stanislaw Radziwill of Poland.
In April 2017, Jackie Kennedy's Tank watch was sold at a Christie's auction to none other than the famous reality show star Kim Kardashian. The watch was later featured on Kardashian in a series of Jackie Kennedy inspired photos for Interview Magazine.
Princess Diana was another fan of the watch and was seen wearing her Cartier Tank Française countless times throughout the 1990s. The watch was left to her eldest son Prince William upon her death in 1997 and he gave it to his younger brother, Prince Harry.
As is highlighted in this Vanity Fair article, Meghan Markle was seen wearing Diana's watch in late 2020 while speaking at a Fortune virtual summit. The watch is something that both brothers hold very close to their hearts so it means a lot that Prince Harry would give the precious heirloom to his wife.
While Angelina Jolie wears the Cartier Tank, like many women before her, she also has some other eye-catching jewelry.
Angelina Jolie's Other Jewelry
Other than her watch, Jolie has a pretty extensive jewelry collection. She has a multitude of earrings and necklaces that she has worn on her day-to-day outings and some very extravagant pieces she has worn on the red carpet.
One extravagant piece was the 50-carat diamond scorpion that she wore at her hip for the premiere of Maleficient: Mistress of Evil on September 30, 2019. The three and a half-inch long brooch was attached to her black sequined Atelier Versace gown.
This scorpion piece of jewelry was something that Jolie co-created along with the jeweler, Robert Procop. While the scorpion was not for sale, other jewelry that Jolie has designed is.
In 2013, Angelina Jolie announced that she would be expanding her business ventures to include a new high-end jewelry line. The jewelry line was created in collaboration with the above mentioned Robert Procop.
Procop had previously worked with Brad Pitt to design Jolie's engagement ring. Her collaboration with Procop was named 'Style By Jolie.'
As Vanity Fair reported, 100-percent of the line's profits are going to Jolie's foundation Education Partnership for Children of Conflict.