Fondly known as "the quiet Beatle" and often thought of as one of the world's best guitarists of all time, George Harrison's staggering success as a member of The Beatles earned him millions of adoring fans who were devastated by his death. What was his last message to his fans and the world?
George Harrison's last words, delivered via a statement by his widow and son, were "Everything else can wait, but the search for God cannot wait, and love one another". These last words are a perfect representation of how the phenomenal artist spend his last few years on earth.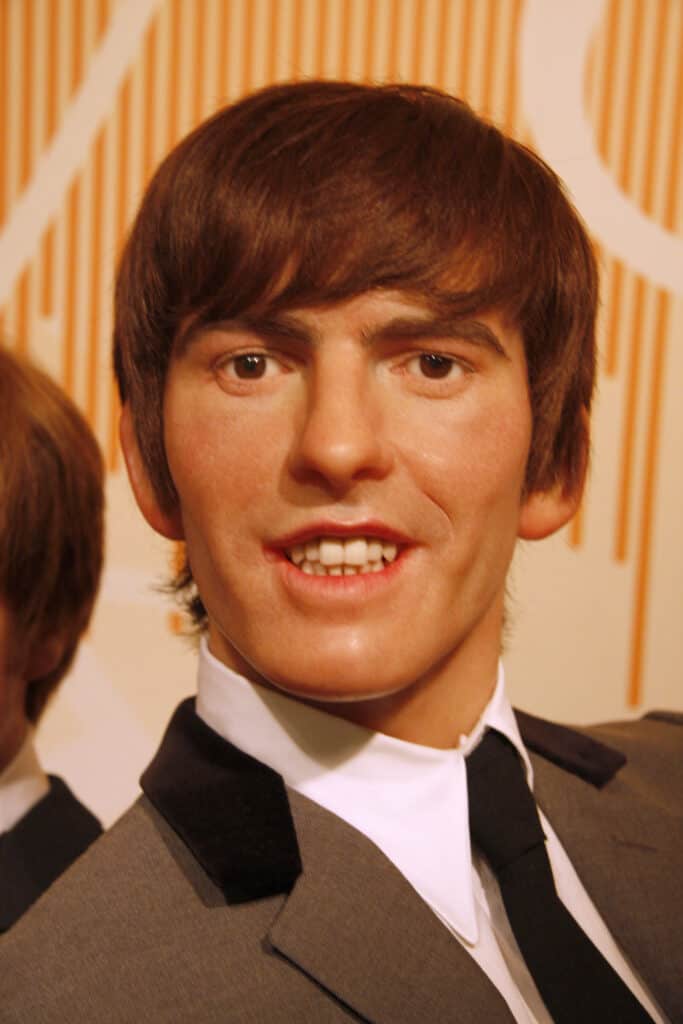 When George passed away on 29 November 2001, the musical world suffered a great tragedy. Here's what you need to know about George Harrison's last words, his death — as well as his escape from death just two years earlier — and the legacy he left behind.
George Harrison's Last Words
The music that George produced with The Beatles as well as in his successful solo career can teach us a lot about spirituality, kindness, and exploring one's innermost self. His parting message to the world reminds us of that.
In a statement that was released after his death by his wife Olivia Harrison and son Dhani Harrison, George said "Everything else can wait, but the search for God cannot wait, and love one another."
These final words clearly show how significant an impact George's search for spirituality had on the musician and how — just as many of The Beatles songs reiterate — powerful love can be.
Further displaying the caliber of human being he was, when Ringo Starr came to visit him in Switzerland while he was receiving cancer treatment and had to cut the visit short to be with his daughter as she was undergoing emergency brain surgery, George weakly asked "Do you want me to come with you?".
George Harrison's Death
One of the reasons why George's death shook the world to the extent it did was because the star narrowly escaped death just two years earlier. On 30 December 1999, a 34-year-old man named Michael Abram broke into George's Friar Park home and stabbed him with a kitchen knife more than 40 times.
The attacker, who was suffering from an episode brought about by his paranoid schizophrenia, was incapacitated by Oliva who struck him with a lamp and fireplace poker. Even though his wife saved him, George believed he was inches away from death and said of the incident "I felt exhausted and could feel the strength draining from me… I believed I had been fatally stabbed."
His friends believe that it was this incident that brought about the return of the cancer that killed him. In May of 2001, George had an operation to remove a cancerous growth from one of his lungs, and two months later it is thought that he was receiving treatment for a brain tumor at a Switzerland clinic which is where he spoke his last words to his bandmate, Ringo Starr.
A few months later it was discovered that his non-small cell lung cancer had spread to his brain and in November, George was flown to New York City where he began radiotherapy at the Staten Island University Hospital. Despicably, an oncologist by the name of Dr. Gilbery Lederman leaked George's confidential medical information to the media and reportedly forced him to autograph a guitar.
On 29 November 2001, on a property belonging to Paul McCartney, George lost his battle to cancer. Present at his bedside were his wife, his son, sitar maestro Ravi Shankar and his wife and daughter, as well as Shyamsundar Das and Mukunda Goswami.
As he passed away, those present were chanting verses from the Bhagavad Gita. George was cremated and after his funeral, his ashes were scattered in accordance with Hindu tradition in India's Ganges and Yumanu rivers.
George Harrison's Legacy
George's last album, 'Brainwashed', was released the year after his death and the Concert for George was organized and held by Eric Clapton the same year. In 2004, George was posthumously inducted into the prestigious Rock and Roll Hall of Fame and into the Madison Square Garden Walk of Fame.
In October of 2011, the documentary 'George Harrison: Living in the Material World' was released and provided fans with insight into the artist's life and beliefs. In 2015, George was posthumously awarded the Grammy Lifetime Achievement Award.
His wife Olivia went on to become a successful author and film producer while their son Dhani Harrison followed in his famous father's footsteps. In addition to Dhani's success as a musician, singer, composer, and songwriter, Dhani also helped complete his father's last album.