Reggie Bush, a former NFL football player who played as a running back in NSC, was Born Reginald Alfred Bush Jr. on March 2, 1985. He proved to be one of the most promising athletes to ever play in the NFL and is regarded as one of the greatest college football players. This makes sports enthusiasts, and fans interested in the college he must have attended.
Reggie Bush received an athletic scholarship to attend the University of Southern California, where he played for head coach Pete Carroll's USC Trojans football team from 2003 to 2005.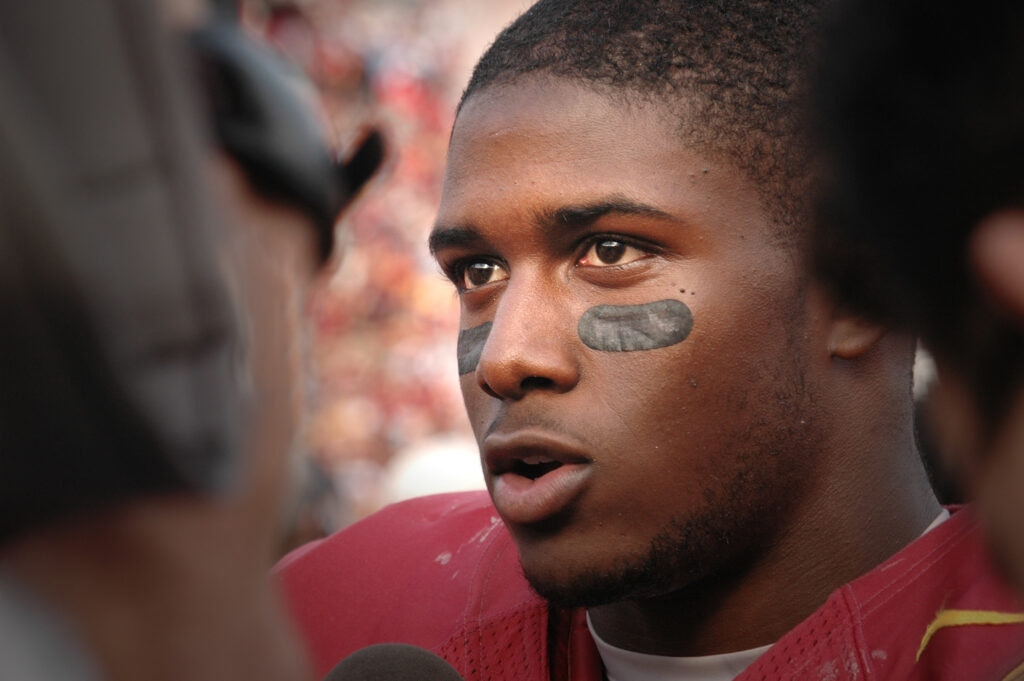 Here are more details about Reggie Bush:
Who is Reggie Bush?
Reginald Alfred Bush Jr. was named after his biological father, Reginald Alfred Bush Sr. He grew up in Spring Valley, San Diego, Southern California in the USA, with his mother Denise Griffin, stepfather, Lamar Griffin, and stepbrother, Javon Griffin.
Young Reggie did brilliantly in school and was a very playful child. So when he told his parents he wanted to be on the football team, they welcomed the idea warmly and supported him financially. Reggie joined a local team where he displayed his ability to dodge tackles and athleticism.
Reggie Bush attended Helix High School in La Mesa, where he became a star athlete in track and football. He was even selected for the Parade Magazine 2002 All-American team.
Amidst the fame, however, Reggie's humility was still intact. His athletic success didn't get to this head, probably because he always remembered his roots. That helped him maintain his down-to-earth attitude.
Reggie Bush College Success
Reggie Bush received an athletic scholarship to USC in 2003. He joined the Trojan team and soon got nicknamed The President.
He was a political science major, took up the leadership role in his team, and his surname was the same as the former US president, George Bush, hence his nickname.
Reggie Bush gained 521 yards in 90 carries and topped the PAC 10 league in kickoff returns as a freshman. He was named to several all-American teams and won USC's Jack Oakie Rise and Shine Award.
Why Did Reggie Let Go Of His Trophy?
Reggie Bush has been given the consensus All-American honors two times. Reggie also won the Heisman Trophy as the most exceptional player in the entire country during his college time at USC. However, he was made to give it up because of accusations concerning receiving some benefits while still in college.
Reggie Bush received the award in 2005 but vacated it in 2010 when an investigation started, centered around cash and gifts he received during his days playing at USC. This series of events makes Reggie the only Heisman winner ever to forfeit the trophy in its nearly century-long history.
According to a statement made by the NCAA spokesperson, Meghan Durham, to Forbes in June 2021, previous penalties "will not be re-evaluated or reconsidered based on the recent changes to NIL rules."
Bush's attorney, Alex Spiro, wasn't pleased with the NCAA's decision, calling it a "draconian penalty of a teenage kid who had his award taken based upon a sham investigation."
The USC and Reggie suffered severe backlashes. In 2010, Bush and USC were ordered by the NCAA to cut ties for one decade.
This meant Reggie Bush would no longer be allowed into games, but Bush was welcomed back at USC after the 10-year restraint elapsed in 2020. Most prominently, all 12 wins made by USC during the 2005 season became vanity, and sadly, the same went for Reggie's stats.
What is Reggie Bush Doing Now?
After playing for the Miami Dolphins, San Francisco 49ers, Detroit Lions and Buffalo Bills, Bush retired in 2016. He currently works as a college football analyst for Fox Sports.
Relationships, Wife, and Children
On July 12, 2014, Reggie tied the knot with Lilit Avagyan, an Armenian dancer and dance teacher. They have three children together: a daughter and two younger sons.
Briseis Bush, their daughter, was born on May 6, 2013, after which the couple decided to get married. The older of their two sons, Uriah Bush, was born on July 12, 2015, and their youngest son Agyemang was born on Sept. 2, 2017.
When Reggie was still at USC, he dated famous reality TV star Kim Kardashian. Their relationship lasted from 2007 to 2010.
What is Reggie's Net Worth?
Reggie Bush has an estimated net worth of $25 million. And after all these years, he is still regarded as one of the best in college football history.