Allison Holker is a social media star and professional dancer who is remembered for her time on the reality TV dancing competition 'So You Think You Can Dance'. She's as stylish as stars come these days, but where exactly does Allison Holker get her clothes?
Allison Holker gets her clothing from various sources. For her day-to-day clothing, sportswear, and streetwear, she trusts Fashion Nova and Dick's Sporting Goods while she lets her stylist, Lisa Cameron, pick her clothing for the red carpet.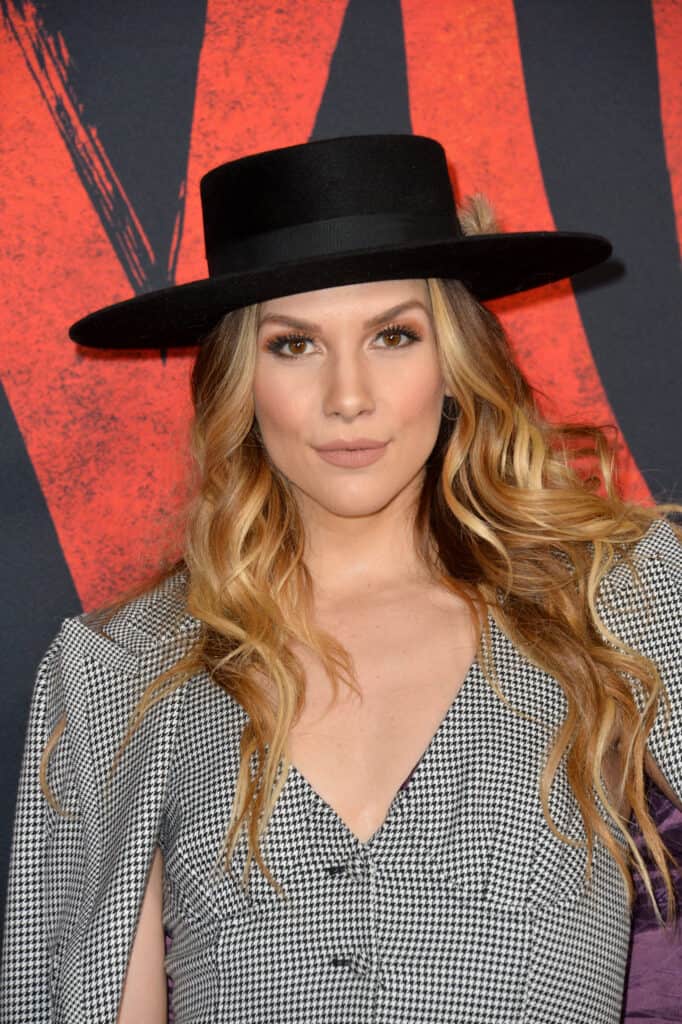 The star is fast becoming a fashion icon who seamlessly pairs comfort and fashionability. Let's pull back the curtain and find out more about Allison Holker's style, as well as where she gets her clothing.
Allison Holker's Everyday Style
Allison's personal style, as seen on her social media pages, is casual and comfortable yet always on-trend. Baggy sweaters, track pants, sneakers, and ripped jeans are often the key items in her outfits.
Because Allison is a dancer, she needs to have clothing that supports a full range of motion, hence the loose and flowing garments. As a quick peek on her Instagram page will reveal, this is one celebrity that keeps it casual almost all of the time.
But, on the rare occasions when she isn't busting a move, Allison can be seen wearing tight mini skirts with matching crop tops, or figure-hugging jeans with a statement tee.
She may be a mainstream celebrity, but Allison is also a rising social media influencer. In her latest Instagram campaign, Allison can be seen promoting the sports brand 'Dick's Sporting Goods'.
Allison is also a partner with the popular online streetwear clothing retailer 'Fashion Nova' and she often posts photos of herself decked out in the brand's hoodies and sweatsuits.
As much as she may want to, Allison can't wear her workout gear to red carpet events.
What Does Allison Holker Wear On The Red Carpet?
With her gorgeous 34-25-33 inch figure, one could say Allison would look good in a burlap sack! But this celebrity doesn't rummage for her clothing in the recycling bin.
When she hits the red carpet for events, Allison looks almost unrecognizable. Her go-to outfit is a short strapless dress, but she's also rocked up in longer print dresses, tailored jumpsuits, fitted blouses and shorts, and trailing evening dresses in a variety of colors.
The star has worn outfits by many designers and stylists, including Lisa Cameron, who is a popular celebrity stylist known as LMC. Lisa has not only styled Allison for her red carpet events but also for 'Disney Fairytale Weddings', and 'The Funny Dance Show'.

Some of Lisa's other clients include Carrie Underwood, Gabi and Niki DeMartino, Tara Reid, and — unsurprisingly — Stephen tWitch Boss.
What Did Allison Holker Wear on So You Think You Can Dance?
One of the greatest things about reality TV dancing competitions is the fashion, and 'So You Think You Can Dance' is no exception.
While she was on the show, Allison was dressed by the show's legendary costume designer Martina Toybina, who is the lead stylist for 'So You Think You Can Dance'. Martina has also dressed stars such as Miley Cyrus, Katy Perry, and Taylor Swift.
Allison would normally be dressed in figure-hugging shorts and sports bras, loose mini dresses, and modern leotards.
The star has also worn gorgeous tailored outfits, styled by professional designer Randall Christensen as well as Soyon An, who is a costume designer on 'So You Think You Can Dance' and a fashion consultant for 'American Idol', 'Superstars of Dance', and 'Next in Fashion'.