Billie Eilish first gained attention in the music industry in 2015 for her song "Ocean Eyes" which was originally uploaded to the streaming platform, Soundcloud. She is an American artist and songwriter, whose unique voice has made her reach the top charts and won her multiple awards throughout her few years of stardom. Billie currently has five Grammy awards, two American Music Awards, two Guinness World Records, three MTV Video Music Awards, and one Brit Award.
Billie Eilish, originally from Los Angeles, California, still lives in her very modest, 1,208 square foot home in the Highland Park neighborhood of Los Angeles with her parents. Although the artist's net worth can afford herself and her family a bigger home, her current residence holds special memories and Billie doesn't feel the need to move out.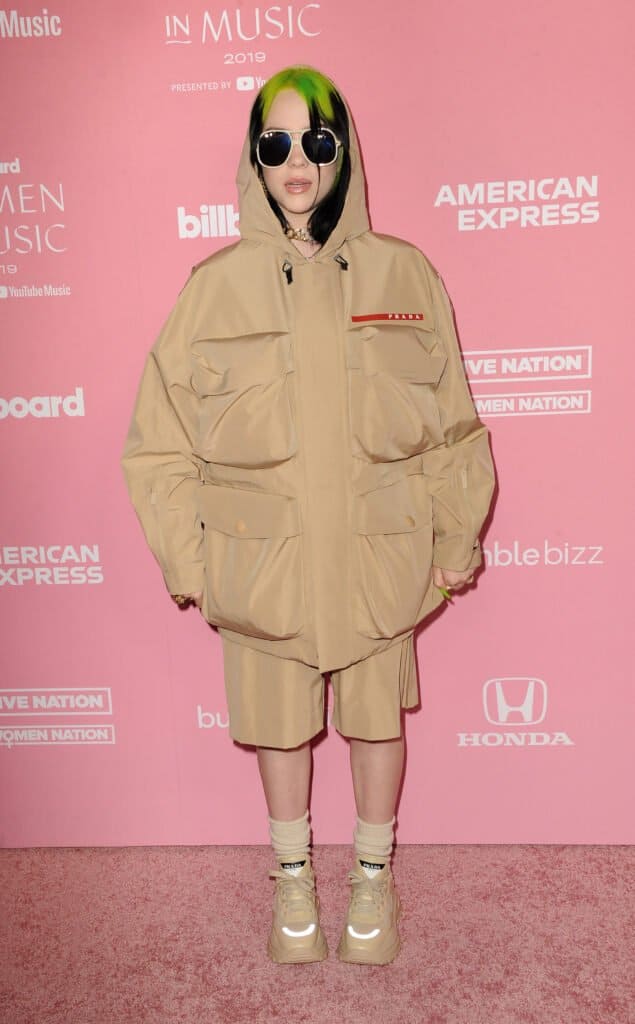 Billie Eilish's success has been astronomical. Holding five Grammys and going multiplatinum eight times, the artist's unique and incredible vocals have led her to true stardom.
From posting a track onto SoundCloud to working with luxury brand, Chanel, and signing multi-million dollar deals, Billie Eilish's fame isn't stopping anytime soon.
Billie Eilish's Rise To Fame As a Teen
Billie Eilish "accidentally" became famous after receiving major praise in the music industry for her song on the music sharing website, SoundCloud, called Ocean Eyes. The song was written by the star's older brother, Finneas, and quickly gained attention due to her incredibly unique and powerful vocals.
In 2015, the song received over 1,000 plays the first day it was released. Finneas, Billie's brother, had gotten multiple requests to talk business with the young star about signing her onto a record label.
Billie Eilish signed a record label with The Darkroom after the release of her very first music video for Ocean Eyes. The single reached platinum status in 2018 and the music video has over 332 million views on her YouTube channel.
The SoundCloud single catapulted the artist into more music opportunities and at age 15, Billie's first follow-up to Ocean Eyes had been released. The single called "Bellyache" had become a major hit as well, and shortly after, she released her first EP called "Don't Smile at Me".
The next two years of Billie Eilish's rising career included heading on her first headlining global tour, collaborating with singer Khalid, being added to the 13 Reasons Why soundtrack, releasing two more singles, "Bury a Friend" and "Bad Guy", both hitting top charts in both the US and the UK. Her "We All Fall Asleep" tour included playing 66 shows across the globe.
Billie's first debut album, "When We All Fall Asleep, Where Do We Go?" was released in March of 2019 and became the highest-selling debut album of the year. In the UK, she became the youngest artist to get a number one album.
Her voice and style are unique, making her stand out amongst other artists her age. Her fashion choices have been questions by critics and her "strange" persona has been judged in the past, but it is now her entire brand and she has never stopped being herself.
Her recent endeavors included writing and performing the theme song for the James Bond film, "No Time to Die" and at the 2020 Grammy Awards, Billie received five awards, including best new artist and song/album of the year.
Billie's Home in Los Angeles
Billie grew up in a house full of musicians and was never a stranger to music. Her first song ever recorded, "Ocean Eyes", was recorded in her brother's small bedroom and her childhood home.
Born in California, The Golden State is still the artist's home, as she continues to live in the same house as she did when she was a child. The humble 1,208 square foot home is a modest two-bedroom and one-bathroom pad, where Billie and Finneas's parents opted to sleep in the living room in order to allow the kids to work on music growing up.
They definitely get the Parents of Year Award!
The home was built in 1912 and was purchased by the family in 2001 for $240,000. It is now estimated to be worth around $763,400.
In 2019, Billie Eilish was featured on James Corden's "Carpool Karaoke" segment of his late-night show, and she gave the audience a quick little tour of her home.