Jerry Seinfeld had one of the most recognizable apartments in television history during the run of his show "Seinfeld." Had he moved up from the one-bedroom apartment on "the show about nothing?"
Jerry Seinfeld still lives in New York City, just like on his famous television show "Seinfeld." However, he also owns property across the country, including a holiday home in the elite area of the Hamptons.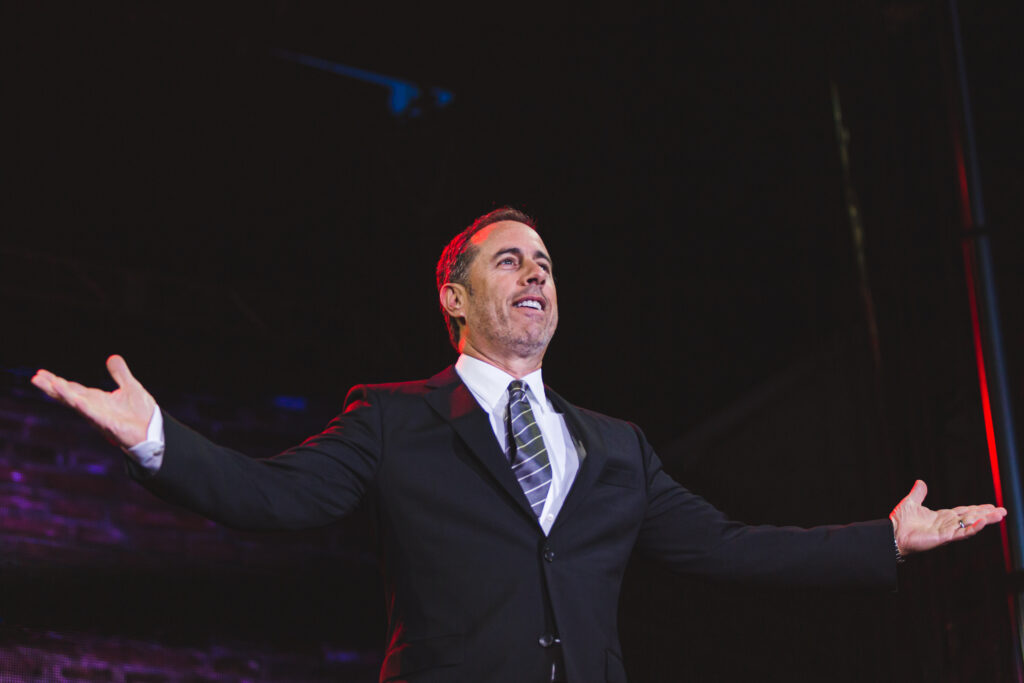 Although Jerry Seinfeld made his name as a lover of all things New York City, he still likes to live lavishly and has diversified his real estate portfolio outside of the big apple. He also caught some flak in the press for having a holiday home in the Hamptons after responding to a controversial op-ed in The New York Times.
Apartment in NYC and NYT Op-Ed
Jerry Seinfeld's most famous New York City apartment is not the one he currently lives in, but the apartment from his hit sitcom series "Seinfeld." Interestingly, the apartment on the show is only a block away from Jerry Seinfeld's real-life duplex in the famous Art Deco-designed Beresford building.
In an interesting turn of events, fans of the show rewatched episodes and realized that the fictional television apartment is more fictional than they thought — it actually defies the laws of physics!
Cinema Blend reports that Jerry Seinfeld's fictional Upper West Side apartment is impossibly designed, with a Reddit user posting a 3D model of the apartment online. It turns out that the "Seinfeld" show apartment kitchen intersects with the fictional hallway.
Although it could be argued that the hallway simply contains a bend, this would be inaccurate as, during the show's run, it featured shots from a hallway that did not contain a bend. Thus, the impossible apartment.
Jerry Seinfeld's actual apartment is much less compelling. His home is still in the Upper West Side area of New York City; Jerry Seinfeld lives in a $4.35 million duplex apartment with his family.
However, what is more compelling is the local controversy that Jerry Seinfeld found himself in when he responded to a controversial op-ed piece in The New York Times with a column of his own.
In his column, Jerry Seinfeld responds to comedy club owner and former hedge fund manager James Altucher, who penned an op-ed in the New York Post titled, "New York City is dead forever."
What resulted was the two men trading barbs as Jerry Seinfeld argued that James Altucher had not stayed in New York City proper but fled to Florida. At the same time, James Altucher retorted that Jerry Seinfeld also owned a retreat in the Hamptons.
In his column in The New York Times, Jerry Seinfeld wrote, "And I have been onstage at your comedy club Stand Up N.Y. quite a few times. It could use a little sprucing up if you don't mind my saying. I wouldn't worry about it. You can do it from Miami."
He also acknowledged that he owned a place in Long Island.
Hamptons Home
Jerry Seinfeld's home in the Hamptons is more than just a little place in Long Island. Architectural Digest reports that the coffee maker alone cost $17,000, without even mentioning the vacation home itself!
However, the splendor of Jerry Seinfeld's Hamptons home isn't something to be glossed over. The 12-acre estate is magnificent on its own terms, featuring tons of luxury amenities and oceanfront views.
The property consists of the main house in addition to another three-bedroom guest house, the main pool, and a barn. In addition to the main pool on the property, the main house also has its own private pool and garden.
It also features a 22-car garage, which is perfect for Jerry Seinfeld as he is a known collector of classic cars, as evidenced by his web series "Comedians in Cars Getting Coffee." Unsurprisingly, he also loves coffee — as evidenced by his $17,000 coffee machine!
However, he does not keep his entire collection on-site at his Hamptons home. Instead, Jerry Seinfeld keeps the bulk of his 150 car collection in a custom $1.4 million garage on Manhattan's Upper West Side.
Jerry Seinfeld purchased his mansion in the Hamptons for $32 million back in 2000. Although he doesn't seem to be leaving New York City any time soon, at least he has a retreat to go to when the city is, if not "dead," then napping.