Having enjoyed a long career on our screens, Paul Rudd's star has never been brighter since joining the Marvel Cinematic Universe as Scott "Ant-Man" Lang. How did Rudd's journey begin and who are his parents?
Paul Rudd's parents are Michael Rudd and Gloria Irene Granville. Both Michael and Gloria were born in London, England, and have Ashkenazi Jewish backgrounds. Michael's family changed their surname from Rutnitsky to Rudd after moving to the UK.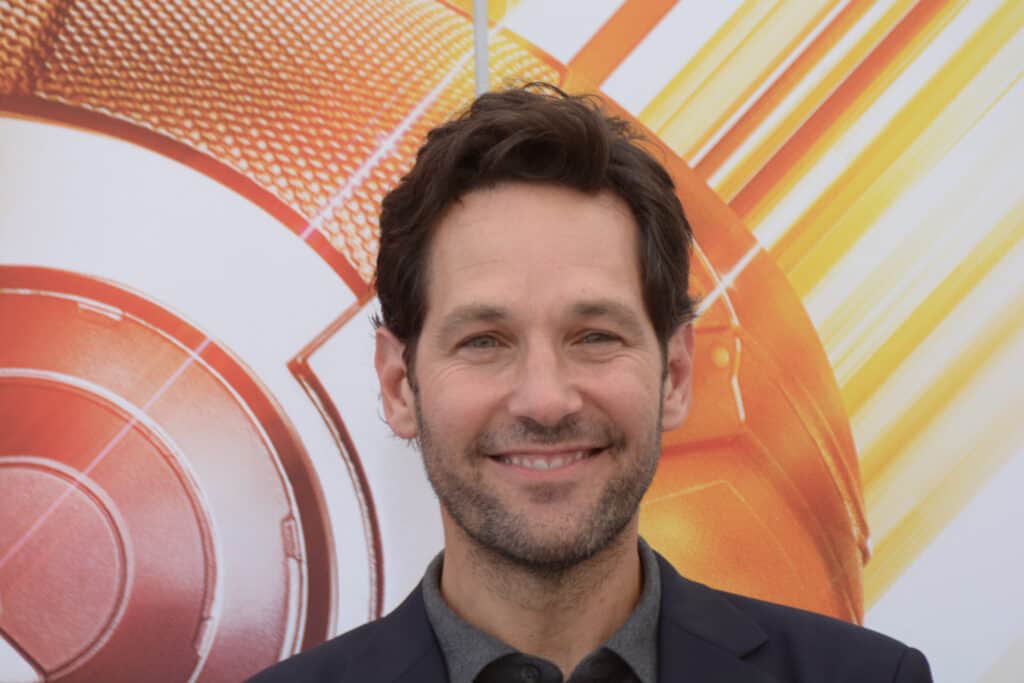 For more on Paul Rudd's family background and how he first entered the world of acting, read on.
Family
Paul Rudd was born in Passaic, New Jersey on April 6, 1969. Both of Rudd's parents were Jewish and born in London, England.
Michael Rudd, Paul's father, was from the suburban town of Edgware, while his mother, Gloria Irene Granville, was from the neighborhood of Surbiton. Both Michael and Gloria had Ashkenazi Jewish heritage, with their origins in Eastern Europe, particularly Russia, Poland, and Belarus.
There were further similarities between Rudd's parents. Michael's family had originally been called Rutnitsky, but Paul's grandfather changed it to Rudd after emigrating to England in order to find employment.
Gloria's family did the same, changing from Goldstein to Granville, adopting a typically English name.
Michael and Gloria moved to the United States, with Michael working for Trans World Airlines and Gloria employed as a sales manager at KCMO-TV in Kansas City.
Rudd continued to have family in the UK and an uncle would send him copies of famous British comics "The Dandy" and "The Beano", which became some of his favorite reading material.
When Rudd was 10 years old, the family relocated to Lenexa, Kansas. They also lived in Anaheim, California for three years due to Michael's job.
Rudd married Julie Yaeger, a screenwriter and publicist, in 2003. They have two children, a son, and a daughter.
Education
While living in Kansas City, Rudd attended Broadmoor Junior High School. He later attended Shawnee Mission West High School, where he graduated in 1987.
Rudd enrolled at the University of Kansas, majoring in theatre. While at the college, Rudd was a member of the Sigma Nu fraternity.
With ambitions to pursue acting as a career, he studied at the American Academy of Dramatic Arts for three months, alongside fellow actor Matthew Lillard. Keen to receive as broad an acting education as possible, Rudd traveled to the UK and studied Jacobean drama at the British American Drama Academy in Oxford, England.
Before he could act full time, Rudd worked numerous odd jobs to support himself. While still at acting school, he worked as a DJ at parties, including Bar Mitzvahs.
This trend continued after graduation, with Rudd recalling working at the Holiday Ham Company in Kansas. During his time at the company, he was tasked with glazing hams.
Roles
Rudd enjoyed some early TV roles, debuting in 1992 when he appeared in "Sisters" as Kirby Quimby Philby. He appeared in 20 episodes of the show across three seasons before his character relocated to Minnesota to manage a video store.
In reality, Rudd left the show to appear in "Clueless" as Josh Lucas, the film's main love interest. The movie released on July 19, 1995, and has become a cult favorite, widely considered one of the best teen films of all time.
Rudd had several more movie roles throughout the 1990s, including appearing in the sixth "Halloween" movie, "The Curse of Michael Myers", as Tommy Doyle, as well as Baz Luhrmann's "Shakespeare's Romeo + Juliet".
He joined the cast of "Friends" in 2002 as Mike Hannigan, the love interest of Phoebe Buffay, with the two characters eventually marrying.
His success continued improving when he began working with Judd Apatow in 2004. Rudd appeared in "Anchorman", "The 40-Year-Old Virgin" and "Knocked Up", further cementing him as one of Hollywood's leading comedic acting talents.
In 2007, Rudd narrated a season of HBO's "Hard Knocks", which followed the Kansas City Chiefs. He is a fan of both the Chiefs and the Kansas City Royals.
In 2013, it was announced that Rudd would join the cast of the Marvel Cinematic Universe. He was cast as Scott Lang, who becomes Ant-Man, starring in the movie by the same name.
Rudd's Ant-Man has gone on to star in "Ant-Man" and its sequel, "Ant-Man and the Wasp", as well as appearing in the ensemble casts of "Captain America: Civil War" and "Avengers: Endgame".