Since entering the scene back in 2013 BTS has skyrocketed to fame and has successfully broken down any cultural barriers that a K-Pop group may face and experienced mainstream success. Their hair, sense of style, and gender-norm-defying take on jewelry and makeup are all part of their appeal. But who is the BTS makeup artist that helps the boys achieve this?
All of the BTS boys wear makeup that is expertly applied, but they aren't quick to disclose by who. Like most aspects of their personal and professional lives, BTS keeps their collection of makeup artists private. All we do know about BTS' makeup artists is that they have to be married to be hired.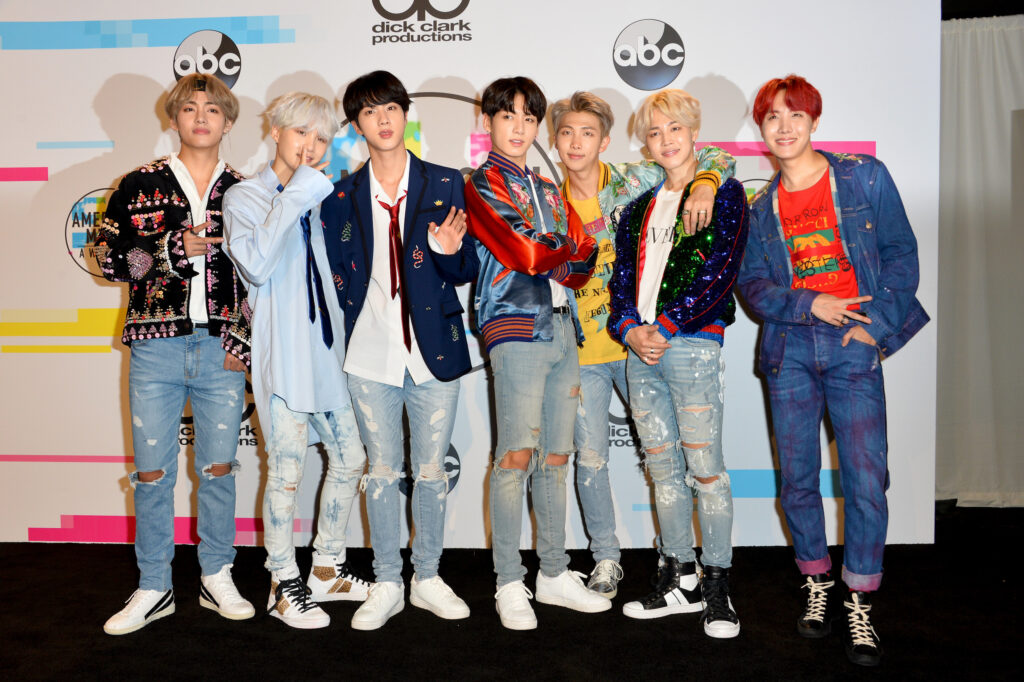 Almost all of the seven members of BTS are beauty buffs and advocates for male makeup. The group also takes great care of their skin and love sharing their makeup and skincare tips with their millions of followers and fans.
Who is BTS' Makeup Artist?
Nobody knows the identity of BTS's team of dedicated makeup artists, only that they're all married and speak Korean fluently. These are just a few of the many hiring requirements of Big Hit Entertainment, the South Korean entertainment agency that manages the sensational group.
Korean makeup artist Han Hyun Jae is a former BTS makeup artist, but it is not clear why he stopped working with the boys nor who they replaced him with. In the video below, you get a glimpse of one of their regular makeup artists but her name is not disclosed.
In the video, when asked by the presenter which BTS member takes the longest in hair and makeup, the mystery makeup artist revealed that Jimin takes up most of her time. When the presented pushed her on why that's the case, she responded "no double eyelids, his eye makeup requires extra attention."
The BTS Makeup Collection
Considering how passionate the three rappers and four vocalists are about makeup, it should come as no surprise to read that they have their own makeup collections. At the moment, the K-Pop group has two lines with VT, VT x BTS and BT21, and a total of 11 collections have been released.
In addition to a range of fragrances, a skincare set, and jumbo toothbrushes, in the VT x BTS Collagen Pact Collection you'll find an assortment of moisturizing Black Essence foundations, and in the STAY IT Collection you'll find duo eyebrow pencils, a liquid eyeliner-mascara combo, lip tints, a shimmery primer, foundations, eyeshadows, and blushers.
The VT x BTS Super Tempting Collection features a contour palette, a highlighter palette, a color correcting palette, two eyeshadow palettes, two cheek palettes, a setting spray, and 10 lip rouges. The VT x BTS Glorious Gloria Collection boasts five moisturizing lip balms.
The BT21 line of products, which is named after the featured characters Kang Byeong Mok created for the BTS gang, exclusively offers makeup. The BT21 Cushion Collection is comprised of four lightweight cushion foundations, four full-coverage cushion foundations, two cheek cushions, and a cooling SPF, while the BT21 FIT ON STICK Collection consists of a concealer, a contour stick, a primer, and a highlighter.
Two neutral eyeshadow palettes are found in the BT21 Eyeshadow Palette Collection. The BT21 Glow Lip Lacquer Collection has four lip glosses, the Cream Lip Lacquer Collection has five liquid lipsticks, and the BT21 Lippie Stick Collection has eight creamy lipsticks.
What Skincare Products Does BTS Use?
BTS is known for their youthful glow and porcelain complexions. While they are all naturally blessed with seemingly poreless skin, they have a little help keeping it that way.
When speaking about the BTS skincare routine, the group is unanimous in their opinions. Jin says that "skin is what completes my appearance" while J-Hope says that "taking good care of your skin is the No.1 rule for all celebs."
All of the guys use toner and face cream in their skincare routines but J-Hope has a more advanced routine. His nighttime routine consists of toner, essence, acne cream, lotion, and cream.
Both Jin and RM love using Mediheal's variety of sheet masks after a long day of work. Suga is the only member of the group that isn't a skincare fanatic and admits that his bad habit is "that I don't take care of my skin."