Danica Patrick is an incredibly successful businesswoman and entrepreneur who rose to fame as a professional auto racer in a male-dominated world. She's talented, famous, and has a small fortune in the bank, plus she's appeared on several "Sexiest Woman in the World" lists so she's likely to have men lining up to date her. So, who is Danica Patrick dating?
After splitting up with her boyfriend of one year, Carter Comstock, Danica Patrick is currently single. In the past, she has been romantically linked to NFL player Aaron Rodgers, NASCAR star Ricky Stenhouse Jr., and Dr. Paul Hospenthal who she was married to for 7 years before divorcing in 2013.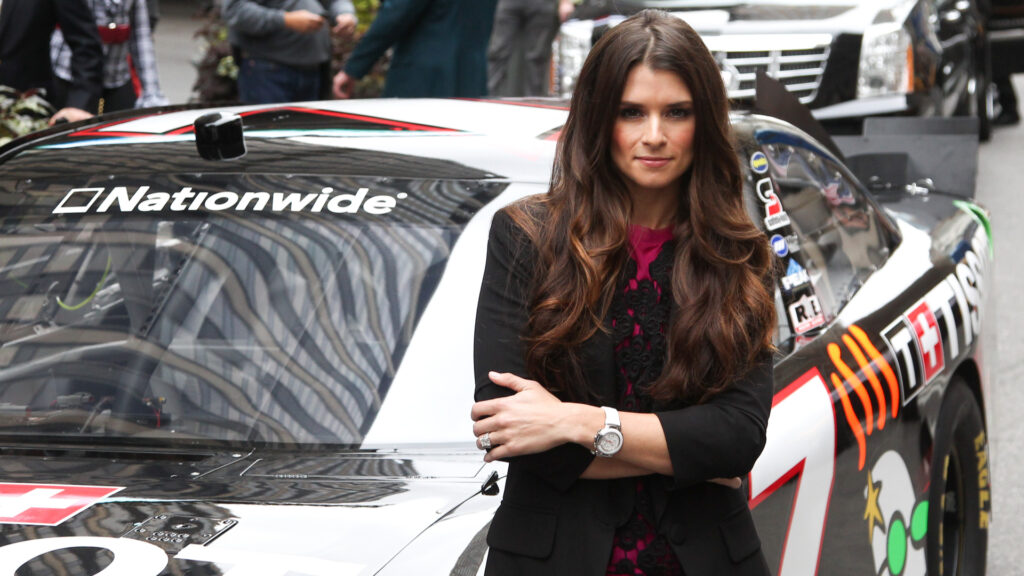 Let's take a look under the hood of Danica's past relationships and find out if the legendary racing star is ready to race down the aisle again.
Is Danica Patrick Still Dating Carter Comstock?
In early 2021, after secretly dating for four months, Danica and Carter Comstock took their relationship public. Unlike most of Danica's past partners (more on them down below!) Carter is in no way linked to the sports sector nor the world behind the wheel.
Carter is an entrepreneur who has a net worth of around USD $80 million. He is known for being the co-founder of a meal delivery service called 'Freshly'. Danica and Carter were introduced by the founders of a brand called 'Beam' that they both invested in.
Since taking their relationship public, Danica has not shied away from public displays of affection in real life and on social media. Both would often post photographs of the other on their Instagram pages along with heartwarming captions that made it seem like Darter was the real deal.
Sadly, on 3 March 2022, Danica revealed that the pair were no longer a couple and told People, "We were together for a while, and unfortunately it didn't work, but it doesn't mean that it wasn't a really fun time and we didn't do a lot of really amazing things."
She continued, "It doesn't mean that there's something wrong with either of us. It's just a matter of finding someone who you can stand the test of time with."
Who Has Danica Patrick Dated?
Unfortunately, Danica's not as lucky in the love department as she was in the racing one. In addition to her break-up with Carter, Danica has a string of past relationships behind her.
Danica met Paul Hospenthal in 2002. Paul, who is 17 years older than Danica, is a physical therapist who Danica sought treatment from while recovering from a knee injury she sustained in a yoga session. The pair hit it off, began dating, and got married three years later. They split in 2012 and their divorce was finalized the following year.
After her split from Paul, Danica dated NASCAR star Ricky Stenhouse Jr. The pair were happy and Danica expressed her desire to get married and have children, but ultimately their five-year relationship ended in 2017.
In 2018, Danica began dating NFL player Aaron Rodgers. Again, it looked like marriage was on the cards but their relationship ended in July of 2020. A source told Hollywood Life, "Danica was in love. She wanted to start a family. She wanted to get married. That didn't happen…She is letting the past be the past."
Does Danica Patrick Want To Get Married?
Talking to US Magazine, Danica once revealed, "I love love. I've always said that and have always loved love. I love it for other people, too, and if anyone wants to invite me to a wedding, I'll go because I love weddings. They're the best events ever!"
And, even though she has one failed marriage behind her and a string of high-profile ex-boyfriends in her wake, Danica is still keen to walk down the aisle once she meets that special someone.
In 2020, while on The Rachel Hollis Show, Danica said "The next guy has his work cut out for him because my intuition, my standards, my boundaries, my wants and needs are off the charts. Because I've gotten to know me so much more so it's going to be so much more narrow and specific."