Mark Cuban is an American television personality, entrepreneur, media proprietor, and billionaire who is best known for appearing on ABC's 'Shark Tank'. Behind the scenes, he's also a doting dad and a loving husband — but who is the lucky lady?
Mark Cuban has been married to his wife Tiffany Stewart since 2002. The pair met at the gym in 1997 when he was 39 years old and Tiffany was 27 years old and enjoyed a long friendship that led to them dating for five years and marrying in 2002.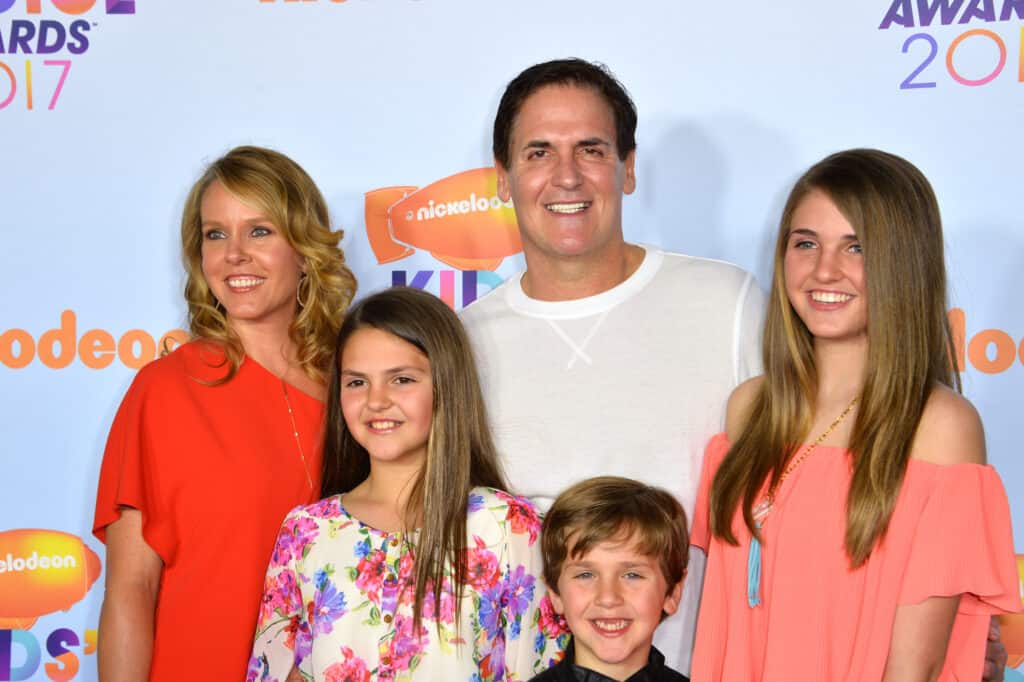 He's not exactly known for being loving, but behind the scenes, Mark is a big softy and a true romantic at heart. Let's find out more about his wife, Tiffany Stewart, and what their relationship is like.
Who is Tiffany Stewart?
Tiffany Stewart was born on 1 January 1970 in Heath, Texas, to Beverly and Jim Stewart. She grew up in a middle-class family with two sisters named Jamie and Julie.
Growing up, Tiffany and her sisters would often fight when they were younger and their mother would make them run around the house three times to make up. Tiffany attended a local high school and went on to attend university, though details on which educational facilities she went to are unknown.
Tiffany graduated in 1993 with a Bachelor's Degree in business and began working as a saleswoman for an advertising agency. She worked her way up in the agency and became a marketing executive, which was the position she held when she met Mark.
When the pair became parents, Tiffany left the corporate world and focused on her children. Now, she mainly works as a philanthropist and supports foundations such as the Hoops n' Hopes foundation.
Despite being married to a celebrity, Tiffany values her privacy and that of her family and goes to great lengths to ensure that details of her personal life are only known by family and friends. As a result, she has no social media accounts except an Instagram (@cubanfamily) which is set to private.
Inside Tiffany Stewart and Mark Cuban's Relationship
Mark and Tiffany shared a mutual love of fitness, that saw them both frequent gyms. It was at a gym that they both worked out at that the pair met, in 1997.
At the time, Mark was 39 years old and Tiffany was just 27 years old. They did not immediately start dating but enjoyed a long friendship before taking their relationship to the next level.
When they first started dating, Tiffany struggled to adjust to life as a millionaire's partner which she admitted: "required great patience". The new couple was plagued with "scheduling problems" and battled to make time for one another.
Mark's hectic work schedule took its toll on the relationship and left Tiffany feeling like she's never "going to be No. 1. He can't turn it off. He just can't."
The pair managed to overcome these obstacles and tied the knot in 2002. Before this, Mark had described marriage as a "no-win question" but it's clear he changed his mind.
Tiffany and Mark married on 21 September 2002 in a beach ceremony in Barbados. The wedding was attended by just 20 guests and has been described as "a very traditional, very elegant, beautiful wedding and reception."
Despite her initial struggle adjusting to going from a middle-class American to the wife of a billionaire, Tiffany has adapted to her new life and seems to enjoy her lavish lifestyle.
Mark Cuban: The Romantic at Heart
'Romantic' is not the first word that comes to mind when people picture Mark Cuban. But deep down he is a champion for love and a romantic at heart.
In April of 2014, Mark funded the entire wedding of Monica Wilkison and her fiance. The couple had been planning on marrying since 2009 but were faced with problem after problem that saw them constantly pushing their wedding date back.
According to the LA Times, Monica says that it felt like "every dream we had was just completely out of reach for everything". Until one Mark Cuban heard the couple's tragic tale, that is.
Nobody is quite sure how Mark found out about Monica's situation, but before long his assistant contacted the couple and said that Mark was going to pay for their dream wedding.
Monica said, "I felt like a princess. Now we actually have those memories that can actually get us through. I can go back and have those pictures now and have a reason to smile. Because I got to feel special and it was all thanks to Mark Cuban."