Roger Federer is regarded by most as the GOAT in the tennis world, but he's much more than a tennis player; he's a millionaire, a philanthropist, a doting father, and a loving husband. So, who is Roger Federer married to?
Roger Federer's wife is Mirka Vavrinec, who was his first kiss and is the mother of his four children. Mirka, who is four years his senior, was a professional tennis player as well and met her would-be husband while they were both representing Switzerland at the 2000 Olympics.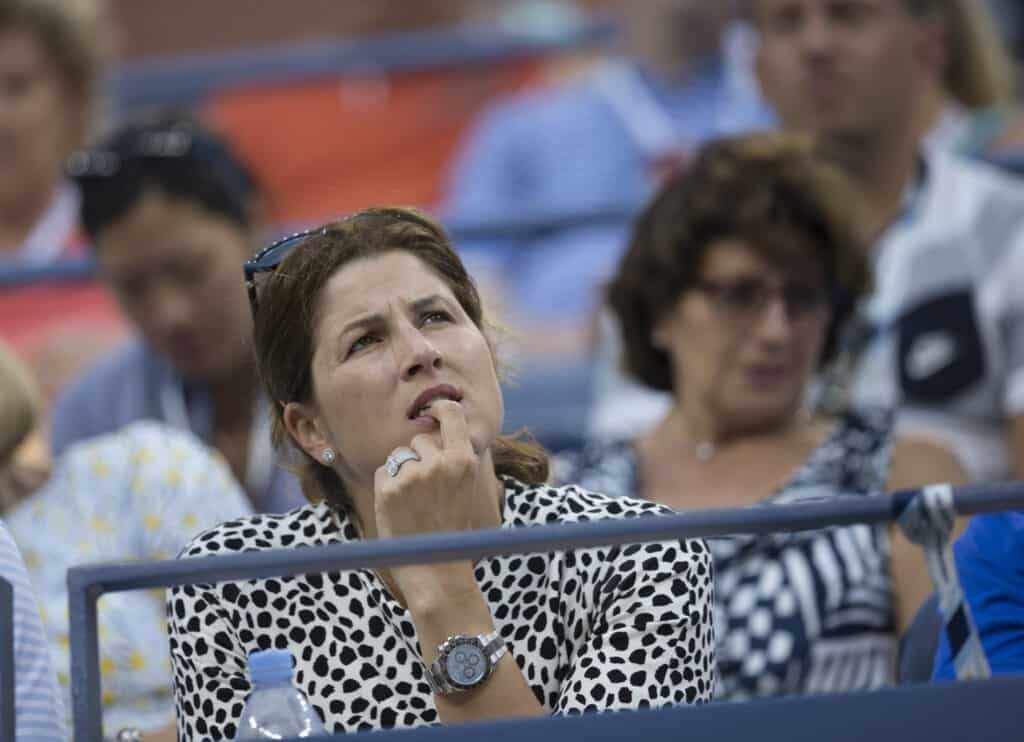 To many, they're the very definition of "couple goals". Let's find out who Mirka Federer is, how the happy couple met, and what their wedding was like.
Who is Mirka Federer?
On 1 April 1978, Miroslava Vavrincová — who later changed her surname to Vavrinec and started going by Mirka — was born in Bojnice, which was Czechoslovakia at the time. When she was two years old, she and her family emigrated to Switzerland.
Little is known about her parents, other than the fact that they worked in the jewelry industry and that they taught her the value of money while she was growing up.
When she was nine years old, her father took her to watch a tennis tournament in Filderstadt, Germany, where she would meet Martina Navratilova. Though young Mirka didn't know it at the time, this encounter would change the course of her life.
Martina thought that Mirka looked athletic, and sent her a tennis racquet and organized a private tennis lesson. Mirka fell in love with the sport and spent hours upon hours honing her skills.
Mirka enjoyed a successful career as a junior tennis player and she even won the Swiss Junior Championship and the Tel Aviv Tennis Championship. She went professional in 1998.
Sadly, Mirka's career as a professional tennis player lasted only four years as she was plagued with a persistent foot injury and retired in 2002 as a result. Thankfully, two years before she retired, she met a man named Roger Federer so her tennis journey was not over just yet.
How Did Mirka Vavrinec and Roger Federer Meet?
Mirka and Roger met in 2000, at the Sydney Olympic Games. The pair was at the Olympics representing Switzerland and they — along with other athletes — spent two weeks living in the same dorm.
Roger recalls, "We were both playing for Switzerland in tennis, and then we spent two weeks together in those dorms. We were together with the wrestlers and all the other cool athletes… I guess over the two weeks we built up some chemistry."
With the help of his wrestler roommates, Roger summoned up the courage to kiss Mirka. Roger says, "She told me I was so young when she kissed me. I tried to tell her I was almost 18-and-a-half. I tried to sneak in a quarter year."
Years later, in 2019, Roger told Essentially Sports, "On the last day of the evening before she went to Tokyo and I went back to Switzerland, we kissed and we didn't know where it was gonna take us but here we are 20 years later. And we have four children and married and happier than ever. So it was a good kiss."
After retiring, Mirka became Roger's unofficial public relations manager, schedule manager, and was in charge of handling his media affairs.
When Did Roger Federer Marry Mirka Federer?
On 11 April 2009, at the Wenkenhof Villa in Riehen, Mirka became Mrs. Federer. They married in a private ceremony near Roger's hometown of Basel and were "surrounded by a small group of close friends and family."
Roger said of his special day, "It was the right thing to do, I was very happy. We had a wonderful wedding, I would love to do it again."
A month before tying the knot, the pair announced that they were expecting their first child together. That "child" ended up being a set of identical twin daughters, who were born on 23 July 2009 whom they named Myla Rose and Charlene Riva.
Five years later, on 6 March 2014, Mirka gave birth to their second set of twins. This time, the twins were boys and they named them Lenny and Leo.
Roger is a devoted father to his four children, and he wouldn't mind having more kids. He told IBT, "This topic, more children, is certainly not yet complete, but we are not going to deal with it until I have finished my career."