Roger Federer is a highly decorated Swiss tennis player and is one of the highest-earning athletes today. Among his many accolades, what sticks out the most are his 20 grand slam titles, attaining Olympic Gold in 2008, and winning the Stefan Edberg Sportsmanship Award 13 times.
Roger Federer has an older sister, Diana. She is a mother to twins, just like her brother who has two sets of identical twins.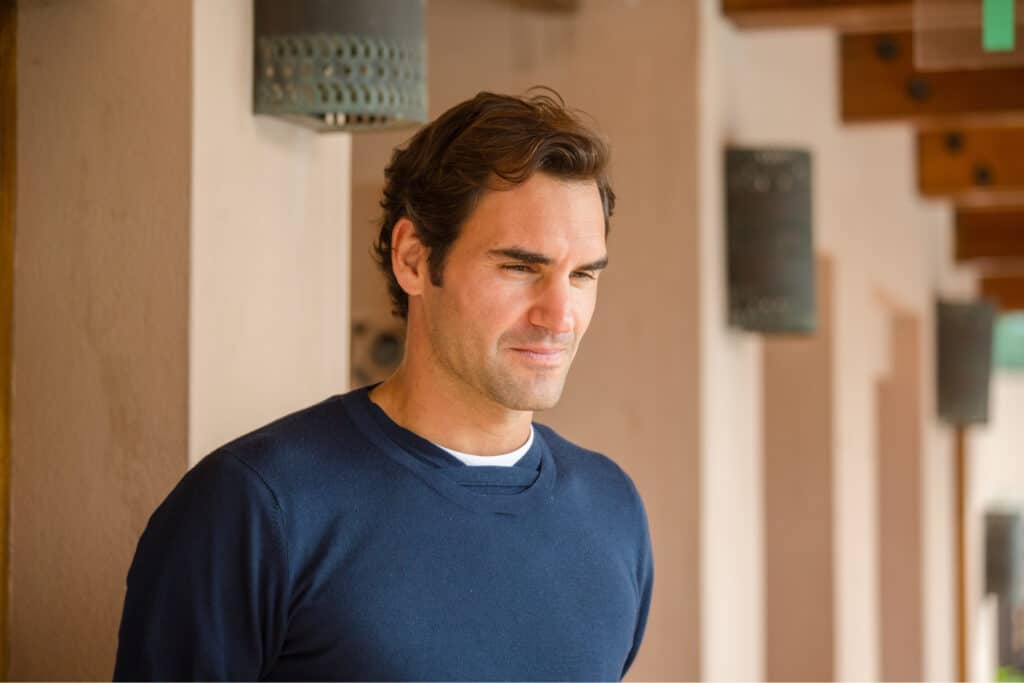 Roots
Roger Federer was born in 1981 on August 8th. His father, Robert, is Swiss-German and his mother, Lynette, is from South Africa.
He and his sister Diana grew up in Birsfelden and Riehen before finally settling in Münchenstein when he was 10.
Young Maestro
Roger began playing at the age of 8 and showed early signs of greatness.
His coach Adolf Kacovsky saw Roger's natural talent as he was able to quickly pick up lessons whereas others would need more time.
His coaches also observed that even though he did not seem to take practice seriously, he was able to focus and apply what he'd learned come competition time.
Kacovsky attributed this to Roger's parents and talked about this in the book Roger Federer by Anne K. Brown:
"His father is Swiss, and the calmness Roger has comes from his father, but the ambition and willpower comes from his mother."
In 1993, Federer won the under 12 indoor division of the Swiss national title when he was 11. He also won the outdoor division of the same competition months later.
In the same year, Peter Carter became his coach and quickly noticed the young champion's natural gifts.
Roger was watching a lot of tennis on television and was able to emulate the techniques of his favorite players, Boris Becker and Pete Sampras. With the help of his coaches, Roger was able to progress quickly and maximize his potential.
From 1994 to 1995, Roger attended the Swiss National Tennis Center to further his training. This would be a stressful time for him as he needed to move into the academy in Eclubens and away from his family.
He was tested in the academy and even considered quitting. He kept on his training with the support of his host family, the Christinet family.
With all his training paying off, Roger won the under-16 and under-18 divisions of the Swiss national title in 1996 and 1997 respectively.
He then won the Wimbledon Junior Championship in 1998 and from there his legendary career was on its way.
Marriage and Family
Roger and his wife, Miroslava Vavrincová, met in the 2001 Summer Olympics in Sydney, Australia. Mirka was a top 100-ranked tennis professional until her retirement in 2002 due to a foot injury.
They were married on April 11, 2009. They were blessed with two sets of twins–first were Myla and Charlene and then followed by Leo and Lenny.
Twins run in the Federer family with his sister giving birth to fraternal twins and their maternal grandmother being a twin herself.
Just Plain Old Dad
The Swiss Maestro is just plain "Daddy" at home and his children had no idea of their father's stature in the sport of tennis.
"It was their friends who revealed to them that I was No.1 in the world. They were literally speechless. My victories have never been an important topic at home," he said in an interview.
It would surely be a sight to behold if Federer's two sets of twins all picked up the sport their father is considered the best at. This is not the case, however, as he admitted to trying to promote tennis to his kids by going against Rafa and Novak but the children are just not into it.
The dream of Federer twins dominating doubles divisions in men's and women's tennis might be done, but tennis has had its fair share of history of successful professional siblings.
Siblings in Tennis
Serena and Venus Williams have 14 Grand Slam doubles titles and 3 doubles Gold Medals in the Olympics. Talk about a one-two punch.
Each of them have been ranked #1 in the world for the singles division and it would just be fitting that they would rank #1 in doubles as well.
Dinara Safina and Marat Safin both reached number 1 ranking for their respective singles divisions. Marat reached the men's top spot in 2000 and Dinara got the women's number 1 in 2009.
John and Patrick McEnroe – these siblings did not compete in doubles together but they were able to attain success in their own lanes.
John was ranked number 1 in singles as well as doubles, partnering up with Peter Fleming. Patrick was able to reach world number 3 in doubles with his partner, Jim Grabb.