Roger Federer topped the Forbes 2020 list with his $106 million in earnings which affords a lot of luxury for him and his family. As one of the highest-earning athletes in the world, how does the Swiss Maestro fly?
Roger Federer owns a private jet and has been the brand ambassador of NetJets since 2004. He admits that flying private has made his life on tour easier. He specifically mentioned the 2008 Olympics where he had to fly from Cincinnati to Beijing and then finally to New York for a tournament.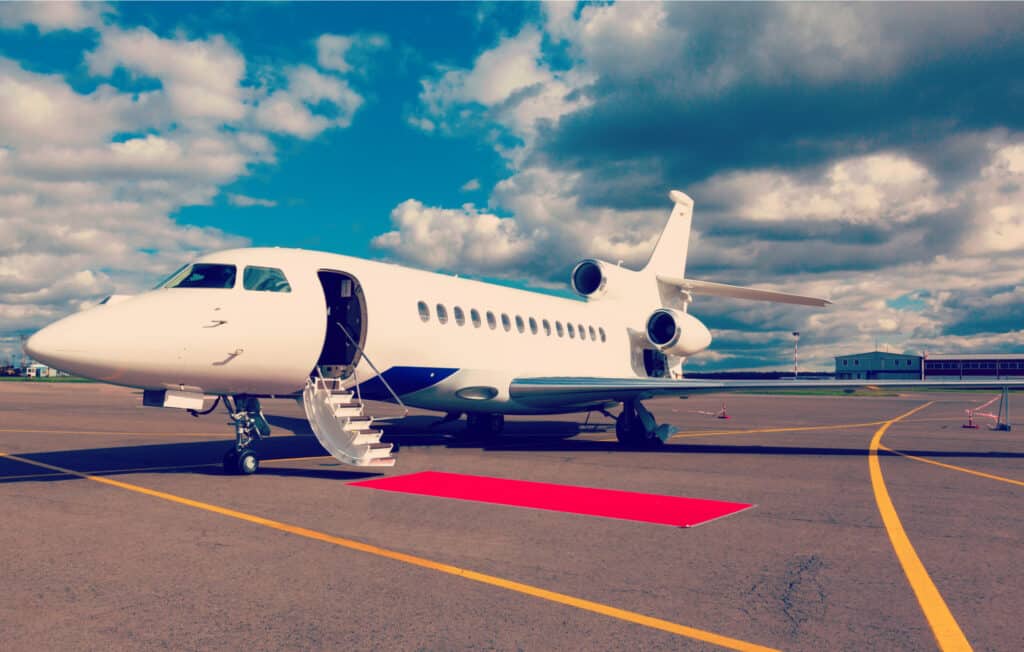 Flying private gave him a competitive edge as he won Olympic Gold in Beijing and won the US Open in New York. Staggering luxury indeed.
Balancing Out Luxury Through Charity
With all the accolades he's earned, Roger Federer is considered as one of the greatest tennis players to have ever played and was even previously named as World's Most Marketable Sports Person.
He makes a ton of money but, he is also known to spend his income more on charitable works through his foundation, the Roger Federer Foundation.
Athletes and Airplanes
Private jets are truly on a different level of luxury and comfort and are reserved for the extremely wealthy. Let us find out which athletes are in the same stratosphere.
Air Jordan
Michael Jordan is a six-time National Basketball Association champion and is one of the highest-paid athletes ever. He revolutionized how athletes got paid off the court with his lucrative deals.
MJ did a lot of flying on the court during his playing years and now as owner of the Charlotte Hornets, he is able to fly around the country to support his team on his very own Gulfstream G550. His jet is priced at a whopping $61 million.
His Royal Airness is all about style from his shoes and even his plane. It was originally painted light blue because of his ties to the University of North Carolina but has been seen with an elephant print design.
La Pulga
Lionel Messi is ranked #1 in the 2022 Forbes list of highest-paid athletes, earning $130 million in the past year. The Argentine footballer has a Gulfstream V jet which he bought for $15 million in 2018.
The Paris Saint-Germain forward has to fly a lot across Europe for games. He has even opened the use of his plane to his teammates for safety concerns during the pandemic.
CR7
Another footballer-flyer is Cristiano Ronaldo. He is ranked 3rd in the Forbes list earning $115 million in 2021-2022.
Because of his many scheduled appearances, CR7 has two planes – a Gulfstream G200 and a Gulfstream G650. The Portuguese national team captain acquired the G200 in 2015 for $25 million and his G650 is priced at $64.5 million.
Rafa
Rafael Nadal also has his own plane, a Cessna Citation CJ2+.
The King of Clay got the idea from Federer when he was picked up on a private plane by the Swiss champion for their 'Match for Africa'. Rafa never looked back.
Not just by air
Air travel is great for handling business in terms of the time and effort these elite athletes save by getting to their destination the fastest possible way. But when the super-rich want to have fun and get away at the same time, they go by sea.
Jordan took up fishing to calm his competitive nature so, in 2019, he acquired a 70-meter long yacht called "Joy" for $80 million.
Aside from the basic amenities, it has a jacuzzi, a movie theater, and even has a basketball court.
Ronaldo has a superyacht he acquired in 2020 called the Azimut-Grande 27. It fits comfortably CR7's growing family with its five bedrooms, six bathrooms, two lounges, and an open bar.
The yacht is priced at $7 million and was designed by Achille Salvagni Architects, with the exterior done by Stefano Righini.
For Rafa, he bought an 80 Sunreef Power Catamaran in 2019 for $8.5 million.
In a tour of the yacht by Nico Rosberg, the Spanish tennis superstar mentioned that the vessel was fully customized to his and his wife's liking.
In the salon, there are two large back-to-back TVs that can be spun so that he will not miss a thing while watching his favorite sports.
It has four cabins with the master cabin having a fall-away hatch on the wall which when opened serves as a mini-deck.
At the top of the yacht is the flybridge which is used for navigation and relaxation under the sun and comes with a hidden barbecue grill for cooking freshly caught fish out in the sea.
Rafa also likes his water toys so in the boat he has access to a jet ski, a sea bob, and jet surf.