English actress Sophie Turner made her major film acting debut when she played the role of Sansa Stark in Game of Thrones. She appeared in every season of the series and garnered many admirers from there. Aside from her career, she has other things going on in her personal life, especially her love life.
Sophie Turner is happily married to Joe Jonas, one-third of the music group The Jonas Brothers. The couple has a daughter, Willa, who was born in 2020.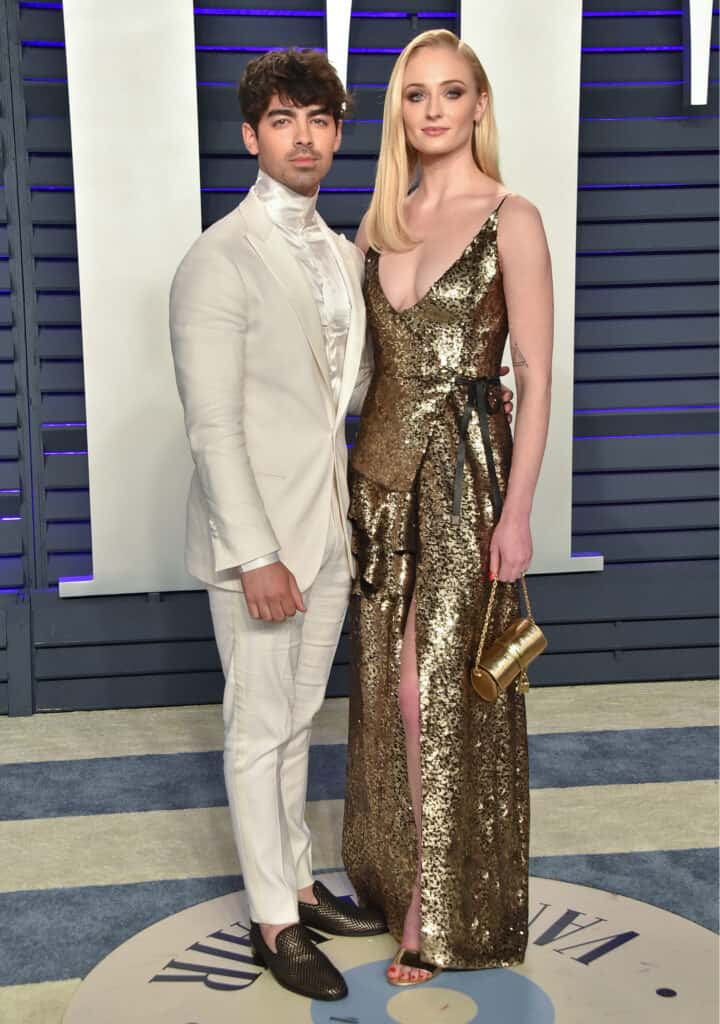 They met in quite an unusual way and walked down the aisle against all odds. Here we will look back at the actress' love life – think of it as a quick journey towards her marital bliss. Enjoy your read!
Is Sophie Turner divorced?
Absolutely not. Sophie Turner and Joe Jonas have remained happily married since tying the knot in 2019.
Before settling down with her then-beau, Joe Jonas, Sophie Turner had already been in quite a few relationships. This mileage of sorts had the GoT star feeling like she could quit playing the field and settle down by age 22.
Does Sophie Turner have kids?
Sophie Turner tied the knot with Joe Jonas in 2019, and a year later, in July 2020, they welcomed their first daughter — Willa Jonas. The bundle of joy came during a global pandemic and indeed was just the perfect gift to light up her parents' lives in uncertain times.
The actress didn't talk much about her pregnancy journey, which kept people in the dark for a while. She finally revealed pictures of her baby bump after giving birth to her baby girl.
In 2022, Sophie Turner announced that she was expecting a second baby, and quite glamorously! On her Instagram profile, she posted a photo of herself on the cover of ELLE Magazine revealing her baby bump. Fans are excited, with some even suggesting baby names.
Is Sophie Turner married?
Sophie Turner married Joe Jonas in 2019 first, at a secret wedding. After they managed to cover up the wedding, the couple appeared at the MTV Billboard Awards of that same year. The couple then had a second ceremony in France, also in 2020.
So yes, the actress is married, twice over, but to the same man, within the same year!
Who is Sophie Turner's ex?
Sophie Turner had a few boyfriends before getting married. After all, she was young and free then, as any young woman should be.
As expected with young love, not everything lasts forever. You may need to date a couple of people, before finding "The One." Before finding her "One" in Joe Jonas, Sophie was linked with the following fellas:
Tye Sheridan
Who says love can't blossom on set? Sophie Turner her X Men: The Apocalypse co-star Tye Sheridan were once rumored to be dating. Sheridan played Cyclops in the movie. Rumors flew around the costars around 2015, but the relationship never got confirmed.
Thomas Mann
Another rumored (ex) boyfriend is Thomas Mann, with whom Sophie Turner co-starred in Barely Lethal. This coupling was never confirmed by either party as well.
James McVey
In the summer of 2014, Sophie Turner seemed to move out of her "dating comfort zone" and dated a non-actor, James Brittain-McVey. James is the vocalist and guitarist for a band called The Vamps. This time, the relationship was confirmed. Years after their breakup, James revealed that the split was amicable, but did not provide further details.
How did Sophie Turner meet Joe Jonas?
Don't be afraid to shoot your shot–you never know how things will turn out. Joe Jonas took that advice seriously and slid into Sophie Turner's Instagram DMs. Prior to that, their mutual friends kept trying to link them up, but things kept getting in the way.
The duo got into talking and spent weeks getting to know each other. They eventually decided to meet at a pub in London. The actress was, however, skeptical about the meeting and went with some of her friends who played rugby.
Sophie Turner was expecting the Jonas Brothers member to show up with an entourage or be a catfish. But in a matter of minutes, she would find out her fears to be quelled because Joe Jonas showed up in person with zero fuss or drama.
They talked for hours before eventually taking their relationship to the next level. The couple stayed private, which was a smart move, especially in show business. While keeping your relationship public is not a sign of it failing, it's certainly beneficial in keeping the relationship grounded in reality and of course, love.
Sophie and Joe have found "The One" in each other and they have been consistent in protecting their private lives since the beginning of their romance. We're rooting for them and their growing family.