Sophie Turner has been stealing hearts since she appeared as Sansa Stark on Game of Thrones when she was 14 years old. Aside from her work in GoT, she stole the hearts of some men in her love life when she was in her dating phase.
Before getting married, Sophie Turner dated Jack McVey, Thomas Mann, and Tye Sheridan.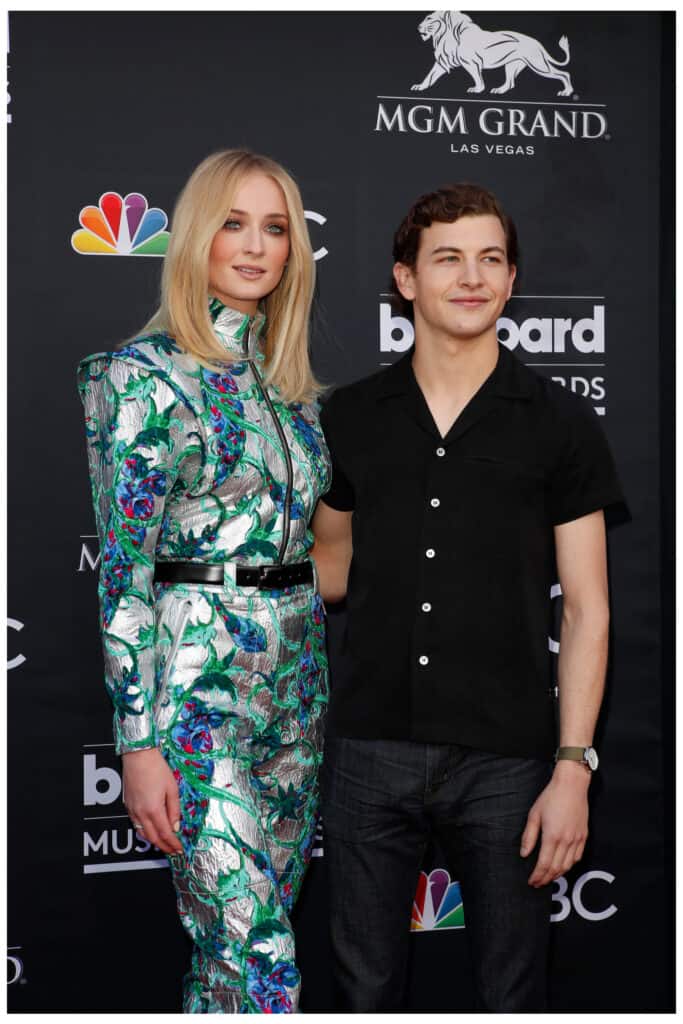 Sophie Turner managed to keep everything private about her personal life. She remains mum about her personal affairs, and quite understandably so. Here's a timeline of her past relationships, based on what we know.
Did Sophie Turner date anyone from Game of Thrones?
Before Sophie Turner got married in 2019, most of the guys she dated, including speculations, were her costars from film projects.
Therefore, it's not surprising that fans would ask if she had dated anyone from the Game of Thrones series. When the show started airing, Sophie Turner was 14, so if anybody had gotten romantically involved with her on set, it would have sparked mixed reactions from fans.
Although Sophie Turner is heavy on privacy, the actress didn't date anyone from the HBO series. There were also no rumors of any sort. Plus, nobody shipped her with anybody at any point.
So, she ended the series without a romantic partner from the set.
All of Sophie Turner's exes
Sophie Turner dated three men before settling down in 2019. The actress lived a low-profile life and was hardly ever spotted in public getting loved up with a partner. But here are the people that she dated before her marriage in 2019.
Tye Sheridan
Sophie Turner and Tye Sheridan worked together in X Men: The Apocalypse. In the movie, they were a couple, and Sophie even admitted that he was the best on-screen boyfriend she ever had on set.
It led fans to ask if they dated as they seemed to have a lot of chemistry on camera. Plus, they were seen outside together, which made it even more intriguing.
After her marriage, she admitted that she was in love with Tye Sheridan in one of her interviews.
However, her husband didn't seem to make a big deal of it since the love he shared with her was great. So there was no definite conclusion on her relationship with Tye Sheridan.
Thomas Mann
Most of Sophie Turner's relationship news was based on speculations, and none was confirmed. Regardless, relationship rumors are part of what you experience as a celebrity.
It's the same case with Thomas Mann, as they both starred in Barely Lethal in 2014. Their time together on camera led fans to believe that they had feelings for each other and were probably dating.
Both stars – Thomas and Sophie – never debunked or confirmed the speculations.
James McVey
Sophie Turner has spent most of her life in the spotlight, which leads to many rumors, most of which are baseless. However, the only approved relationship that fans were sure of was with James McVey.
He was the lead guitarist of a band called The Vamps. The couple didn't deny any speculations and dated for a while in 2014. They broke up, and people thought it was on a sour note because of a Twitter altercation.
James McVey cleared the air by letting people know that they exchanged the comments while they were together.
Is Sophie Turner married?
After dating James McVey, Sophie Turner stayed single for almost three years–until she received a message from Joe Jonas.
The duo dated for around two years and got married in 2019. They had a wedding in two locations: Las Vegas and France.
Does Sophie Turner have kids?
After successfully keeping her relationship away from the public's eyes, Sophie Turner married in 2019. On July 20, 2020, the actress welcomed her first daughter, Willa Jonas.
The actress must have trustworthy people around her because news of her pregnancy didn't surface until after she gave birth. She also announced the baby's arrival and shared pictures of her baby bump on her own terms.
How did Sophie Turner meet Joe Jonas?
After multiple attempts by their friends to link them up, Joe Jonas and Sophie Turner connect through Instagram. The singer messaged Sophie, and they agreed to meet after a few weeks of talking.
They met in a bar in London and had a long conversation without feeling like they had to impress themselves. The couple started dating the same year they met in 2017. By 2019, they were engaged and set to marry.
It was a quiet wedding as the paparazzi didn't leak photos from their secret wedding.