Roger Federer is a Swiss professional tennis player, philanthropist, husband, father, and inspiration to all. He's also one of the world's most marketable athletes, but which blue-chip brands have helped Roger become the second richest tennis player in the world?
Roger Federer has many high-profile sponsors including the likes of Mercedes-Benz, Rolex, Lindt, JURA, Wilson Sporting Goods, and Louis Vitton. His biggest sponsor to date is the brand that replaced his major sponsorship with Nike, and that is Uniqlo.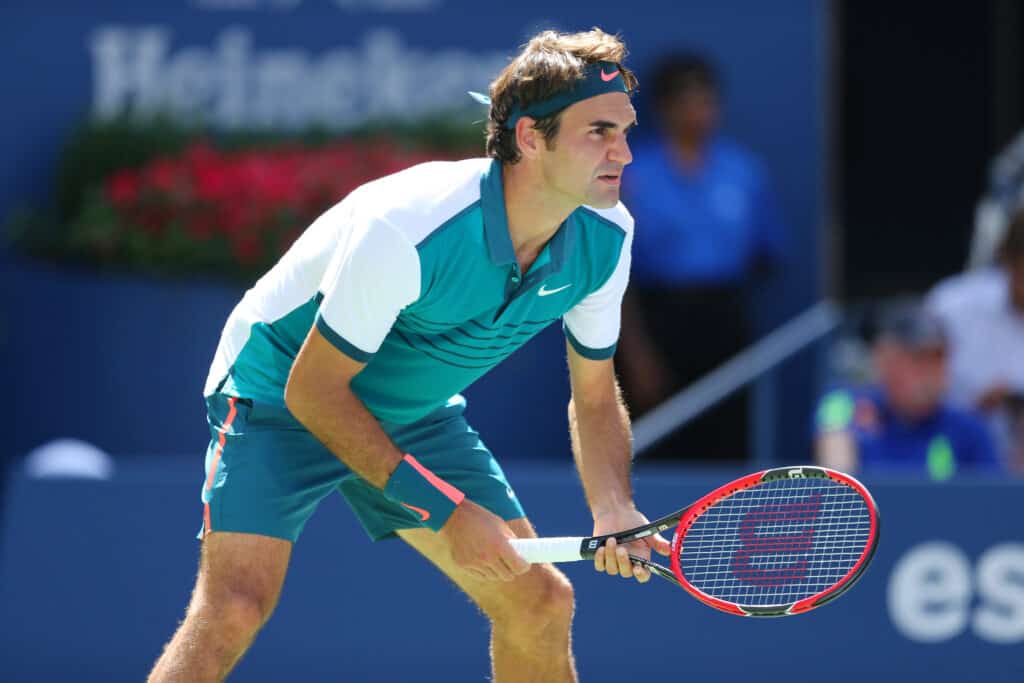 There's no denying that Roger Federer is one of the most marketable athletes around. To find out just how marketable the tennis legend is, as well as which brands have jumped on the Federer Express bandwagon, keep reading today's article.
Roger Federer's Sponsors
Because Roger is so marketable, he has brands lining up to sponsor him. As a result, he has an impressive portfolio of sponsors that other sports stars could only dream of having.
According to Roger's Forbes profile, his sponsors include Credit Suisse Group (ADS), Barilla, Louis Vuitton, JURA, Rolex, Lindt, Sprungli, Mercedes-Benz, NetJets, Sunrise Communications AG, RIMOWA, On, Switzerland Tourism, Gillette, Emmi AG, Wilson Sporting Goods, and Uniqlo.
Rolex was one of the first top-tier brands to sponsor Roger and he started working on a USD $15,000,000 deal with the brand in 2006, which was renewed in 2016. He exclusively wears Rolex watches.
Roger has been sponsored by Mercedes-Benz since 2008. The terms of the deal include an annual salary of USD $5,000,000 and a new car every six months.
Wilson Sporting Goods has sponsored all of Roger's tennis racquets since 1998. Though one of his most prominent and longstanding sponsorships, it only earns him USD $2,800,000 per year.
On 2 July 2018, it was announced that Roger signed a 10-year USD $300,000,000 deal with Uniqlo, a Japanese sports apparel brand. Before Uniqlo, Nike was Roger's biggest sponsor for more than two decades.
Why Did Roger Federer Leave Nike?
Of all his many sponsors, the one that Roger was best known for was Nike. Roger and Nike were partnered for 21 long years and their parting sent shockwaves through the sporting community.
For several years, Roger would step out onto the court wearing Nike shirts, shorts, socks, shoes, caps, and headbands. In addition, his sports bags and sweat towels were also branded with the famous Swoosh.
While Roger was happy with the brand, he wasn't completely satisfied. In a nutshell, Roger left Nike because of two things: not enough money and not enough innovation.
He told Essentially Sports, "I had an opportunity to look at what's out there, and we approached Uniqlo. I thought it would be a wonderful step into new endeavors, and entrepreneurial stage."
He continued, "I really wanted to make the best apparel, the best-looking apparel for a tennis player in recent years. I want to re-do that, and recreate the coolest things with Uniqlo."
In an Instagram post, Roger elaborated on the switch saying, "I am excited to announce my new partnership with @uniqlo to commence the next chapter in my career. Nike has been a fantastic partner over the last 20 years which I will cherish. I look forward to the new adventures coming ahead."
A small complication that came hand-in-hand with Roger leaving Nike was that he had to leave behind his iconic 'RF' logo, too. Due to the fine print of his contract with Nike, the brand technically owned Roger's logo and he only got it back two years after the split.
What Makes Roger Federer so Marketable?
Roger is one of the greatest tennis players of all time, so it's only natural that sports brands would want to work with him as he is the best of the best.
But there's much more to Roger than his incredible tennis-playing abilities. He's got a stellar public image, millions of social media followers across all of his platforms, and an attitude that is difficult to find fault with.
The academic director at the Warsaw Sports Marketing Center at the University of Oregon's Lundquist College of Business, T. Bettina Cornwell, says, "Federer is attractive from a marketing standpoint because he is an archetype of how tennis views itself."
She continues, "He is graceful and composed; he is stylish, never gauche, and importantly, he inspires younger players to behave similarly. Consider Rafael Nadal's respect for Federer."