It was rumored that Frank Sinatra had ties to the mafia and had crazed fans after him. That's probably why he was protected by bodyguards.
Frank Sinatra's known bodyguards were Ed Pucci, Jilly Rizzo, and Tony Consiglio. Ed Pucci was drafted to the NFL in 1953 before he became the bodyguard of the Chairman of the Board. Jilly Rizzo was Frank's longtime friend and known as his right-hand man. Rizzo owned the lounge called Jilly's Saloon before becoming Sinatra's chief aide.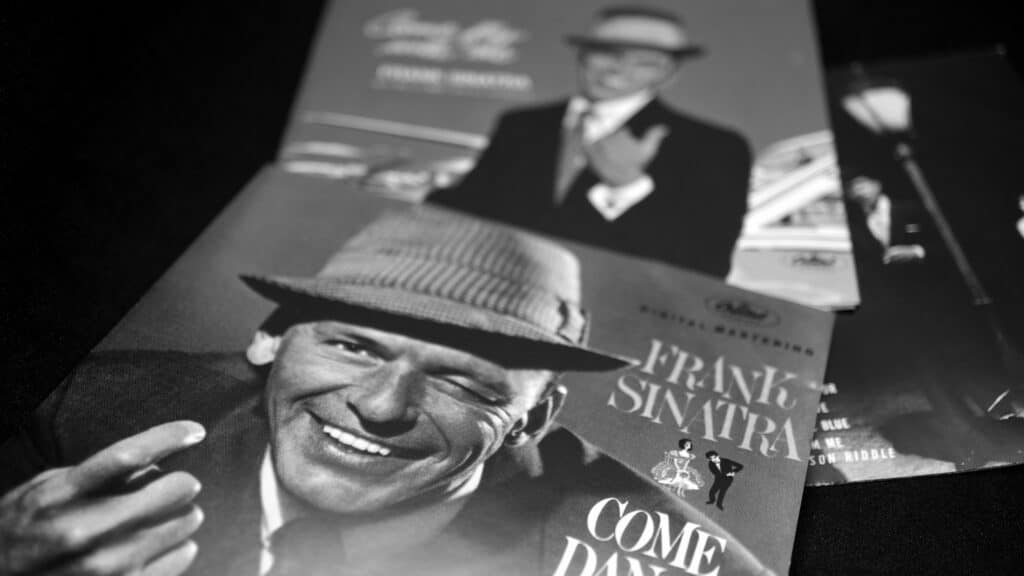 Scroll down to read more about Frank Sinatra's bodyguards Ed Pucci, Jilly Rizzo, and Tony Consiglio.
Who Was Ed Pucci?
If you've seen any pictures of Frank Sinatra throughout his career as an entertainer, you may have noticed the linebacker sized man standing behind him. That man was Ed Pucci.
The thought that he's a linebacker isn't that far off either. He was the 257th draft pick in the 1953 NFL draft and went to the Washington Redskins.
Pucci wasn't a linebacker though, he was a guard and actually played for the University of Southern California before being drafted to the NFL. He was a part of the team that won the 1953 Rose Bowl against Wisconsin.
Not too much is known about Ed Pucci, but there is some information in his professional football statistics. Some of that information is his birthday which is on December 24, 1929, and his birthplace of Canton, Ohio.
Pucci went to McKinley High School in Canton, Ohio too. Two other important facts listed about him were his height which is 6 feet on the dot and his weight of 240 pounds.
This means that he was definitely an intimidating guy with that height and weight so it makes perfect sense that he transitioned into being Sinatra's bodyguard.
In 1965, the photographer John Dominis followed Sinatra around Miami for a piece in Life Magazine that was accompanied by an article written by Sinatra himself. You can often see Ed Pucci in the background and sometimes even at the center of the photos that Dominis took.
However, as was Ed Pucci's job, he managed to really stay out of the limelight and remain in the background ensuring Sinatra's safety.
Jilly Rizzo, Sinatra's Right Hand Man
Another rumored bodyguard of Frank Sinatra was Jilly Rizzo. Unlike Ed Pucci, there is a lot more known about Rizzo due to his success before joining Sinatra's team.
Jilly Rizzo was born in New York City and was two years Sinatra's junior. He had started out his career delivering Italian ice to cafes and then decided to open up his own lounge called Jilly's Saloon.
It was while operating his restaurant that Frank Sinatra became one of his regulars. Although Jilly was of Italian descent, his restaurant specialized in Cantonese food.
You can watch famous jazz pianist Monty Alexander talk about playing at Jilly's and the whole scene there.
Sinatra's interest in the lounge resulted in other celebrities hearing about it and soon Jilly's was a celeb hotspot. Since Sinatra spent copious amounts of time at Jilly's restaurant, it should come as no surprise that the two became fast friends.
Sinatra often referred to Jilly's in his songs like 'Me and My Shadow' and 'Mrs. Robinson.' He even started helping Jilly land small roles in some of the films he was starring in.
Jilly eventually cemented his relationship with Frank Sinatra as his right-hand man and bodyguard. In 1992, Jilly was killed in a fiery car accident at the hands of a drunk driver.
Frank Sinatra's Other Sidekick: Tony Consiglio
Tony "The Clam" Consiglio was considered to be one of Frank Sinatra's other closest friends, his confidante, and his protector as well. That last piece is certainly interesting because Tony Consiglio is not a big guy.
In his novel written alongside Franz Douskey titled Sinatra and Me: The Very Good Years, Tony Consiglio decided to lay everything about his friendship with Sinatra out on the line. Although titled the good years, the book reveals tons of secrets about Ol' Blue Eyes and his celebrity friends like John F. Kennedy.
Tony was pretty much Sinatra's go-to person for doing any sort of dirty work. He revealed that he once hit an actress in the face with a barbeque rib on behalf of Sinatra.
As Express pointed out, The Clam rigged a bicycle contest for Sinatra's daughter, broke up with Sinatra's girlfriend, and even helped provide the future president of the United States, John F. Kennedy, with showgirls. Tony did it all for Sinatra.