If you've heard about Dan Bilzerian, which we're sure you have since you're reading this post, you may have seen pictures of him with fast cars, stacks of money, and usually surrounded by lots of gorgeous women, but why? Why is Dan Bilzerian famous?
Dan Bilzerian is mainly famous for playing in poker competitions, where he states he won most of his money. Due to the wealth behind him, he has become famous for the extravagant lifestyle he leads, posting his expensive exploits on social media to his 32 million followers (as of Feb 2021).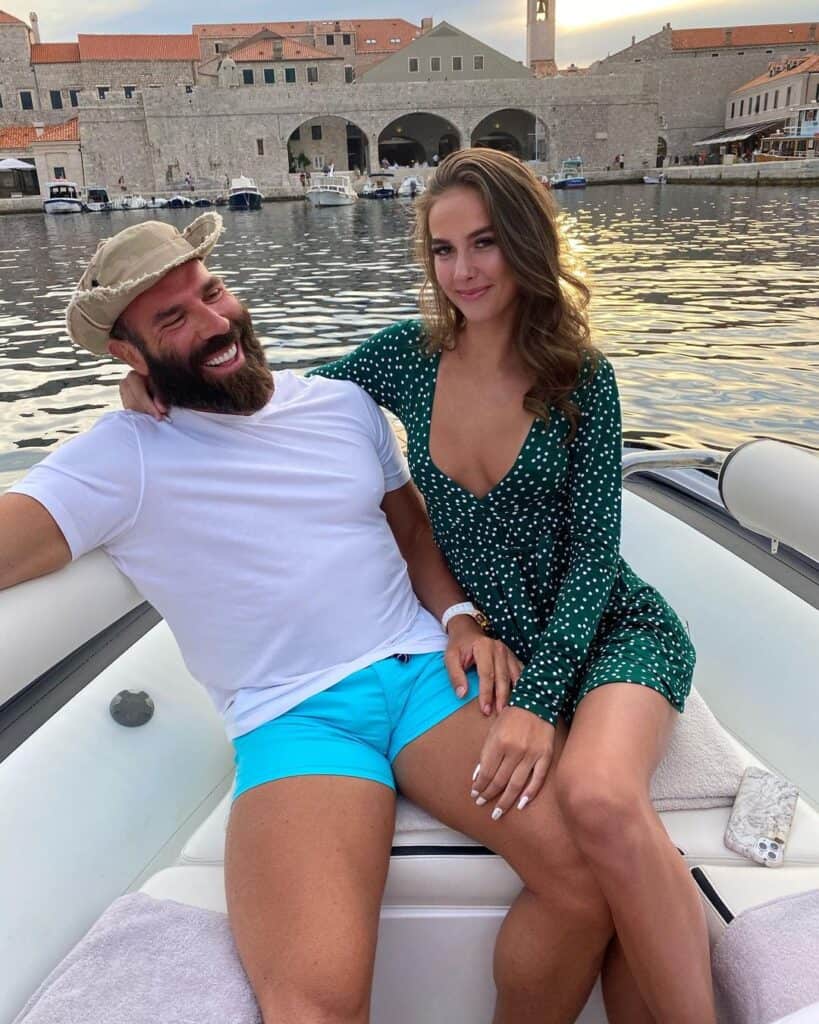 Whether you've followed Bilzerian for a long time or have only just found out about him, today we're going to talk through where he came from and what has been going on within the world of Dan Bilzerian.
Where the Wealth Came From
According to WealthyGorilla.com and other online sources, as of Feb 2021, Dan is worth around $200 million, but where did all this money come from?
Most commonly, people will have heard of Dan's supposed poker success. For example, he played in the 2008 World Series of Poker Main Event tournament, but he only finished 180th place. He also claimed to have won $10.8 million in one night back in November 2013, but there was never a legitimate source released to back this up.
This was repeated back in 2014 when he claims to have won over $50 million throughout the year through playing poker. He even spoke about this career on the Joe Rogan podcast, although the video of the original video seems to have been removed. Instead, here's a clip of Joe talking about Dan's lifestyle
Talking about Dan's lifestyle, it's a very interesting one. With over 34 million followers on Instagram alone, there's no denying that Dan puts a lot of energy into living a lavish lifestyle and sharing it online. He is regularly seen posing and being photographed with fast cars and scantily-clad women, perhaps 'living the dream' for many US men.
This is perhaps what Dan is most famous for.
On the side, Dan also runs a company known as Ignite International LTD, which sells products like electronic cigarettes, CBD oils, vodka, and much more. However, the company isn't that successful, and in 2019 alone, had reportedly lost over $50 million.
So, with reported poker winnings and a public trading company that's in the red, how does Dan keep up his expensive lifestyle?
Well, while publicly stating he's a successful poker player, there are many claims that state that most of his wealth is, in fact, inherited as family money.
Dan's father, Paul Bilzerian, was a corporate takeover specialist who made a lot of money. Paul had set up a trust fund for his children, both Dan and his brother Adam, of which the trust balance was made available to Dan when he reached 30 years old.
Now, this is where things get interesting.
Paul had been criminally charged with law violations in 1989 and 1993, where he was ordered to pay $62 million to the SEC. However, Paul claimed he did not have the money and eventually filed for bankruptcy in 1991 and again in 2001.
The bankruptcy report in 2001 showed that the trust fund was worth around $12 million, which would be split between Dan and Adam. Now, I'm not a legal or financial expert, but if you are, you can look at the SEC reports yourself. It's all public data.
So, to cut a long story short, it feels as though Dan lives in a bit of a cycle. He has a lot of money, which makes him famous with how he's spending it, which in turn he uses this fame to make more money, and around and around it goes. It's just that Dan started with a lot of inherited money, to begin with.
The Controversies of Dan Bilzerian
Where Dan got his wealth from isn't the only controversy he's had in his lifetime. It seems that Dan is regularly caught up in legal issues throughout the last few decades for doing things some people just wouldn't do.
In 2014, he was banned from a nightclub in Miami because he kicked a model, Vanessa Castano, in the face, in which she filed a lawsuit against him. In the same year, Dan also threw adult actress Janice Griffith off a roof into a pool, in which she missed and hit the edge, causing her to break her foot.
Griffiths sued for $85,00, but the case was rejected as Dan's advisors banned the publication they were working for, Hustler Magazine. Hustler claimed the event as 'an act of God', and the case was dismissed.
Again, later on in December 2014, Dan was arrested for bomb-making charges in LA International Airport, where he was charged for intent to make an explosive device, but the charges were dropped.
It seems as though 2014 was a busy year for Dan (making he was going through a phase or something), but either way, we're sure this isn't going to be the last time we hear about Dan and his antics, so I guess we'll all just keep our eyes open to what happens next.