Maybe you saw his cameo in the film Yesterday telling the main character to change the song 'Hey Jude' to 'Hey Dude,' but what grounds would Ed Sheeran have for that suggestion? Why is he famous?
Ed Sheeran is a famous singer and songwriter who gained mainstream success in 2011. It was his debut single 'The A-Team' that got the attention of many listeners and created a generation of fans. Sheeran's music style originally started as folk-pop but has more recently moved into pop and hip-hop.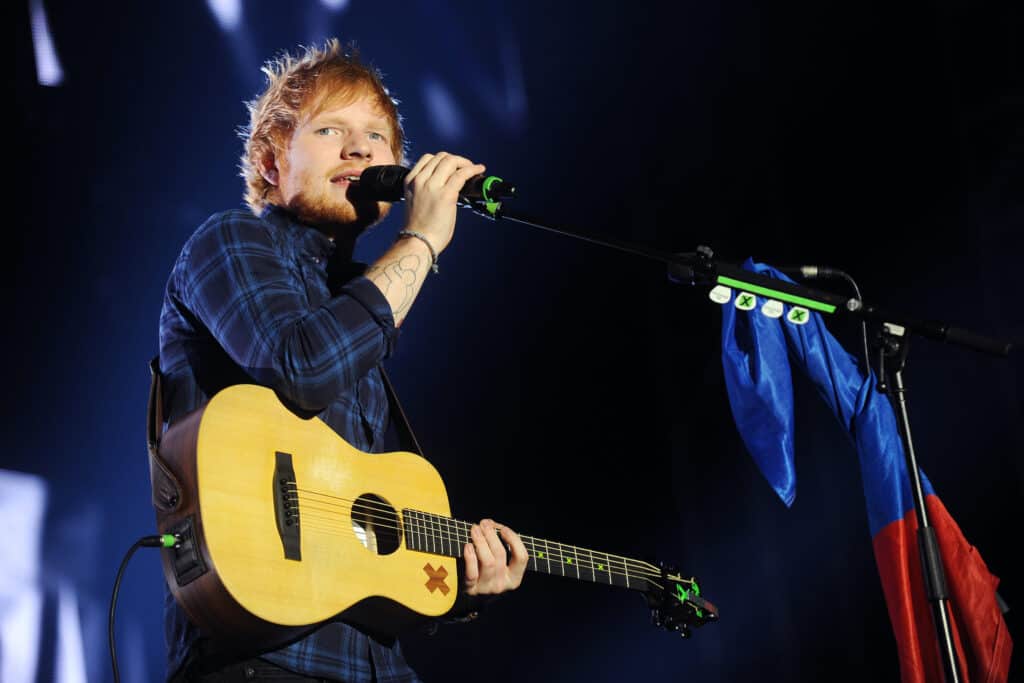 Scroll down to read more about Ed Sheeran's slow early career, how he was homeless for over two years, and the surprising person who had a hand in his eventual success.
Ed Sheeran's Claim to Fame
As mentioned above, Ed Sheeran gained his mainstream popularity in 2011 when his song 'The A-Team' was released as his debut single. However, his career started well before 2011 and he was anything but an overnight success.
When he was just eleven years old, Sheeran learned how to play guitar. He grew up in a very art-centric home where his father was an art curator and his mother worked at an art gallery until both parents opened and ran their own art consultancy named Sheeran Lock. 
As he got older, Sheeran auditioned for the Youth Musical Theatre UK and was in their production of Frankenstein. Then he studied Artist Development through Access to Music, a UK based independent training provider.
When Sheeran was only thirteen, he recorded his very first EP. This was in 2004 and a long way off from when his music started to make it big.
He worked as a guitar technician for the band Nizlopi and in 2008 the band let him open for them. A year later, he released his second EP, went on tour with Just Jack, and started getting some big-time collaboration work that included working on CeeLo Green's song 'F*** You.'
It was in 2010 that Sheeran really started to get mass recognition. He was able to get more attention from listeners by posting to YouTube, which then landed him recognition from Elton John.
Sheeran's Homeless Days
It was during that time period of touring in 2008 that Sheeran admitted he was homeless and didn't have a place to live until 2010. He talked about this in his book titled Ed Sheeran: A Visual Journey.
In his book, he said, "There was an arch outside Buckingham Palace that has a heating duct and I spent a couple of nights there…I didn't have anywhere to live for much of 2008 and the whole of 2009 and 2010, but somehow I made it work."
He goes on to say that he would sleep on friends floors or sleep on the circle train in London for seven hours before going to gigs. He said that his song 'Homeless' is written about his time spent sleeping rough in London.
You can watch the below video of Ed Sheeran on an episode of Station Sessions from June 2010 when he was homeless.
Although he was homeless in 2010, Ed Sheeran got a bit of a break when he went to the United States to try and boost his music career even more. And, the person who helped with that isn't exactly someone you would have expected.
Jamie Foxx Helped Sheeran Make It
When he decided to go to Los Angeles in 2010, we doubt that Sheeran had any idea that a visit to Jamie Foxx would have the impact that it did. He visited Foxx at the L.A. station where Foxx had his Sirius XM channel The Foxxhole.
Ed Sheeran went there to show Jamie Foxx some of his music and to try and get some air time on the channel. Foxx was pretty blown away by Sheeran's songs so he invited him to stay on his couch for six weeks so Sheeran could focus on getting more recognition in the area.
As Foxx told The Graham Norton show, he wanted to make sure Ed Sheeran 'got the goods' so he took him to an open mic night that he hosted once a month. He put Sheeran on stage for the all-black audience and Sheeran got a standing ovation within 12-minutes of performing.
As Foxx said at the end of his story 'the rest is history.' Sheeran is now one of the highest-paid musicians in the world and holds the world record for the highest-grossing tour of all time when his tour for his album Divide crossed the marker of $737 million.