Phil Mickelson's caddy was Jim "Bones" Mackay for twenty-five years until 2017 when the two announced that Bones would be leaving the pro-golfers side.
Phil Mickelson and Bones Mackay are still friends. Despite many rumors that an incident on the 17th hole at the Players Championship led to Mickelson firing Mackay, Mickelson has maintained that Mackay's departure was a mutual decision. The two had reportedly stayed in touch and in 2020 were reunited WGC-FedEx St. Jude Invitational.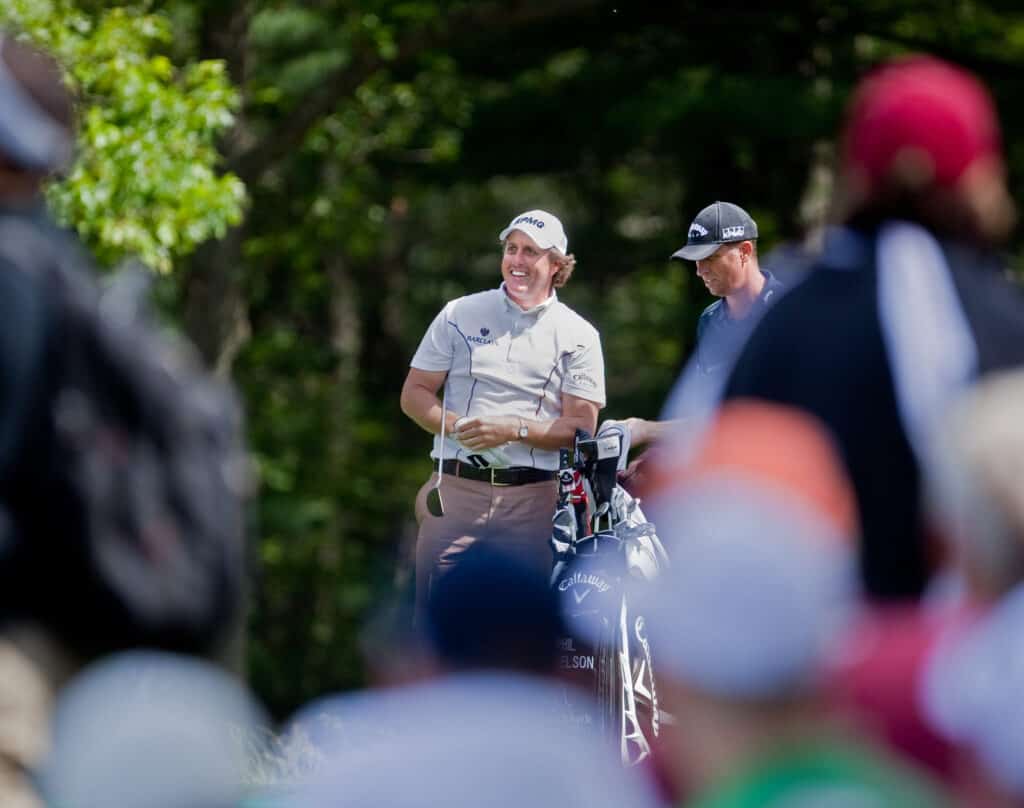 You can read more below about how Phil Mickelson met Bones Mackay, the alleged incident at the Players Championship, and their reunion in Georgia.
Phil Mickelson & Jim "Bones" Mackay Meet
It's been said time and again that Phil "Lefty" Mickelson and Jim "Bones" Mackay have had one of the longest and enduring partnerships in golf. After all, the two met all the way back in 1992 at the Players Championship.
Before becoming a PGA Caddy, Mackay had attended Columbus College and then worked in the Pro Shop at the Green Island Country Club. He met the 1987 Masters Tournament winner Larry Mize while working at the Country Club and began to caddy for him.
After caddying for Larry Mize, he went on to caddy for Curtis Strange and then for Scott Simpson. It was while he was caddying for Scott Simpson that Bones met Mickelson.
This was right a the beginning of Phil Mickelson's career when his father, Phil Sr., was his caddy. Looking for new help, Mickelson saw talent in Bones as he was caddying for Scott Simpson at the 1992 Players Championship and eventually hired him on.
That was how their twenty-five-year work relationship began. Looking back at their debut working together, it's very clear that this was a caddy/pro-golfer match made in heaven.
The first time that they were publicly on-course together was during the Memphis qualifiers for the 1992 U.S. Open at Pebble Beach. At this event, Mickelson didn't only qualify for the U.S. Open, he broke the course record.
It was at the 1993 Buick Invitational at Riviera that Phil Mickelson had his very first victory while working with Bones Mackay. He closed out the tournament with a score of 65.
Together the two forged an unbreakable bond and Mickelson ends up becoming the most prolific left-handed golfer on the PGA Tour.
With Bones' guidance, he has managed to have over 53 professional wins with 5 major championships. This includes winning the Masters Tournament three times, the PGA Championship in 2005, and The Open Championship in 2013.
Phil & Bones' Players Championship Disagreement
On June 20, 2017, Phil Mickelson announced that he and Bones Mackay would be parting ways. This was after a 25-year stint together.
The news came as quite a shock to the golf world considering the two were pretty famous for their on-course rapport and long-time business relationship.
As USA Today reported, Mickelson said "Our decision is not based on a single incident. We just feel it's the right time for a change. Bones is one of the most knowledgeable and dedicated caddies in the world. He is always prepared and has the ability to make decisions in pressure-packed situations."
Even though Mickelson had nothing but nice parting words to his long-time friend and colleague, some were quick to point out a huge argument the two had gotten into only a month earlier.
The argument happened on the 17th hole of The Tournament Players Club at Sawgrass. This hole is probably the most famous one in the entire world because the par 3's green is completely surrounded by water.
Peter Casey at USA Today Sports noted that during the tournament, Mickelson was "losing steam" on the back nine of the course and if he wanted a shot at making the next round he couldn't afford more mistakes. So the stakes were pretty high as he approached the 17th.
What went down between Bones and Mickelson was a disagreement over which iron to use. While Bones was offering the nine iron, Phil was saying a pitching wedge and they settled on a hard pitching wedge.
Lefty's hit was off due to the club used and bounced into the water. As Casey says, the nine iron would have been way too much for the shot in this case, which led people to wonder if Bones was losing his touch.
Maybe Phil saw it this way too. Either way, the two have remained friends since 2017 which Mickelson confirmed in an interview with ESPN.