Phil Mickelson was diagnosed with psoriatic arthritis in 2010 and went on a vegetarian diet to deal with symptoms. Has he since made the full switch to vegan?
Phil Mickelson is not vegan. He was vegetarian for only five months after being diagnosed with psoriatic arthritis and has maintained that being vegetarian helped him to gain insights into eating healthier and living a healthier lifestyle. Before his psoriatic arthritis diagnosis, Mickelson was known for having a very unhealthy diet.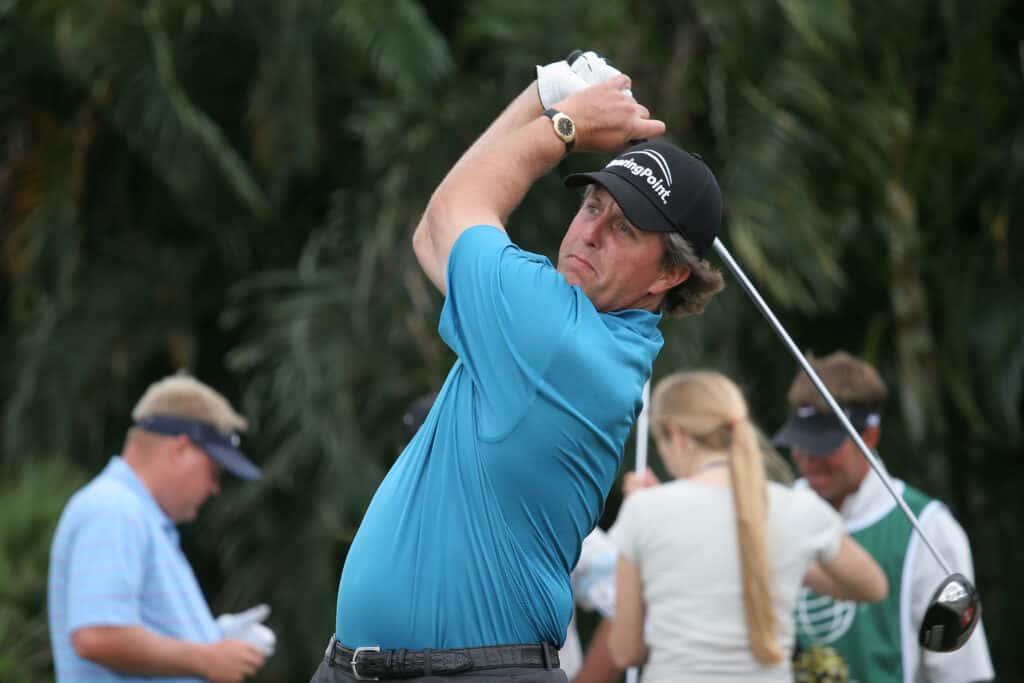 You can read more below about Phil Mickelson's diet before his diagnosis, his psoriatic arthritis, and his diet now.
Phil Mickelson's Pre-Arthritis Diet
Leading up to his diagnosis of psoriatic arthritis, Phil Mickelson was simply an overeater. He fell into bad habits that he was never able to get out of.
Other PGAers have recalled seeing what Mickelson was eating for breakfast while on tour and said that they were kind of shocked, to say the least. Paul Azinger has recalled seeing Mickelson pile up a plate with waffles, butter, and loading on the syrup then washing everything down with a soda for breakfast.
While it's not unhealthy to eat waffles every once and a while, this is not the breakfast you would expect someone to be eating the morning of a competition. These decisions most certainly led to the downfall in his playing in the later 2000s.
As the South China Morning Post reported, Mickelson has said "As I look back on my career, probably the one area that I have a little bit of regret is that I wasn't accountable for my own health. I ended up eating poorly, I ended up drinking soda, I ended up eating sugar – I just didn't eat the way I should have and I think it led to me getting psoriatic arthritis."
Mickelson is definitely not wrong about the arthritis diagnosis either.
You can watch Phil Mickelson talk about his psoriatic arthritis diagnosis on Fox News Insider below.
Mickelson Diagnosed with Psoriatic Arthritis
It was in 2010 that Phil Mickelson received some bad news that was definitely linked to his poor eating habits. He was told by his doctor that he had a form of arthritis known as psoriatic arthritis.
According to Healthline, Mickelson began experiencing pain in his hands and ankles in 2010, but he figured that it was from playing golf for so many years. It wasn't until he woke up one morning in agonizing pain and couldn't get out of bed that he thought something was wrong.
So he sought out a rheumatologist which is a doctor that specializes in joints, muscles, and bones, and also in arthritis. It was after tests were run that he received the diagnosis of psoriatic arthritis.
Psoriatic arthritis is arthritis that happens when your immune system cells start to attack the healthy cells in your joints and tissues. It is called psoriatic arthritis because it is psoriasis and arthritis.
The condition is often caused by genetic factors, but can also be associated with environmental ones. Psoriatic arthritis has been linked to people who are obese.
This means that it is quite possible that Phil Mickelson's eating habits before his arthritis diagnosis could be linked to being its cause. Despite this diagnosis, Mickelson was able to win the Masters Tournament for the third time in his PGA career.
Phil Mickelson's Diet Changes
In 2010 after his diagnosis, Mickelson decided to make some big changes. He was going to have to if he wanted to continue his golf career.
One of the big changes he made was to start adhering to a strict vegetarian diet. This means that he ate no meat.
Although he didn't stick with the diet, he did learn a lot about what he should and should not be eating. Reuter's reported in 2011 that he had shed the diet after only five months, but was now focused on more diverse meals that included a lot more fruits and veggies.
Since then, Mickelson has tried out some different diets to help combat his symptoms as well as stay in shape, but none of those diets has been vegan. He has tried out the paleo diet which involves cutting out all sugar, gluten, and processed foods.
In 2019 right before the British Open, Mickelson lost 15 pounds when he decided to fast for six days having only coffee and water. He also focused on resetting his mindset for the tournament with a retreat.