Since his diagnosis with psoriatic arthritis in 2010, Phil Mickelson changed a lot of things, including his diet.
Phil Mickelson's diet is a mix of eating a lot of vegetables, whole unprocessed foods, and nuts, however, he frequently changes what he eats. He has been on a vegetarian diet and a paleo diet in the past. He has used fasting to improve his health and he claims that his diet staple is coffee, creating his own coffee infusion called The Good Stuff.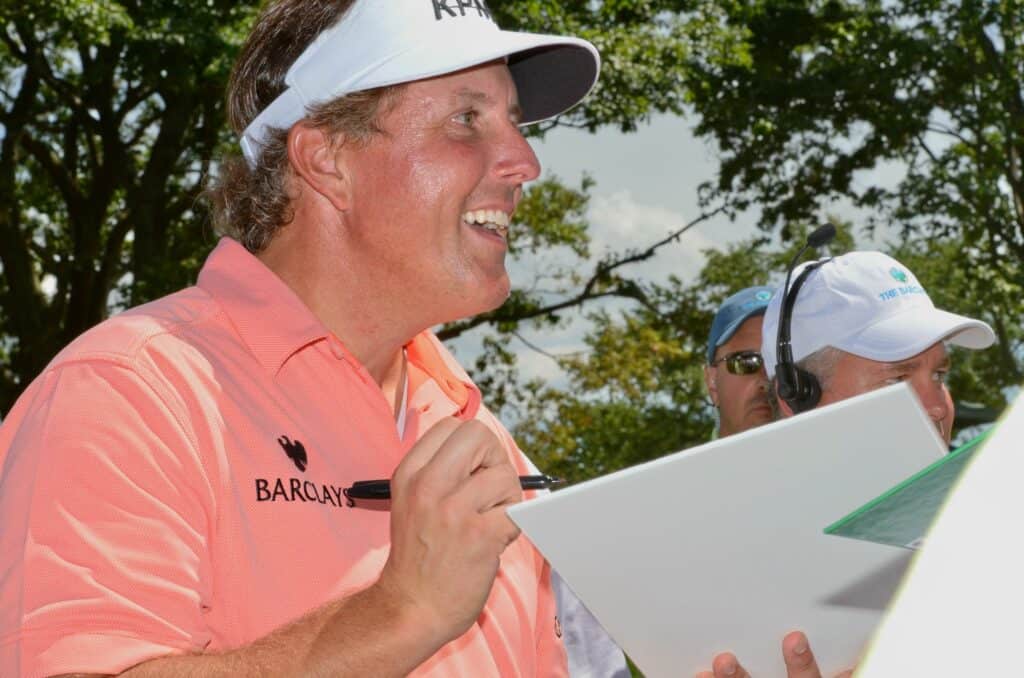 You can read more below about Mickelson's current diet staples, the benefits of fasting, and his coffee blend called The Good Stuff.
Mickelson's Current Diet Trends
Phil Mickelson is known for switching it up. His healthy eating trend started back in 2010 when he was diagnosed with psoriatic arthritis and was advised to eat a vegetarian diet to help with the symptoms.
However, Mickelson wasn't exactly a fan of the veggie-side and after five months he began to eat meat again. A vegetarian diet still includes the consumption of animal by-products like milk and eggs.
Soon reports were coming out that he had switched to a paleo diet. The Paleolithic Diet, also called the Paleo Diet or Caveman Diet, is a focus on eating foods that would have been eaten by your ancestors based on your genealogy.
The concept of the Paleo Diet can be traced all the way back to the 1890s with dietary references from Emmet Densmore and John Harvey Kellog. Although it was popularized by the health scientist Loren Cordain's 2002 book, The Paleo Diet.
The foods on a paleo diet are usually organic, non-GMO, and whole. There is a focus on eating a lot of vegetables, in-season fruit, meat, natural fats, and nuts.
Mickelson did this diet for a while and from interviews, it seems like he may still partake in it somewhat. Even if he isn't totally strict with it, indulging in some In-N-Out burgers here and there.
In 2019, Mickelson told the New York Post that "Now that I've reset, I've only put vegetables, fruits, nuts, seeds, along with a special (blend) of coffee (into my diet). I think coffee is one of the most powerful antioxidant foods that we eat."
He also quoted the Dietician and founder of The Body Talk, Heather Morgan, who is a big supporter of whole organic non-GMO foods. These were his comments after he had just returned from a retreat in Hawaii and a six-day fast that helped him to lose 15 pounds.
Watch Phil Mickelson talk about his six-day fast and reset in the below YouTube video.
But wait, is fasting for six days actually healthy for you?
Mickelson's Fast & The Benefits
A lot of news outlets were quick to discount Phil Mickelson's six-day fast saying that it would be impossible for a normal person to do it. But, there is actually a lot of science supporting it.
First of all, let's talk about the concept behind a six-day fast. The idea is that way back before humans lived the way we do now, we were a nomadic species that had to hunt and gather food to eat and sometimes would go days without eating.
This was the norm for our species for thousands of years so it would be incorrect to say that fasting is impossible for a regular person.
In fact, Healthline has even said that fasting can improve brain function, reduce insulin resistance, reduce body inflammation, help with healthy blood pressure, boost your metabolism, increase fitness levels, help with weight loss, and can extend life expectancy.
How crazy is that?
While most people who perform long-term fasts do it for only 24 to 72 hours, it's not unheard of for people to fast for up to a week. One huge supporter of long-term fasting is Dave Asprey, the creator of The Bulletproof Diet and host of one of the top-rated health podcasts, Bulletproof Radio.
Mickelson and Asprey are alike in one aspect of their fasting routines too: they both rely on coffee.
Phil Mickelson's Coffee Venture
Phil Mickelson has become a coffee fanatic and claims that it has totally changed his life. In an interview with Golfing World, Mickelson said that he was told to drink more coffee in order to increase his T-cells production because he was getting sick too much.
This new-found health hack led to him creating a coffee concoction that includes coffee, MCT oil, pink Himalayan sea salt, and cinnamon. Wanting to share his new health, he founded his company Coffee for Wellness and started selling his blend called The Good Stuff.