Legendary pro golfer Phil Mickelson is known for his skills on the putting green, earning him the nickname "Lefty" for his ability to golf with both his right and left hands. Where does he live when he's not on the golf course?
Phil Mickelson lives in Rancho Santa Fe, California. However, he announced plans to move to Florida, citing taxes as one of the key reasons behind the move to sunny Florida.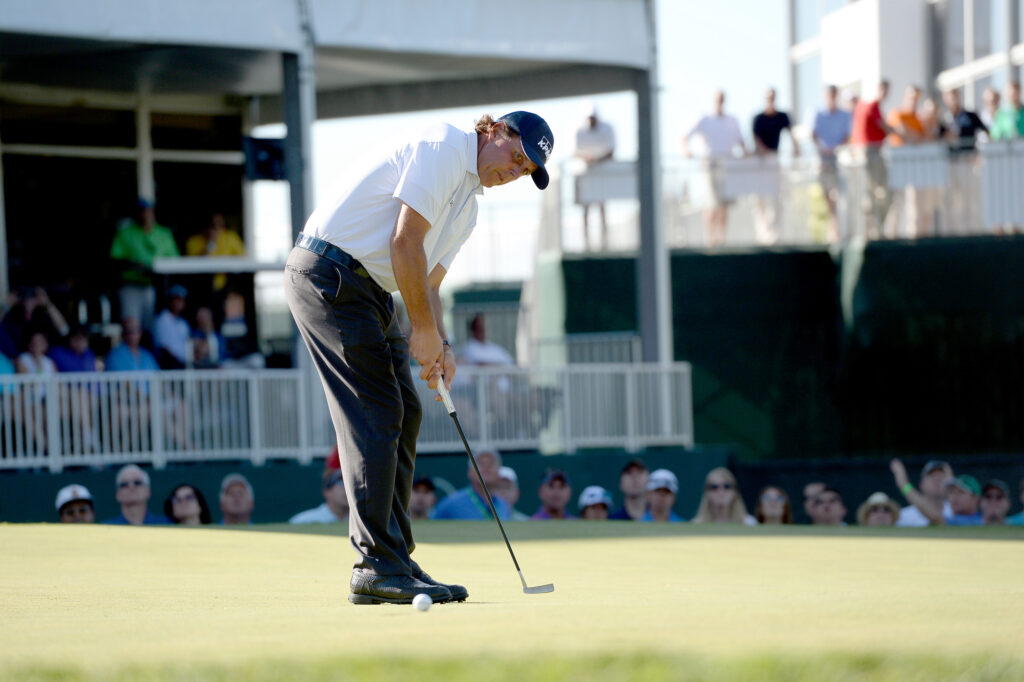 Phil Mickelson is not the only golfing professional that moved to Florida, as he's joining a list that includes Tiger Woods and Patrick Cantlay. Still, he's leaving behind a gorgeous home in Rancho Santa Fe, California, that is sure to be snapped up quickly.
Move to Jupiter Island, Florida
Golfchannel.com reports that in December 2020, Phil Mickelson closed a deal on a lot in Jupiter Island, Florida. He plans to build a home there and eventually make a move to Florida with his family when his youngest child graduates from high school.
In 2013, Phil Mickelson commented that he wanted to move out of California, citing the state's high tax rate, saying, "There are going to be some drastic changes for me because I happen to be in that zone that has been targeted both federally and by the state and, you know, it doesn't work for me right now […] So I'm going to have to make some changes."
However, he later pedaled back and said that taxes were a personal matter that he should not have spoken about publicly. Still, Phil Mickelson's taxes will be much lower in Florida, which has no state income tax.
Phil Mickelson will not be the only professional golfer to have made a move to southern Florida, as he's joining a growing list that includes Brooks Koepka and Dustin Johnson. As reported by Golf.com, many of the professional golfers in Florida live so close together that they are practically neighbors — the opportunities for dinner parties are endless.
It seems likely that Phil Mickelson, pictured above in an Instagram post demonstrating his golf technique, will be living among some of the sport's best players, as Jupiter Island is a small community of approximately 900 residents.
Tiger Woods also lives in the small community of Jupiter Island. Although the two may have been professional rivals, it appears that they will soon become neighbors — perhaps they'll even make friendly wagers on games in their backyards.
However, Yahoo! Sports reported in 2021 that the move had been somewhat delayed as the home was still in the process of being built on the lot that Phil Mickelson had purchased. Phil Mickelson said of the delays, "we still have to build."
Friendly wagers with Tiger Woods would have to wait.
Properties in California
Although it is unclear where Phil Mickelson is staying between the moves, a few of his former properties in California have hit the market.
In 2015, Phil Mickelson sold a home in Rancho Santa Fe, California, for $5.725 million, according to a report from The Los Angeles Times. He also owns other property in the Rancho Santa Fe area.
Originally, Phil Mickelson had set the asking price at the hefty price tag of $12 million but eventually sold the home for much less at $5.725 million. That's quite a steal for the mansion, which clocks in at about 9,200 square feet — and that isn't including the two guest houses on the property.
Otherwise, the home features a swimming pool, hand-carved stone fireplaces, and of course, a three-hole putting green for Phil Mickelson to practice his swing.
The mansion also features a library, a home gym, and a chef's kitchen.
Phil Mickelson also listed his California beach house for sale in 2012, as reported by The Los Angeles Times. In 2012, Phil Mickelson sold the property for $3.75 million, but the home hit the market once again in 2019 with the asking price of $6.489 million.
Apparently, the hike in price is due to a complete remodel, including tile flooring, onyx walls, and granite countertops throughout the house.
The property, located at a prime spot on La Jolla's Windansea Beach, is perhaps similar to the sunny Florida views Phil Mickelson is sure to enjoy once he makes a move to the other coast.