They are best friends on HBO's show Euphoria but are Zendaya and Hunter Schafer friends in real life?
Zendaya and Hunter Schafer are friends. They and the rest of the cast of Euphoria are very close-knit. While Zendaya is famously closed about her personal life, she has often posted videos and pictures of Hunter Schafer hanging out with her on her social media accounts. Both actresses are LGBTQ+ rights activists.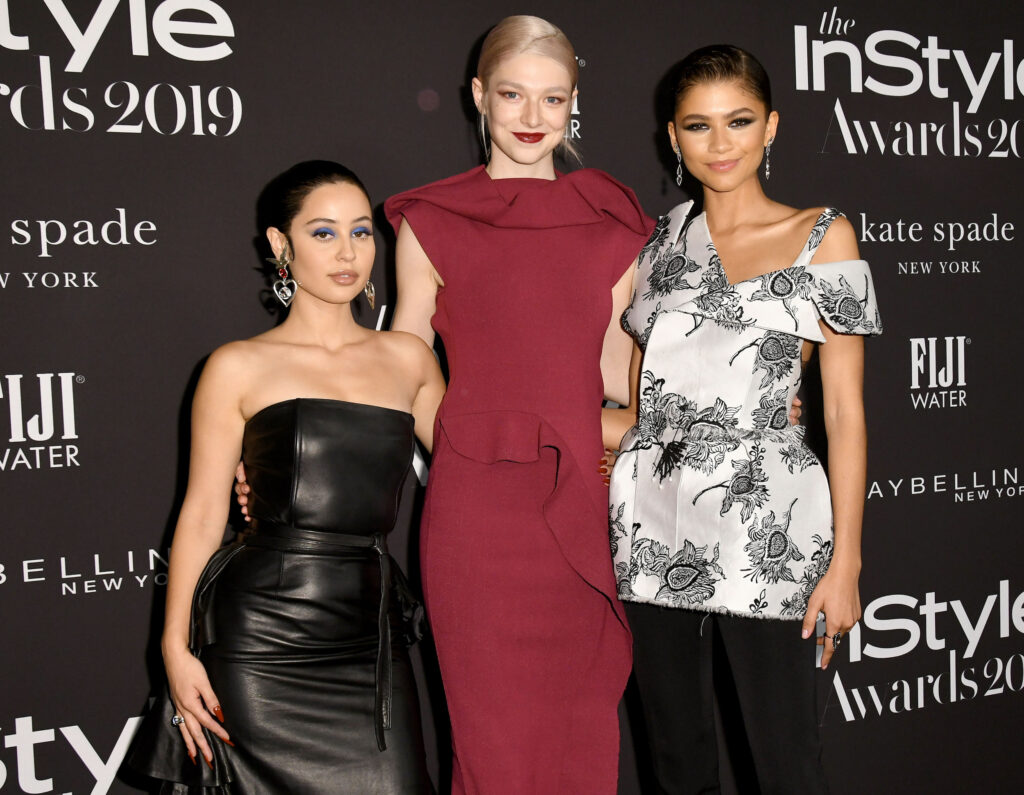 Scroll down to read more about Zendaya and Hunter's characters in Euphoria, their friendship, and their activism.
Zendaya & Schafer Play Rue & Jules
The HBO TV series Euphoria has been praised for its gritty portrayal of how life is for some teens. It highlights the struggles that can arise surrounding identity for a lot of teens.
In the show, Zendaya plays one of the main characters Rue. Rue is a recovering drug addict who is struggling to find her true identity in the world.
Hunter Schafer plays another main character named Jules. Jules is a transgender girl who has been the victim of abuse.
In terms of the show, Zendaya told Deadline "I definitely don't think that Euphoria is meant as a guide to tell people to follow a moral high ground of any sort, or what the right thing and the wrong thing is to do…It's really just to tell stories, and hopefully, somebody out there can connect to it and see themselves within it."
And that's exactly the effect that the show has had on tons of viewers. Specifically, the story that Euphoria has told about transitioning.
Many people in the transgender community have praised Hunter Schafer's character, Jules, for giving an exact portrayal of their own experience with transitioning.
After all, a lot of the experiences that Jules has are based on Hunter Schafer's own experience with transitioning.
In a piece for V Magazine, Hunter Schafer was interviewed by trans Venezualan musician Arca. In the interview, the two talk about Schafer's very first scene as Jules when she's receiving a hormone injection given by Rue via a needle.
They go on to talk about how accurate the portrayal was and about Schafer's own personal experience with transitioning. She even says that playing Jules brought back memories from her own transition that she had buried.
Zendaya & Hunter Schafer's Friendship
As mentioned above, Zendaya is very private when it comes to her personal life. She doesn't like to reveal who her closest friends are or who she dates.
Instead, she opts to use her public life to focus on her work or her activism. The same can be said of Hunter Schafer.
Despite being very private, the two actresses appear to be very close friends in real life. Working on such a profound television show can have that sort of effect on your friendships.
Schafer has said that she feels she has never worked so closely with someone else in her entire life. Working with Zendaya was an intimate process for her.
You can watch Hunter Schafer talk about Euphoria and her friendship with Zendaya in the below video from MTV News.
Zendaya often posts photos of her and Schafer hanging out together so they've kept that intimate friendship. Another time that the two showed the world that they are close friends was when Zendaya FaceTimed Schafer for a fan.
In November of 2019, a fan of Euphoria approached Zendaya when she saw the star on the street. The fan then told Zendaya that she was trans and was really inspired by Hunter Schafer's character.
In response, Zendaya pulled out her phone to FaceTime Hunter. Hunter picked up and the fan was able to meet her inspiration over the video chat.
Let's be real here, nobody picks up a random FaceTime call from a coworker. You have to be pretty close to do that.
Schafer & Zendaya Are Both Activists
Both of these stars share more than being close in age and starring in the same TV show. They are actually huge activists.
One example is that in 2016, Hunter Schafer added her name to the ACLU lawsuit that was fighting South Carolina's House Bill 2 also known as the bathroom bill.
Another example would be Zendaya using her platforms to speak out against hatred and championing Black Lives Matter, the Women's March, and LGBTQ+ rights. She used her win at the People's Choice awards to encourage other young people to speak up too.
Zendaya and Hunter don't just make great friends they make great voice's of the people too.