Portraying the struggles of high school students in a believable manner is not an easy job for sure, and calls for highly-skilled, seasoned, really talented actors to nail. The acclaim that the show has received thus far begs the question: How old is the cast of Euphoria?

Most of Euphoria's lead cast members are in their 20s, save for one. The youngest of them is Angus Cloud and the oldest is Alexa Demie.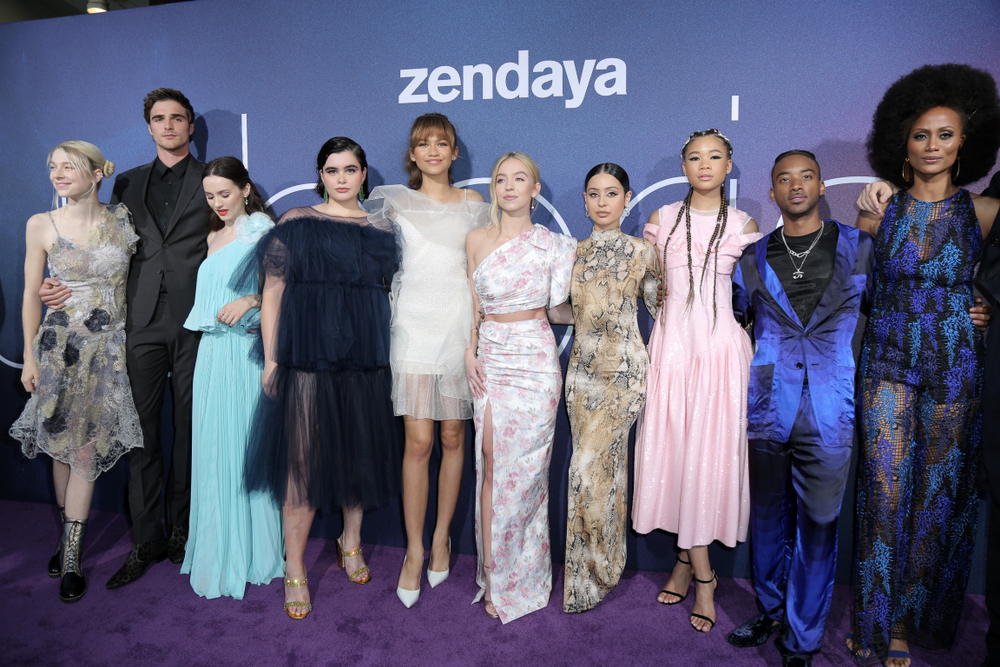 Since its premiere in 2019, HBO's Euphoria has sparked both acclaim and criticism for its gritty and hyper-realistic depiction of high school life in the late 2010s. Scroll down to know more about each cast member (and how old they are IRL).
Zendaya
Zendaya was born in September 1996, and she celebrated her 26th birthday in 2022; she was 23 years old when Euphoria started in 2019. Zendaya plays drug addict Rue Bennett in the series, who acts as the narrator of the story. Rue's age in the show is 17 years old.
Hunter Schafer
North Carolina-born newcomer Hunter Schafer was born on December 31, 1999. She was 19 years old during the filming and turned 20 after Euphoria season 1 premiered. Hunter plays Jules, Rue's love interest in the show. Hunter and Zendaya are good friends in real life.
Jacob Elordi
Jacob hails from Australia and was born on June 26, 1997. He plays Nate Jacobs in the show, who is about 18 years old. Jacob, whose breakout role was in the Netflix movie series The Kissing Booth, turned 25 in 2022.
Alexa Demie
Alexa Demie, the eldest of the lead cast at 31 years old, plays fan-favorite Maddy Perez, who is 18. Born and raised in California, Alexa describes her high school years as not a pleasant experience as she got into a lot of trouble with other teenagers.
Sydney Sweeney
Sydney Sweeney, 25, plays Cassie Howard, 18. Sydney is no stranger to acting in TV shows – she has appeared in other successful series like The Handmaid's Tale and Sharp Objects. She worked with Elisabeth Moss in the former and Amy Adams in the latter.
Barbie Ferreira
25-year-old Barbie Ferreira plays 18-year-old Kat Hernandez. Fiction and real life intersect for Barbie (and Kat), as she is an outspoken advocate for body positivity. Barbie got started in the biz as a model before transitioning to acting. According to her IMDb bio, the actress was born in Queens, New York, and grew up in New Jersey.
Maude Apatow
Like Jacob Elordi, Maude Apatow was born in 1997 which means she celebrates her 25th birthday in 2022. Maude plays 17-year-old Lexi, whose school production caused a ruckus among the teenage lead characters.
Maude is one of the daughters of Judd Apatow and Leslie Mann, which had her appearing in Funny People along with her parents' buddies Adam Sandler, Seth Rogen, and Jonah Hill. She also appeared in Knocked Up and This Is 40 with her mom and Paul Rudd.
Algee Smith
In the drama series, Chris McKay is the eldest in the bunch as a college freshman. In real life, Algee Smith is in his late twenties – nearly a decade older than his Euphoria character. Although he bears a resemblance to Will Smith in looks and surname, the two Smiths are not related.
Angus Cloud
Angus Cloud is not only the youngest lead cast member, but he is also the least experienced in acting. Playing Fezco was his very first professional acting job after graduating from Oakland School for the Arts (OSA) in 2016. Zendaya is a co-alum.
Born on July 10, 1998, in Oakland, California, Angus turned 24 years old in 2022. The age of his teen drug dealer character Fezco seems to be unclear because, by the time the story begins, he's already dropped out of high school.