She's an award-winning actress, singer, model, dancer, and social media icon who is praised for her philanthropy and advocacy. She goes to long lengths to ensure her private life stays private and her seemingly top-secret dating history coupled with her vocal support of the LGBTQI+ community lead many people to wonder: is Zendaya gay?
Zendaya does not identify as gay as she has never been romantically linked to any person of the same sex. However, in a 2021 interview, she indirectly revealed that she may identify as bisexual or pansexual.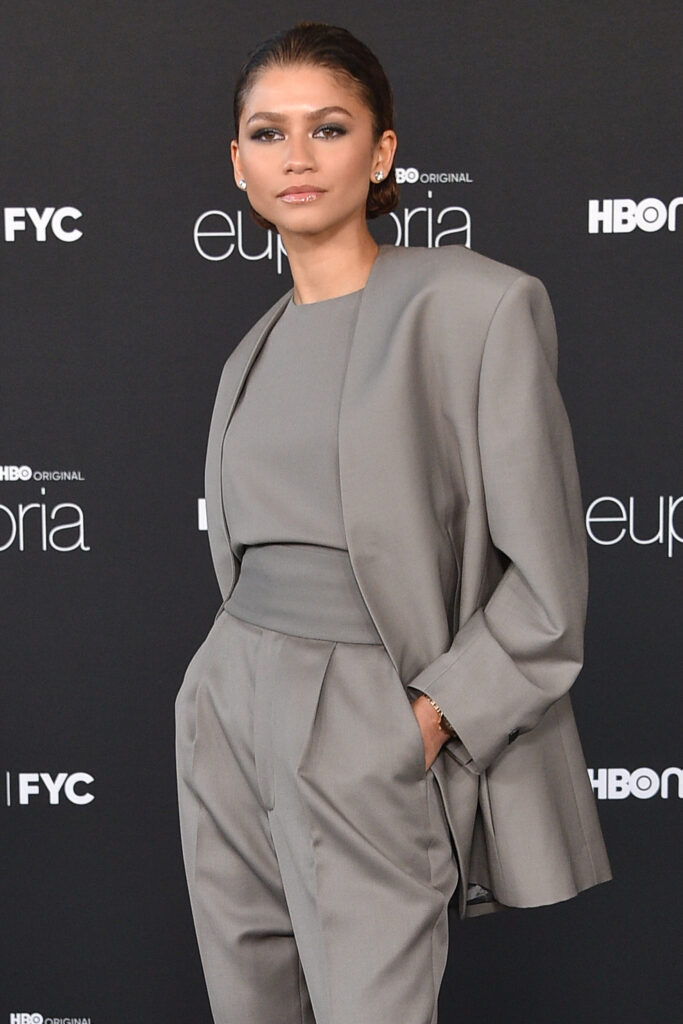 She's praised for being an equal rights champion and, over the years, she has solidified herself as an ally of the LGBTQI+ community. Let's find out all there is to know about Zendaya's sexual orientation, and her dating history, and dip our toes into the world of pansexuality in Hollywood.
What Is Zendaya's Sexual Orientation?
Up until 2021, the world had been confident in the fact that Zendaya was straight. She has long been known for being a vocal supporter of the LGBTQI+ community, has starred as a non-binary lesbian in 'Euphoria', and has previously shared her desire to direct a queer love story between two black girls, but for the most part, all had assumed she identified as heterosexual.
Until she corrected a gendered question asked by Elle in February of 2021, that is.
When asked "What is the quality you most like in a man?", the star responded with "I most like in a person, how about that?", implying that she doesn't only like men.
The publication tactfully turned the tables and then asked "What is the quality you most like in a woman?" and Zendaya quipped back "Well, I guess that's the same answer."
These answers set the internet ablaze with questions about Zendaya's sexual orientation. Reading between the lines of those answers seems to suggest that Zendaya is either bisexual or, more likely, pansexual.
Zendaya's Dating History
Since she entered the spotlight, Zendaya has done her utmost to keep the details of her romantic affairs private, and for the most part, she has succeeded in doing so. But a few flings and relationships have slipped through the cracks.
Many people suspect that Zendaya and Trevor Jackson were a couple back in 2013, and although both parties vehemently denied the rumors on several occasions, the rumor mill continued to turn.
In 2017, Zendaya told Vogue that she had a secret boyfriend for four years, and fans did the math and deduced that Trevor must have been the lucky man – this calculation was seemingly confirmed when Zendaya unfollowed Trevor on both Twitter and Instagram and when he followed suit and did the same.
Next, Zendaya and Odell Backham Jr. were thought to be an item after they were spotted at a New York Knicks game and again at a Grammy's after-party in 2016. Both denied the speculation that they were a couple and insisted that they were merely friends.
Rumors that Zendaya and her 'Euphoria' co-star Jacord Elordi were dating started circulating in 2019. The pair were spotted holidaying twice together that year, and the rumors were exacerbated when the paparazzi caught them kissing in the streets of New York. Again, Zendaya denied the rumors and claimed that the pair were simply pals.
Lastly, Zendaya has been romantically linked to her 'Spider-Man: Homecoming' co-star, Tom Holland. The pair denied rumors of their relationship for several months, but by July 2021 Page Six had plastered images of them kissing in a car, which was enough for the world to confirm they were an item.
Are There Any Pansexual Stars?
If Zendaya is indeed pansexual, is she alone in the pansexual club? Or are there any celebrities in Hollywood and beyond that also identify in this way?
As it turns out, several pansexual stars are milling about. Notably, Cara Delevingne came out as pansexual in 2020, saying "I fall in love with the person – and that's that," while Demi Lovato came out as pansexual in 2021, saying "I like anything, really."
In addition, Bella Thorne, Miley Cyrus, Lizzo, Sia, Amandla Stenberg, Madison Bailey, Kehlani, Tess Holliday, Angie Kent, Kesha, Janelle Monae, Nico Tortorella, Courtney Act (aka Shane Jenek), Joe Lycett, Asia Kate Dillon, and Brendon Urie all identify as pansexual.