Emma Stone has proven to be one of those Hollywood A-listers who truly fit the label. Since getting started around the early 00s, Emma has consistently shown audiences what she can do as a performer–and boy, she can do a lot and she does them well. Now fans wonder, is singing included in her list of talents?
While Emma Stone is no professional singer or recording artist, the actress can definitely sing. She showcased her vocal prowess in La La Land, the movie that brought in her first Oscar award.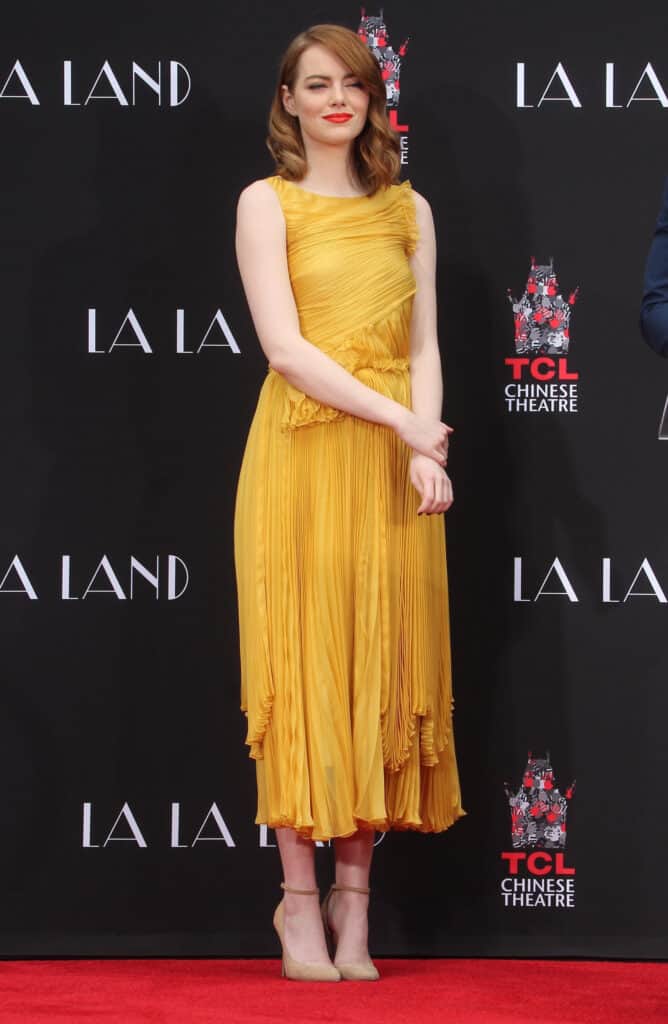 The Oscars may not be the Tonys, but winning the Best Actress trophy for her role in La La Land is plausible proof that Emma Stone is also talented in singing. Let's explore the multi-awarded actress' background in that area of the performing arts.
Did Emma Stone get singing lessons?
Emma Stone had always wanted to be a great entertainer before she even learned how to properly talk. At an early age, her parents signed her up in Valley Youth Theatre (in her hometown, Arizona), where she had her first acting experience. She played Otter in the group's production of The Wind in the Willows.
Broadway
Thanks to her training in theatre, Emma had the right foundation to help her make a big leap–into Broadway, no less. From November 2014 to February 2015, Emma Stone took over Michelle Williams to portray Sally Bowles in Cabaret.
While her singing was criticized in a Variety review, it caught the attention of Damien Chazelle, who was impressed by her performance. So impressed was the Whiplash director that he cast her as the female lead in his then-upcoming project, La La Land.
Singing on Easy A
But before we move to her Oscar-winning performance, let's dial back a bit and talk about Easy A and the bit of singing she did in that movie.
Remember this adorable scene? 
Easy A came out in 2010, when Emma was still an up-and-coming young star in Hollywood. While this performance is meant to be quirky and silly, Emma was able to show audiences that she can carry a tune while making us laugh. In case you were wondering–the song she sang in this movie is "Pocketful of Sunshine," originally by Natasha Bedingfield.
Back to La La Land
Despite having accomplished a run in Broadway playing the iconic character Sally Bowles, Emma still felt nervous about singing and dancing on the set of La La Land. But her experience in Cabaret set the stage (excuse the pun) for her–after all, she was singing live onstage eight times a week during the run.
It was the perfect preparation for the film that would elevate her career to new heights, and we could not agree more.
Did Emma Stone sing by herself in La La land?
Emma Stone spent three months training for her role in the romantic comedy movie. The actress and co-lead, Ryan Gosling, devoted their time to learning new skills for the film. Bravo to them–their outstanding performance got them each acting nominations at the 2017 Academy Awards.
Emma Stone was, in fact, the voice behind all her character's original score. It shows us that when an actress means business, she goes after it and doesn't stop until she nails the performance.
Did Emma Stone dance by herself in La La Land?
The singing in La La Land was all her, but not the stunts. Emma had a stunt double, Emilie Livingstone, who did some of the dancing in the film.
Those who had seen the film would probably understand. Many dance steps in the movie are quite advanced, something only dancers who have had extensive training can execute properly.
You would see the stunt double in scenes where the characters were silhouettes. Some people criticized the director and the actors for using body doubles for the dancing in the film.
How many songs has Emma Stone released?
It's amazing when people understand that they don't have to take advantage of every opportunity that comes their way. Even though Emma Stone had shown off her vocal chops in the musicals such as Cabaret and La La Land, she hadn't released any songs as a professional singer, nor does she have any plans in being one in the future.
Upcoming projects
We took a peek at Emma's IMDb page to find out what the actress is up to these days. And we're glad to see she is one busy lady. She stars in Poor Things, a period piece set in Victorian times, with Willem Defoe. A TV show is in the works as well, titled The Curse, to premiere on Showtime.