Emily Jean "Emma" Stone is a young and talented American actress who rose to fame for her movies, Superbad, The Amazing Spider-Man, La La Land, and Disney's Cruella. With all the awards and accolades that she has earned over the years, Emma has reached a level of success anyone could only dream of. We wonder, is Emma Stone nice?
Emma Stone is living proof that not all actresses in Hollywood have inflated egos. She's a genuinely nice and authentic human being with a good heart. So it's easy to see why girls would just be drawn to be her friend and guys would genuinely have a fun time hanging out with this La La Land star.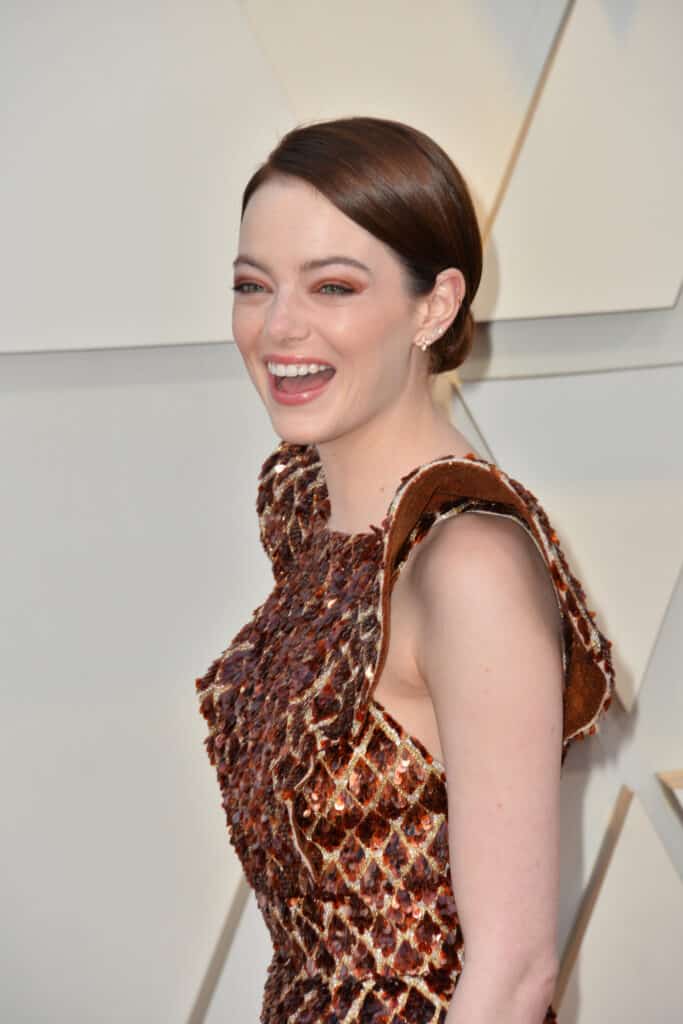 With her charming self-deprecating demeanor, Stone endears herself to everyone she meets, be it high-profile celebs like Shonda Rhimes or even the paparazzi. Here's what we have on the actress' off-screen personality and her friendships.
Her Personality
Her wit and openness about who she really translates very well into the characters she chooses to play. It is noticeable that most of her roles have that sense of kindness to them or that genuine down-to-earth and approachable vibe that fits perfectly with the off-screen Emma.
In a Rolling Stone article, Stone is likened to Diane Keaton, who also evokes that same "gameness, wry wit and ability to make an overriding aura of good-heartedness come off as magnetic rather than dull."
She is unpretentious and as seen by industry watchers, Emma knows how to roll things off her shoulders and not take herself too seriously. A great example of this was the "Golden Globes fail."
What happened? Emma reached out to hug director Damien Chazelle at the same time that he leaned on to kiss someone else. Emma has those weird, awkward moments that make her just like us. She even makes you forget that she is a big movie star with how relatable and human she seems.
A huge part of her personality can be attributed to her good upbringing.
Emma hails from a Catholic family in Scottsdale, Arizona. Her parents, Jeff Stone, a CEO of a general contracting firm, and Krista Jean, a homemaker, supported their daughter ever since she wanted to go pro in acting.
She also has a younger sibling, Spencer, whom she had taken to award shows several times in the last decade. This just proves how close they are as a family.
Emma has been quoted as saying that her family is there to keep her grounded and to "kick her in the shins" if there would be a need for it.
Hollywood Friendships
In one of the rare sightings of the actress, Stone was seen around New York back in 2015 hanging out and eating with gal pals, Jennifer Lawrence and Adele.
Yes, they are secretly BFFs and have been stealthily hanging out. The trio of superstars ate at Cosme, a Mexican restaurant that serves "contemporary Mexican-inspired cuisine." 
In a feature with Elle, Emma shared to Jennifer Lawrence one of her realizations as she turned 30:
"I think friendship is pretty much everything. Here's another turning-30 thing I've realized: You pick your family. You realize that your friendships, the people who go with you into these next phases of your life— you're choosing your family."
Stone and Lawrence have been friends for years and it was all through Woody Harrelson, with whom both actresses worked – in Zombieland and The Hunger Games, respectively.
Stone recalls Woody giving her J.Law's number and the actresses started texting and immediately hit it off. The two met after only a year of exchanging texts.
Stone shares another amazing friendship with her three-time co-star Ryan Gosling. From their first meeting in 2011, while auditioning for Crazy, Stupid, Love, the two showed incredible working chemistry.
In their latest project together, La La Land, Stone revealed that she felt perfectly comfortable dancing and sweating a lot while doing dance scenes with Gosling.
Director Chazelle noticed how Stone and Gosling throw jokes at each other, but at the same time, push themselves to be better. They exude this on-screen chemistry that makes us wonder, "Are they together?"
But sadly, no romantic links here. This powerhouse duo only has the nicest things to say about each other, and fans can't help but gush.
It's undeniable how nice and friendly Emma Stone is. She makes us laugh and allows us to see the real her.
Whether it's acting or IRL, Stone is beloved by all her movie fans as well as her family and industry colleagues. She's the one celebrity who you wanna be besties with!