Steve Harvey is an American comedian, actor, author, television host, and radio personality who is best known for his observational humor, his impeccable comedic timing, and his positive outlook on life. But what many people don't know is that Steve is also a gifted musician.
Steve Harvey grew up playing the piano at a level that he describes as "world-class" and he considered himself to be "a classical piano genius" and "a child prodigy". Though he does not play as much as he once did, Steve is still a gifted piano player.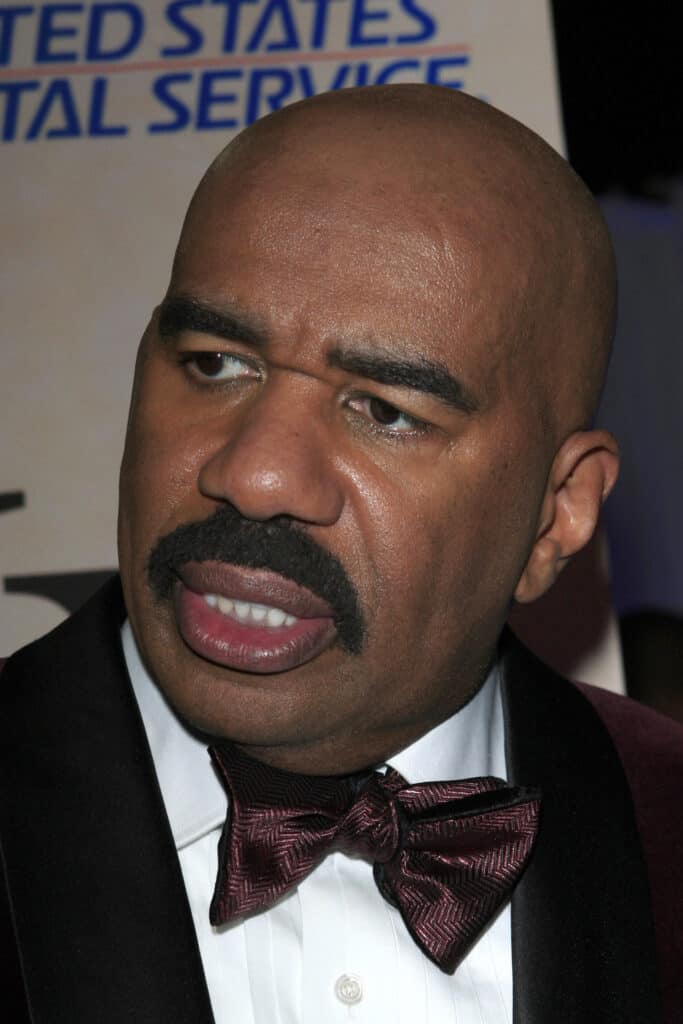 Are you interested to find out more about Steve Harvey's piano playing ability, as well as what other instruments the star can play? Well, you definitely won't B flat after reading this article, that's for sure.
Steve Harvey and The Piano
Music has been a big part of Steve's life since he was a child. When you consider his mother's profession, coupled with the fact that he sang in his church's choir until college, this is unsurprising.
Steve has been playing the piano since his childhood. In a short video uploaded to the 'Steve TV Show' YouTube channel, Steve opened up about his talent.
He revealed, "I had a severe stuttering problem growing up. I wanted to be a performer so the one thing I discovered was since I stuttered a lot I couldn't talk so I thought it would be fabulous to sit down and take up piano."
The funnyman jokingly continued, "So I'm a world-class pianist. That's a secret from my past. It didn't carry over into adulthood. I was a classical piano genius as a child prodigy and I'm now nothing on a piano."
If the below clip is anything to go by, it's easy to disagree with Steve's self-deprecating comments as he is quite clearly a skilled pianist to this day.
What Instruments Can Steve Harvey Play?
As if it weren't enough that Steve is an incredibly talented pianist, he can also play the saxophone. While it's not clear how proficient a saxophonist he is, he has often been spotted playing the instrument on 'The Steve Harvey Show'.
Steve also enjoys singing, and he's pretty good at it! Since he played a 70's soul singer turned high school teacher on 'The Steve Harvey Show' this shouldn't be too surprising.
In the show, Steve would often show off his musical abilities as a member of the fictional funk band called 'Steve Hightower And The High Tops'.
Even though Steve is a gifted singer and musician, comedy is where his passion lies. As Steve says, "You can take lessons to become almost anything: flying lessons, piano lessons, skydiving lessons, acting lessons, race car driving lessons, singing lessons. But there's no class for comedy."
Steve Harvey's Relationship with Music
Of course, Steve's love for music was ingrained in him from a young age by his mother. Not only was Eloise Harvey a music teacher but she also taught Sunday School and made sure that Steve was actively involved in the church.
He was quoted saying, "My mother raised me in the church. I was not allowed to stay home on Sunday; there was no option. I sang in the choir all the way up until I went to college."
Aside from his appreciation for classical music, Steve is also a big fan of hip-hop music. He said, "Hip-hop is a beautiful thing. I think that the music genre itself has created more millionaires than any other music genre before it, especially in our community."
Steve may be a fan of hip-hop music, but he has a general distaste for modern music that is void of musical instruments. He often voices his opinions on "millennial music" and the types of music he actually enjoys on 'The Offical Steve Harvey' channel.
Steve's love for music is clear when watching 'The Steve Harvey Show'. Firstly, music is the main theme of the entire show as his character is a burnt-out soul singer who starts working as a music teacher when his career doesn't work out.
Secondly, the show has featured innumerable music superstars such as Snoop Dogg, Busta Rhymes, Meagan Good, Bow Wow, and others. Music has always been a major storyline in the show.