Throughout the years, Steve Harvey has undoubtedly had his fair share of – pun intended – family feuds. Three marriages under his belt, seven offsprings, their respective spouses, and a handful of grandkids won't always make for a smooth household dynamic. Nevertheless, he has achieved notable success in a hostile industry through his grit, quite a bit of luck, and the love and support of friends and family (some of whom also share in the limelight, while others toil behind the proverbial scenes).
In late September of 2016, Steve Harvey lookalike and Family Feud contestant Pastor Olden Thorton appeared in a segment on the former's eponymous show. The likeness is uncanny, with the pastor looking like a striking and slightly rugged multiverse version of the endearing comic. But lookalikes aside — every notable celebrity must have a few — Steve Harvey does not have a twin brother.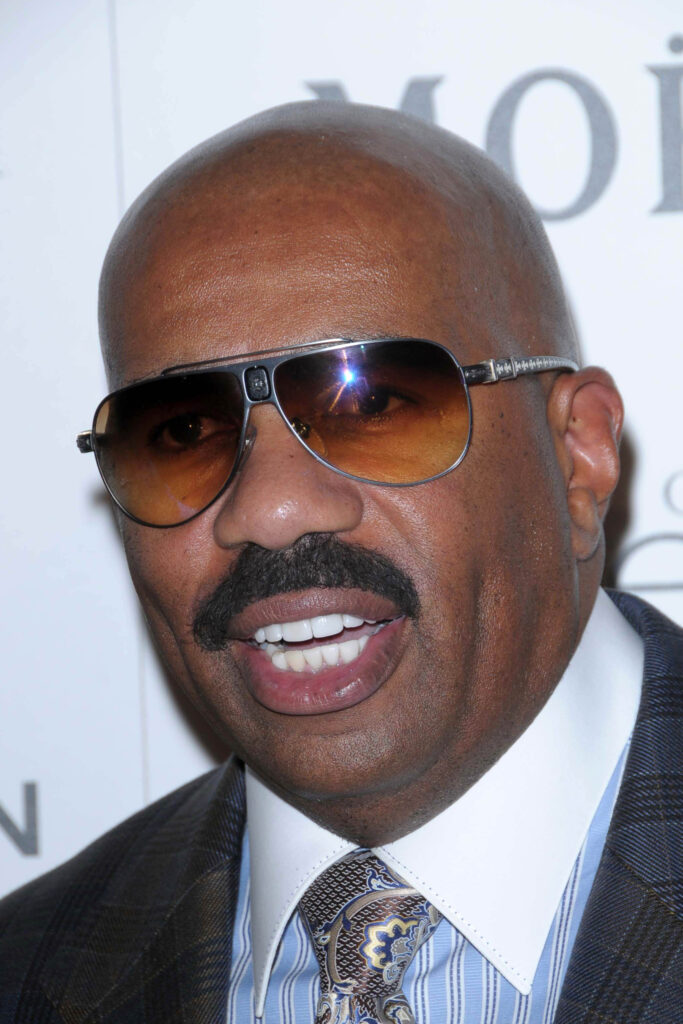 However, he has many siblings. So let's take a closer look at the entertainer's family relationships.
Duped by Duplicates
Steve Harvey does not have a twin, contrary to at least another YouTube video on his channel using the clickbait key phrase "twin brother." This time, the "doppelganger" appears to be a portlier version of Steve and dapper in a suit. Steve's lookalike tells a tale of being mistaken for the comedian on a cruise. The "twin" was followed around by curious passengers, announced as Steve Harvey by the DJ, and was literally placed in the spotlight.
Steve's lookalike has siblings — one of whom has been instrumental in his clamber up the showbiz ladder.
Terry Unmasked?
Entrepreneur Terry Harvey is Steve Harvey's youngest sibling and only brother. Sisters Mona and Pauline were also born to Steve's parents, Eloise Harvey and coal miner Jesse Harvey. Terry was born in 1959 in Cleveland, Ohio, attended Glenville High like his brother, and obtained his degree from Kent State University, where Steve also spent his college life.
Terry is an integral cog in the entertainment machine that is Steve Harvey Global (SHG), albeit discreet, and does the rounds. He maintains a friendship with Mary Harvey, Steve's second wife, having been seen with her at many of the company's events.
Despite having a famous brother, Terry Harvey somehow manages to maintain his privacy. Little is known about his relationships or civil status. Still, he's there for his famous brother, as Terry upholds his various responsibilities to SHG by simultaneously managing Steve's life on the road and maintaining a small enterprise in their hometown.
As of late, Terry Harvey seems to live a satisfying low-key life — nowhere to be found on any social media channel.
Steve Harvey's Twin Daughters
When Steve was just starting his career, he married his first wife, Marcia, in 1980. Their first offspring were twins Karli and Brandi, born in 1982. A son, Broderick Harvey Jr., followed in 1991.Aside from working for other worthy causes, Karli is an LGBTQ+ advocate. She is an entrepreneur, hairstylist, public speaker, and beauty columnist. She works for the Steve and Marjorie Harvey Foundation while being an active contributor to the efforts of her father's Disney Dreamers Academy. Karli and her husband Ben have given Steve Harvey one grandchild – Benjamin Troy.
Activist Brandi Harvey has been executive director of the Steve and Marjorie Harvey Foundation since 2012. She also has a wellness initiative called Beyond Her, which has been helping women of color since 2018. This author and public speaker has also worked with a young women's organization called Young, Fit, and Fly since 2010.
Steve Junior
Art school graduate Broderick Harvey, Jr. — unbeknownst to many — was named after his father. In 2010, he launched his own clothing line called Need Money Not Friends. He also works with the Steve and Marjorie Harvey Foundation.
The One and Only Steve Harvey
Steve Harvey does not have a twin; just plenty of lookalikes who sometimes enjoy the ephemeral perks of their likeness to the inimitable comic. Rest assured that there is only one guy who looks exactly like Steve Harvey — and that's Steve Harvey himself. Thank heavens for that.