From his humble beginnings as an amateur comic who gigged in small clubs in the '80s – earning a grand total of $50 – to the head of his multimillion-dollar conglomerate today, Steve Harvey might not have done it all just yet, but he's done a lot. Arguably, Steve is most famous as the host of the iconic game show Family Feud; likely no stranger to rearing children as a family man, and raising sundry ventures as the head of SHG.
The public has been privy to the successes and challenges in his professional and personal life. Steve Harvey has seven children: four biological kids from his previous marriages and three adopted from his current marriage.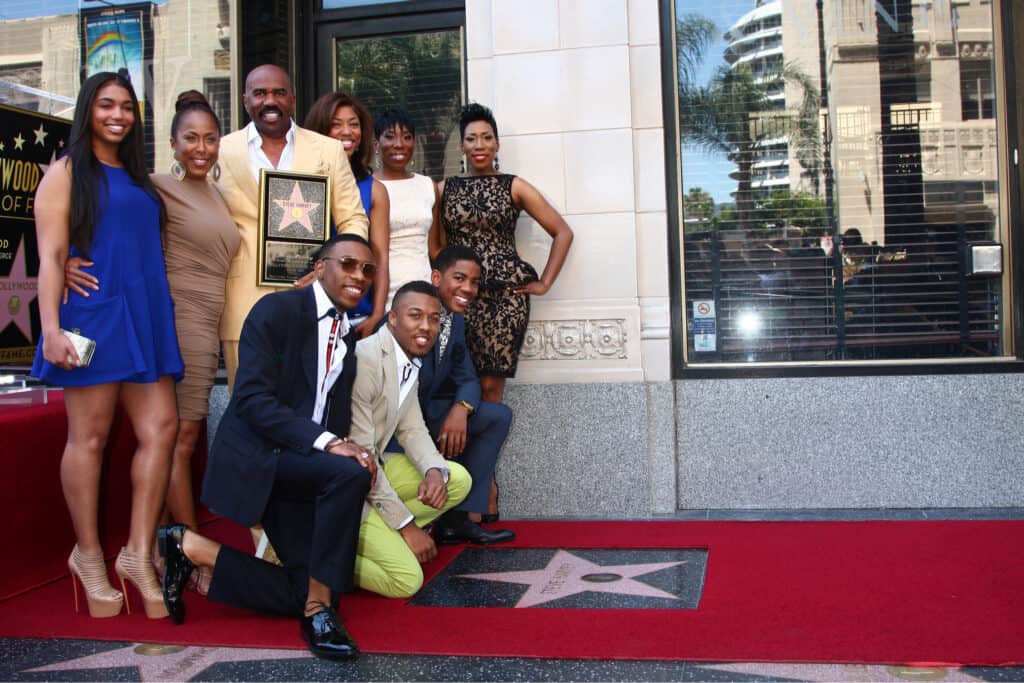 Steve Harvey's resumé includes writing a number of bestselling books, including Act Like a Lady, Think Like a Man. His entertainment company, Steve Harvey Group (SHG), houses various businesses. The American comedian, writer, actor, host, and producer is famous for hosting Showtime at the Apollo, the Kings of Comedy tour, The Steve Harvey Show, and so on, among many other notable productions. He's also a dad! Let's delve into "Dad Steve" and perhaps learn a thing or two.
Steve and Marcia
Before Steve embraced fame, he married first wife Marcia – a department store sales representative – in 1980.
Steve was then an insurance salesman who got hooked on comedy when he tried stand-up, subsequently quitting his day job to pursue comedy full-time.
They had twin daughters Brandi and Karli, and son Broderick Harvey Jr. The couple's eventual divorce occurred fourteen years after they married.
Brandi
Born in 1982, Brandi Harvey is an activist who, since 2010, has worked with Young, Fit, and Fly – an organization for young women. She has been The Steve and Marjorie Harvey Foundation executive director since 2012.
Brandi launched Beyond Her, a wellness initiative aimed toward women of color, in 2018. She is also an author and a public speaker.
Karli
Twin sister Karli is a hairstylist and businessperson, as well as a fashion and health columnist. This public speaker is a staunch proponent of the LGBTQ+ community, who, along with her sister, works at their father's Disney Dreamers Academy and at The Steve and Marjorie Harvey Foundation.
Broderick
Broderick Harvey Jr. was born in 1991. He obtained an art degree from Morehouse College. The entrepreneur owns clothing brand Need Money Not Friends, which he launched in 2010. Broderick Jr. also works with his father and stepmother's charity foundation.
Steve and Mary
Mary Shackleford and Steve Harvey married in 1996, and welcomed son Wynton a year later. The couple finalized their divorce in 2009.
Wynton Harvey was born in 1997. His education at the Savannah College of Art and Design turned him towards photography and fashion modeling. Wynton is also a human rights activist who protested for George Floyd and supports Black Lives Matter.
Steve and Marjorie 
Steve met Marjorie Bridges in 1990. The two did not date until 2005.
They married two years after, with Steve adopting his wife's three children with Darnell Woods – Lori, Jason, and Morgan – from her second marriage.
Morgan
Morgan Hawthorne, born 1997, is a cookbook author and food blogger. She graduated with a Baking and Pastry degree from the Culinary Institute of America. Morgan married professional DJ Kareem Hawthorne. She and her husband manage East One Twelve and Harvey Events, both under SHG.
Jason
Designer Jason Harvey, who heads fashion house Wordly, was born in 1991. Jason credits the inspiration for Wordly to his father's unique style in the Kings of Comedy era.
He married model Amanda Harvey in 2013. The couple was seen on the catwalk in the 2017 for Dolce & Gabbana.
Jason went to a military school for high school freshman year, North Springs Charter High School for the succeeding years, and was home-schooled for senior year.
Lori
Model and entrepreneur Lori Harvey was born in 1997.
The former equestrian was set to compete at the Olympic Games, but was sidelined due to injury. She signed up with Europe's Select Model Management, and American agency LA Model Management.
Lori has walked the runway for brands that include Burberry, Michael Kors, and Dolce & Gabbana. 2021 saw Lori launch her skincare brand SKN by LH, and collaborate with fashion brand Naked Wardrobe.
Steve and Marjorie Now
The couple and their respective biological children are now a blended family.
Marjorie and Steve are also grandparents; with one grandchild (Benjamin Troy) from Karli and husband Ben, three (Rose Alora, Ezra Nehemiah, and Joey Iris) from Jason and wife Amanda, and two (Elle and Marley Jean) from Morgan and husband Kareem.