During Brittany Murphy's time on Earth, she got into a handful of relationships. And contrary to what many Hollywood stars do, some of her relationships were high-profile. But, in addition to her high-profile relationships, she also had rumors surrounding her love life, and one of them was her relationship with Ashton Kutcher. The question is, did they date?
Brittany Murphy and Ashton Kutcher dated for a while.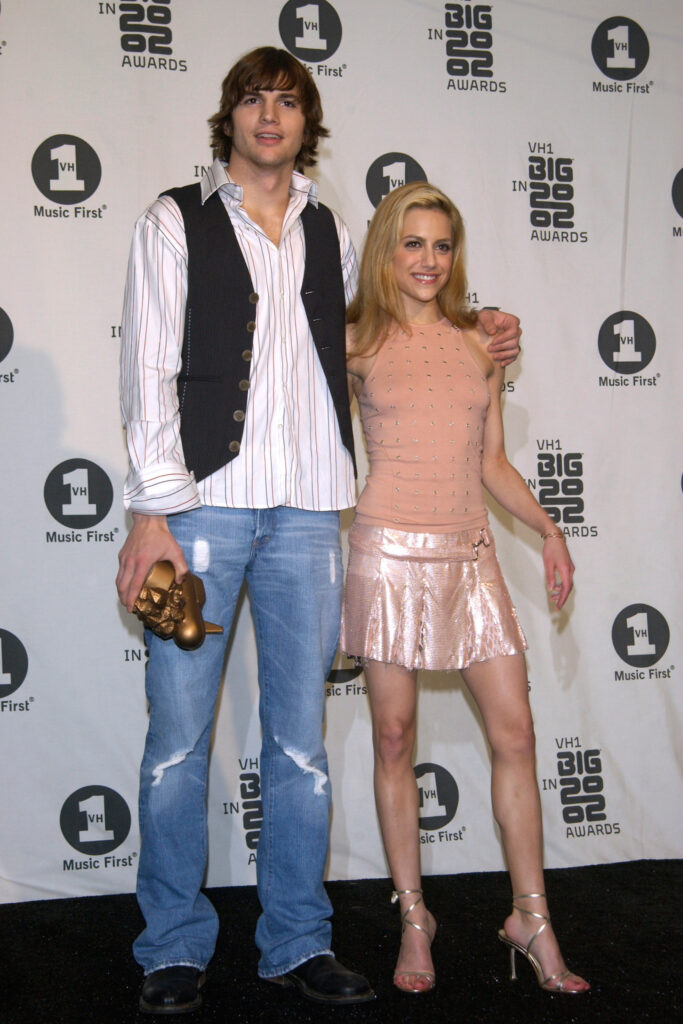 However, their relationship ended abruptly after being in the public eye for so long. Let's learn more about their love story.
How did Brittany Murphy and Ashton Kutcher meet?
In 2002, Brittany Murphy and Ashton Kutcher worked as co-stars on Just Married. While on the set of the movie, they became friends. A romantic relationship blossomed in October of the same year that the film was released.
The duo had a cute relationship, which involved pranking reporters and using secret
language. Ashton Kutcher's mother also talked about the couple and said that when they hung out in the house, they were always playing, fighting, and just loving each other.
Despite of this, Ashton Kutcher gave the impression that they weren't dating in one of his interviews. The actor said they liked hanging out with each other, but he wasn't sure about their relationship status. 
Why did Brittany Murphy and Ashton Kutcher break up?
In 2003, their relationship seemed to turn sour for reasons that were never made public. They seemed to just grow apart and Ashton got into a new relationship with actress Demi Moore, which was heavily publicized. Brittany Murphy even made a funny remark about the new relationship but clarified that it was nothing personal.
Did Brittany Murphy and Ashton Kutcher get engaged?
Brittany Murphy and Ashton Kutcher had a really close relationship. Their parents were
also involved and approved of their union. According to the typical affairs of
things, once the parents get involved, an engagement is unavoidable.
However, the couple didn't seem to progress their relationship to the next phase. They
broke up before even clearly defining their relationship. Their relationship didn't seem to end on a bad note, although they stopped keeping in touch.
Did Brittany Murphy and Ashton Kutcher have children?
Despite the love between Brittany Murphy and Ashton Kutcher, they didn't produce any
offspring. So whether they were staying celibate or had an agreement not to have kids, we can't say for sure.
However, when Brittany was alive, she still had no children with other men.
Who was Brittany Murphy's husband?
In 2007, Brittany Murphy married Simon Monjack, a British screenwriter and producer. According to various reports by the actress' friends, Simon was a controlling figure in Brittany's
life. He was also a makeup artist; months before the actress died, he started going on set with her to help with her makeup.
Some people had various speculations about him, including that he married the actress to avoid deportation. Other theories also suggested that he murdered the actress, but it turns out that she died of natural causes. Five months after Brittany Murphy died, Simon Monjack also died of the same diseases that killed her – pneumonia and anemia.
Britanny Murphy's exes
Decades after Brittany Murphy's death, people are still talking about her, especially her
controversial relationships. So, here's a timeline of all her past boyfriends, including rumored relationships.
Eminem
Brittany Murphy was rumored to be dating Eminem in the '90s. They both starred in the
movie, 8 Miles. Eminem was an aspiring rapper in the movie and Brittany was his love interest. After the movie, they got close and rumors about their relationship status began circulating. Well, they never publicly confirmed their relationship but only said nice things about each other in the public.
Ashton Kutcher
Brittany's relationship with Ashton Kutcher was similar to her relationship with Eminem – undefined. They spent a lot of time around each other and even appeared on red carpet shows together. Although they seemed too close to just be friends, Ashton Kutcher said in an interview that he wasn't sure of their relationship status. They started hanging out in 2002 and went their separate ways in 2003.
Jeff Kwatinetz
Brittany Murphy had two failed engagements during her time alive. The first was with Jeff Kwatinetz, an American TV producer. The actress had worked with him and he proposed to her in 2004. But, they broke up four months late while vowing to remain friends.
Joe Macaluso
Brittany Murphy's second canceled engagement was to Joe Macaluso, who works in film
production. They got engaged over Christmas in 2005 after meeting on the set of Little Black Book, but the relationship ended amicably in August of the following year.