Ellen Kathleen Pompeo is an American multi-awarded actress for TV who got famous for her role as Dr. Meredith Grey in the medical drama series, Grey's Anatomy. In the series, Grey starts off as a surgical intern and later becomes the chief of surgery. With how she beautifully portrayed the role for over 15 years, we might wonder, did Ellen Pompeo go to college?
Ellen Pompeo did not attend college but graduated high school from Everett High School, a public school in her hometown Everett, Massachusetts.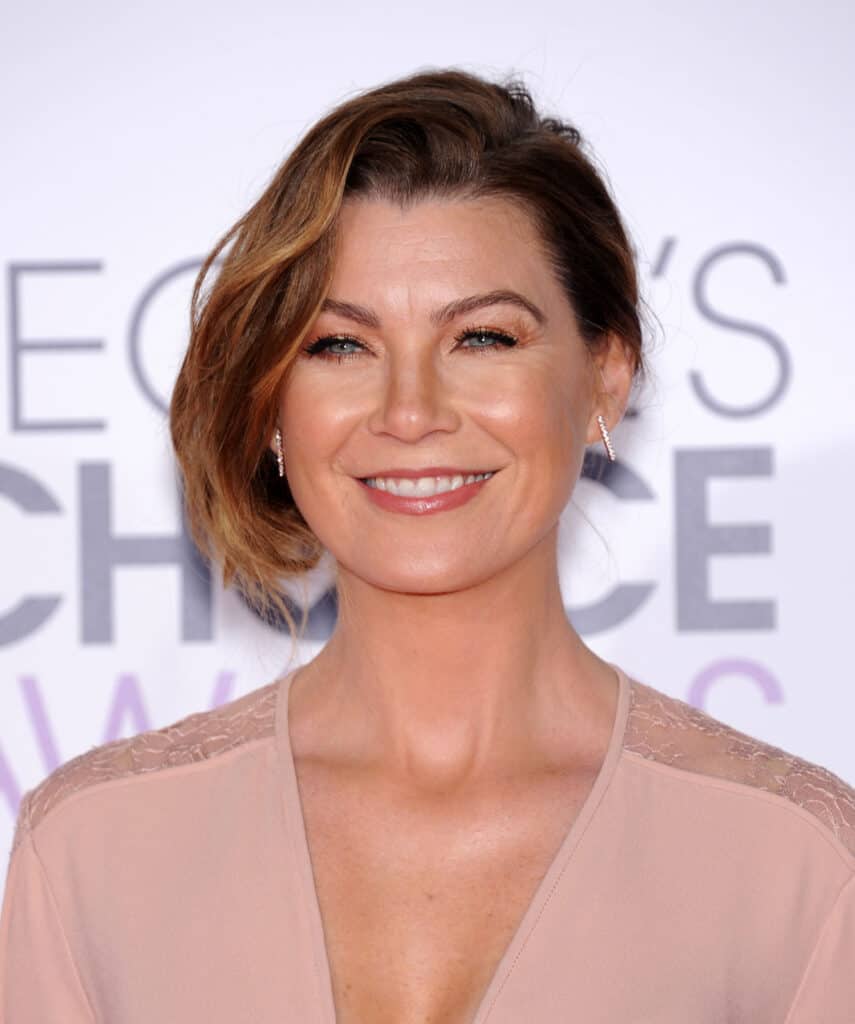 Pompeo once tweeted to address this question, in a reply to a fan saying they thought the actress took Italian in undergrad. We'd love to get more context on the exchange, but our research seems to support the actress' statement. Let's look at Ellen's early years to Grey's Anatomy.
Early Years
She was born in November 10, 1969 to Joseph Edward Pompeo and Kathleen Bernadette O'Keefe. She is the youngest of five siblings: her elder sisters are Maureen, Kathleen, and Suzanne and her two brothers are Joey and Dean.
After finishing high school, Pompeo moved to Florida and started bartending. Then she and her former boyfriend decided to move to New York City. While bartending in SoHo, a casting director approached her to appear in ads for Citibank and L'Oreal
These adverts were her start off point to a career in show business. She got cast in some indie films and soon made her television debut in 1996, as a guest star in the NBC legal drama Law and Order. She also made guestings in other TV series such as Strangers with Candy, Strong Medicine, and Friends.
Career Beginnings
Pompeo had a couple of movies beginning in 2002 – Moonlight Mile (where she played Jake Gyllenhaal's love interest) and Catch Me If You Can with Leonardo DiCaprio. Though playing small parts, Ellen feels fortunate to have been chosen for those roles.
Next, she played Luke Wilson's love interest in the movie Old School. Other films that she did were Daredevil (with Ben Affleck) and Art Heist.
Making It Big
And in 2005, Pompeo landed a role in the longest-running scripted series carried by ABC, Grey's Anatomy. She plays Dr. Meredith Grey, the lead protagonist, and together with other longtime series regulars like Patrick Dempsey and Sandra Oh, they make up a cast of surgical interns, residents, and attendings of Seattle Grace Hospital.
The plot revolves around the lives of these medical professionals as they become full-fledged surgeons and how they traverse their own personal lives in the process. The series and its major success have catapulted the cast to worldwide stardom and skyrocketing paychecks.
By the 13th season, she got $350,000 per episode, which fetched her nearly $9 million annually, according to Celebrity Net Worth. After contract negotiations, she reportedly earned $575,000 per episode in season 15, plus backend earnings. By 2020, she made it to Forbes' list of Highest Paid Actresses, taking the #8 spot.
The series' popularity also gave Ellen Pompeo recognition from various award-giving bodies. People's Choice Awards honored her as Favorite TV Drama Actress three times and The Satellite Awards twice as Best Actress in a Drama Series category.
She was also part of the award given by the Screen Actors Guild for Outstanding Performance by an Ensemble in a Drama Series. Aside from playing Meredith Grey, Pompeo has also ventured out to producing: she was promoted as executive producer of Grey's Anatomy and co-executive producer of its spin-off series, Station 19.
Back in 2014, Pompeo expressed her desire to transition from acting to doing more work behind the scenes. She put up her own production company called Calamity Jane, which has already sold untitled projects to ABC. Pompeo also had her directorial debut in the 13th season of Grey's Anatomy.
Paying It Forward
Aside from acting and producing, Ellen co-founded a healthcare business called Betr Remedies. The mission of the company is to give less-fortunate Americans access to free prescription medications. For every box sold of their over-the-counter medications, they donate a life-saving medication to anyone who needs it but cannot afford to buy it.
Another healthcare-related project that Pompeo worked on during the pandemic was a series of Zoom events called Healing Healthcare, where she joined healthcare professionals in putting correct and useful information out to help people cope with their different health concerns.
This endeavor has made Pompeo seriously consider doing a podcast. Tell Me with Ellen Pompeo, aims to help young women learn and think of ways to make it in whatever field they choose. Having had a hard time figuring out everything for herself while she was starting out in this business, Ellen pays it forward by helping other women through the conversations she makes with her well-chosen guests.
Ellen Pompeo has come a long way from her bartending days and people could not be more amazed. Actor, producer, co-founder, podcaster – what could be the next addition to her list of occupations? We're excited to find out.