As the all too real Meredith Grey in Grey's Anatomy, Ellen Pompeo has been caught up in a few relationships over the 15+ years the show has been running. One question everyone is dying to know is if Ellen is as happy as her character in her real life. Keep reading to find out!
Ellen Pompeo has been married to Chris Ivery since 2007. The couple met in a Los Angeles grocery store in 2003 and began dating 6 months later after developing a friendship. They are the proud parents of three children, two daughters, and a son.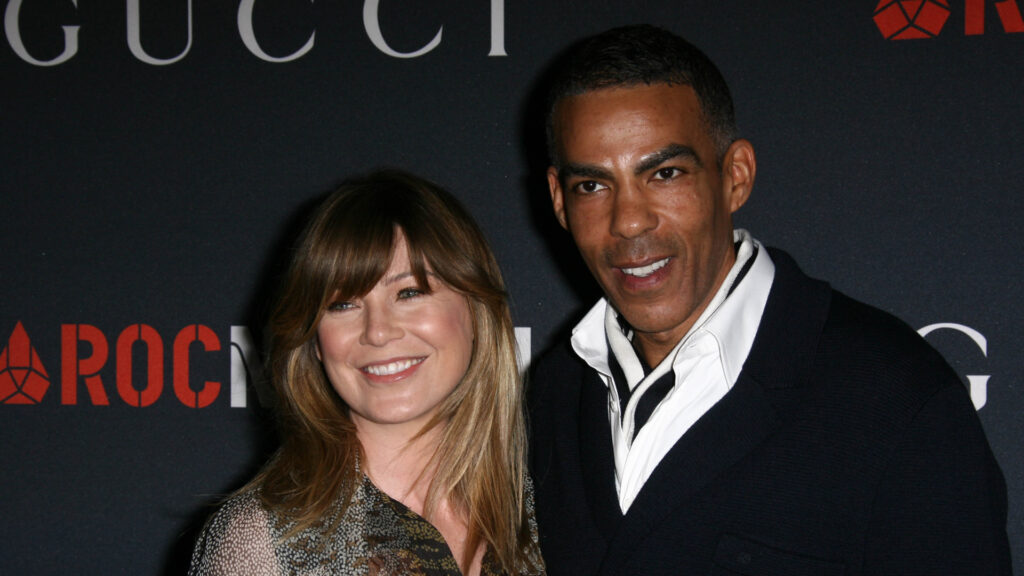 Having a relationship in Hollywood seems like no easy feat, and today's article is going to dive into Ellen's wedding day, who her husband is, and if any of your other favorite Grey's stars have walked down the aisle.
Who is Ellen Pompeo's Husband?
Ellen Pompeo is happily married to a man called Chris Ivery. Chris leads a different career from his wife entirely. He has been a record producer and songwriter for 25 years, co-writing songs for the likes of Rihanna. In recent years, Chris set his sights on the fashion industry and has gone on to relaunch Sergio Tacchi, which is his favorite Italian sportswear label.
It's always great to hear that someone has a fun and carefree side to them, which Chris most definitely has shown when he pranked Ellen on Punk'd with an overly-flirtatious waitress.
With being married to any celebrity comes a complete lack of privacy, and your secrets or less desirable moments in life are out in the open for all the world to see. This rings true for Chris too when he ran into some trouble with the law as a late teen. Charges for drug trafficking, counterfeiting documents, probation violations, and credit card fraud led to Chirs spending several bouts in federal prison.
As fate would have it, when Chris opened up to Ellen about his past prior to their nuptials in 2007, the honest conversation went well. Ellen grew up with a drug-addicted mother in a neighborhood that was rampant with crime, so she had a first-hand understanding of the life Chris had previously lived and embraced him in spite of – or perhaps because of – it.
Ellen Pompeo's Wedding
Ellen Pompeo and Chris Ivery went to extreme measures to hide from the ever-looming paparazzi on their special day. Opting for a less traditional, and at times described as unconventional, wedding, the couple decided New York City Hall was the perfect place for them to tie the knot.
Their officiator was Mayor Bloomberg and he was the only one present to witness Ellen's marriage begin. Right in the thick of season four of Grey's Anatomy, Ellen has been quoted saying: "At that point, I was really dying for privacy. So we flew out on a redeye Thursday night. Friday morning we woke up, went to City Hall, had the wedding really quick, and then we went to a waffle lunch after."
Being so recognizable, Ellen and Chris had to take a secret exit out of City Hall to avoid being spotted. It is refreshing to know that even celebs ditch the spectacle of a big white wedding, and would rather share an intimate and quick ceremony. This must have been an extremely special and private moment that Ellen and Chris get to look back on as truly their own.
Are Any Other Grey's Anatomy Stars Married?
Finding that special someone can be difficult enough as an average Joe, but throw fame and fortune into the mix and it can become nearly impossible. Luckily, these Grey's Anatomy fan favorites managed to wade through the disingenuous and find their happily ever afters.
Even though James Pickens Jr. (Dr. Richard Webber) & Debbie Allen (Dr. Catherin Fox) characters' have both had previous love before finding each other, in real life, they have both been married to their respective partners for more than 35 years.
McDreamy is taken, ladies and gentlemen! Patrick Dempsey (Dr. Derek Shepherd) has been married twice and shares three children with his current wife, Jillian Fink. The pair filed for divorce at one time in their marriage but have since reconciled and remain married today.
Despite Giacomo Gianniotti (Dr. Andrew DeLuca) being mostly single in his Grey's life, Giacomo has found love with his wife Nicole Gustafson, a makeup artist.
Camilla Luddington (Dr. Jo Wilson) married fellow actor Matthew Alan in 2019. Since then, the couple has gone on to have two beautiful children, a daughter named Hayden, and a son called Lucas.