George Harrison, as a solo artist and lead guitarist of The Beatles, is definitely one of the most talented songwriters in popular music history. He co-wrote countless classic songs with the other Beatles and on his own, including "While My Guitar Gently Weeps," "Here Comes the Sun," "Something," and "My Sweet Lord."
Legendary singer-songwriter George Harrison had only one son, Dhani Harrison. He was the product of George's marriage to Olivia Trinidad Arias. The two were married in 1978 and stayed together until George died in 2001. On August 1, 1978, Dhani was born and had grown to be an accomplished musician in his own right.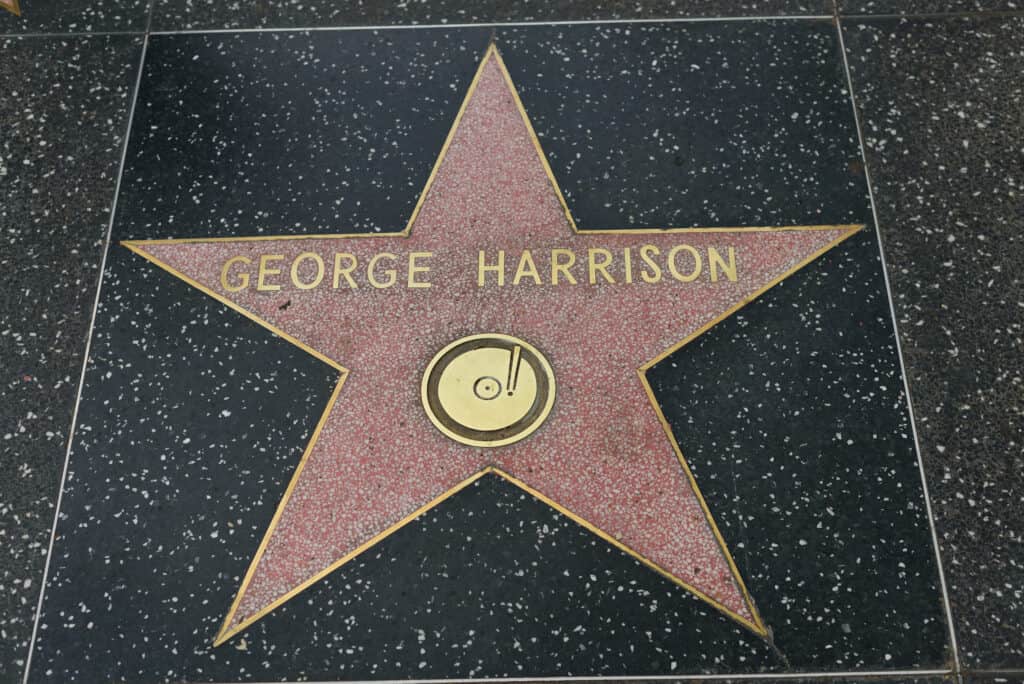 Harrison married Olivia Trinidad Arias in 1978.
George Harrison met Los Angeles-born Olivia Arias when she was working for A&M Records since 1972. The couple first met over the phone, with Arias frequently getting on calls with Harrison, as part of her job in the marketing department. They finally met in person by 1974, starting a loving union that endured until Harrison's death. The couple tied the knot in a private ceremony four years after.
George was previously married to Pattie Boyd from 1966 until their separation in 1974. According to Pattie Boyd, infidelities and substance abuse contributed to the failure of the marriage. The couple divorced in 1977 and had no children together.
They had one son, Dhani Harrison, who was born on August 1, 1978.
In August 1978, one month before their wedding, George and Olivia welcomed their only child, son Dhani. The boy's name is a play on the sixth and seventh notes of the Indian music scale (dha, ni). It was not a surprise as his father had been deeply influenced by Hinduism and Indian culture since the mid-60s, and it showed throughout Harrison's body of work and personal life. Dhani grew up in his father's estate, Friar Park, a neo-Gothic mansion in Henley-on-Thames.
The apple does not fall far from the tree.
Dhani is very much a musician like his dad. He has played with the Traveling Wilburys and has been in bands like Fistful of Mercy and thenewno2. He also started his own record label, H.O.T. (Henley-on-Thames) Records, and has composed music scores for movies, documentaries, and TV shows as well.
In addition to recording with his father, Dhani has worked with several other notable artists. He performed with the likes of Prince and Tom Petty, and toured around North America for Jeff Lynne's ELO in 2019.
He is dedicated to his father's legacy.
Although Dhani has made his own career as an established musician, George Harrison's only son stays dedicated to the legacy that his father left. In 2004, three years after his father's passing, Dhani joined other music legends living at the time to perform "While My Guitar Gently Weeps" at George Harrison's induction into the Rock and Roll Hall of Fame. He produced an album and a documentary based on the sold-out tribute concert titled George Fest. The concert was held in Los Angeles in 2014, while the ensuing live concert album and DVD were released two years after.
"Brainwashed" – a father-son collab.
George Harrison was unable to finish working on his last album titled "Brainwashed" due to his battle with cancer and eventual passing in November 2001. He was, however, able to leave his son Dhani and trusted friend Jeff Lynne a guide on how to bring the project to completion. The three musicians have been collaborating on the album for a couple of years by then, with father and son exchanging ideas on different aspects of the project.
After a few months from Harrison's death, son Dhani and Jeff Lynne returned to finish the album. It was released posthumously in 2002, almost a year from the ex-Beatle's death. It went on to win a Grammy award for "Marwa Blues," which bagged Best Pop Instrumental Performance in 2004.
The "Quiet Beatle's" legacy lives on.
…thanks to his only son, no less. Dhani the doting son and gifted musician executive produced the 50th-anniversary reissue of his father's tour de force album, "All Things Must Pass." A collaboration between good friends and family, the reissue features a renewed vibrance to the musical masterpiece thanks to the work of Paul Hicks, noted sound engineer, on the project. Olivia Harrison contributes as well, adding a visual element with a curated scrapbook to complete the experience.