Ian Somerhalder and Nina Dobrev were both young stars of The Vampire Diaries which aired from 2010 to 2017. Ian played Damon Salvatore while Nina played Elena Gilbert. They captured the hearts of many by being one of the couples who fell in love while working closely together as a part of the cast. Did they date?
Ian Somerhalder and Nina Dobrev dated. Their relationship lasted for three years, starting in 2010.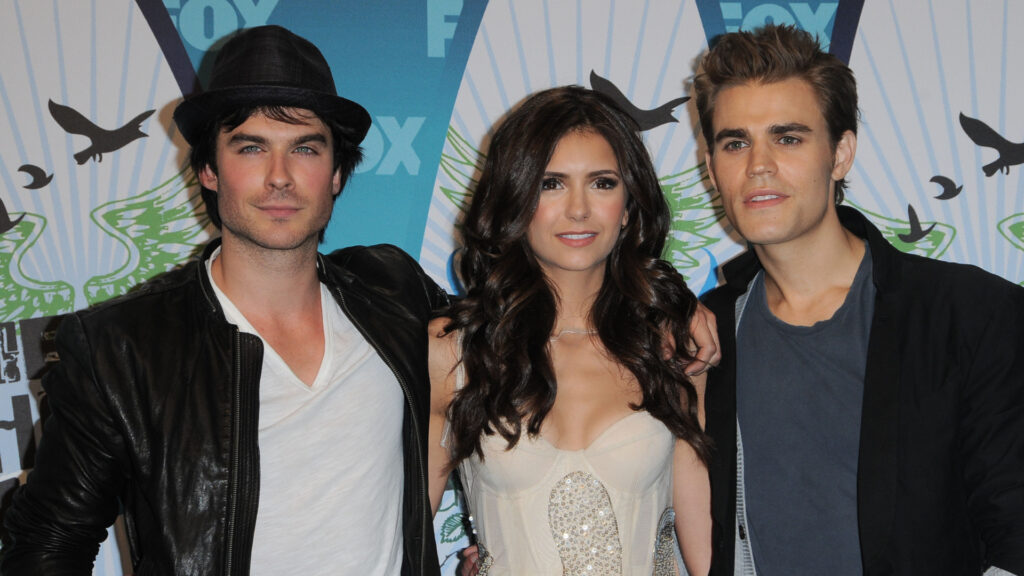 Here's more information on their relationship.
Did Ian Somerhalder and Nina Dobrev deny dating?
The Vampire Diaries stars tried hard to keep their relationship private. But, when the internet exists, nothing stays hidden forever. So when fans spotted them on a romantic date, they were quick to share the news.
Despite the glaring evidence, Ian and Nina kept denying their relationship. However, they eventually gave in to the clamor and admitted to the relationship.
When did Nina Dobrev and Ian Somerhalder date?
Ian and Nina first met on the set of Vampire Diaries in 2008. The young couple dated from 2010 to 2013, meaning they dated for three years before calling it quits.
Despite the breakup, they continued to work together as co-stars as they didn't allow it to affect their performance in the series. Although it broke the hearts of fans as they hoped for a happy ending, the relationship had to end, and the exes eventually moved on.
Did Ian Somerhalder propose to Nina Dobrev?
Rumors were swirling in 2012 that Ian proposed to Nina, but the couple came out openly to debunk it. Nina mentioned a few times during interviews that Ian didn't propose to her and the rumors were not true.
She said that she wanted to accomplish a lot before settling down. Plus, if she was engaged, wouldn't she flaunt her ring?
Did Ian Somerhalder and Nina Dobrev marry?
Ian and Nina spent enough time with each other as they were more than just coworkers – they traveled worldwide, and many people felt their connection and envied their chemistry. However, the news everyone was expecting to hear didn't come, and instead of getting married, they fell off.
Ian and Nina never got married. They were deeply in love, and although everyone felt their relationship would lead to marriage, it didn't.
Did Ian Somerhalder and Nina Dobrev have kids?
It's no secret that Ian and Nina were involved in a relationship during the years of Vampire Diaries. Having dated for three years while working closely together in the hit series, Ian Somerhalder and Nina Dobrev did not have kids together.
Is Ian Somerhalder married?
Ian had a hard time recovering from the breakup with Nina, but as soon as he was ready, he decided to move on and got married to actress Nikki Reed, who also played a role in the Vampire Diaries.
The series was not the only vampire-themed project Nikki Reed was part of. She played Rosalie Hale in The Twilight Saga, no less.
They got engaged in January 2015 and tied the knot in April of the same year. Many people felt the relationship would not last long since it looked like the couple was moving too fast (it took them just six months to take their relationship to the next phase). However, they proved to everyone that they're still standing strong, and they are happily married with one child.
Is Nina Dobrev married?
Nina Dobrev is not married, but she's happily dating Olympic snowboarder Shaun White. They started dating in 2020, and they've also proven to the world that unexpected duos make the best couples.
After breaking up with Ian Somerhalder, Nina Dobrev was rumored to be dating Shaun White, a professional snowboarder. Well, she didn't confirm the information immediately. But she was spotted with him on different occasions before she made it official to the public.
Why did Ian Somerhalder and Nina Dobrev break up?
The real reason for the breakup is not officially known, as both said nothing about it, but one obvious cause of the split is that they both had different ambitions and goals.
In 2013, Ian was already 34, which is the typical age one feels ready to settle down. On the other hand, Nina was just 24 then, and if she wasn't ready to go down that road with him just yet, it's not hard to see why.
Conclusion
Ian Somerhalder and Nina Dobrev built their relationship out of friendship, and even if it lasted for just three years, it impacted both lives, which is why they decided to remain friends.