He may be a world-famous actor, director, activist, and business owner, but above all else, Ian Somerhalder is a father and husband. But who is Ian Somerhalder married to?
Ian Somerhalder is married to Nikki Reed, an American actress who he had been friends with for almost a decade before marrying. The pair got married in April of 2015, after dating for just six months and being engaged for three short months.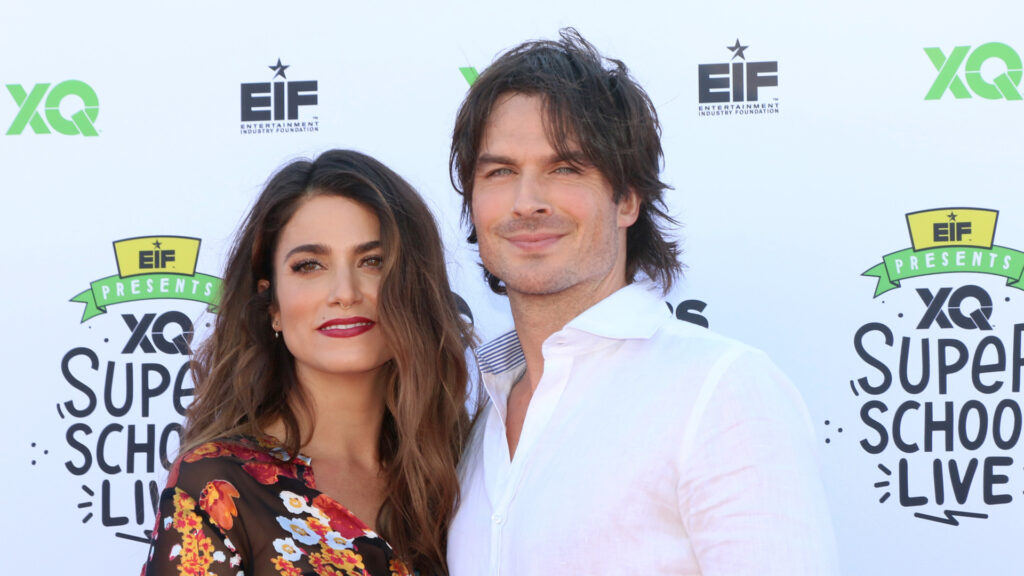 Whether you're already a firm fan of 'Somereed,' or are shocked by this news, this article is for you. In it, you'll discover exactly who Nikki Reed is, how the pair met, and what her relationship with Ian Somerhalder is like today.
Who Is Ian Somerhalder's Wife?
Ian is married to an American actress by the name of Nikki Reed. Like Ian, Nikki is known for playing the role of a vampire, which is a fact that fans of the couple cannot get enough of. Nikki played Rosalie Hale in 'The Twilight Saga,' while her husband played Damon Salvatore in 'The Vampire Diaries.'
On 17 May 1988, beautician Cheryl Houston and production designer Seth Reed welcomed a baby girl to the world. They named her Nicole but called her Nikki. Nikki was born and raised in West Los Angeles, California, and she had a complicated upbringing.
When she was just thirteen, Nikki co-wrote and starred in the aptly titled film 'Thirteen', alongside Rachel Evan Wood and Holly Hunter. The next year, she moved out of her mother's house and lived on her own.
She was a student at Alexander Hamilton High School (the same school that David Cassidy, Shia LaBeouf, Rita Hayworth, and Stephen Baker went to) but had to drop out after the success of 'Thirteen' made it difficult for her.
'Thirteen' aside, Nikki starred in 'Lords of Dogtown,' 'Man of God,' 'American Gun,' 'Mini's First Time,' 'Cherry 'Crush', before starring in 'The Twilight Saga'. Though she was already making a name for herself in the entertainment industry, her role in 'The Twilight Saga' propelled her to international stardom overnight.
Ian Somerhalder and Nikki Reed's Relationship
Supposedly introduced by their respective exes, Ian and Nikki had been friends for nine years before they started dating in July of 2014. According to Goal Cast, their first date was simple: Nikki visited Ian at his home in Atlanta for a cup of tea.
In their first month of dating, the pair moved in together and adopted a horse that they called Eagle. By January of 2015, six months after they started dating, the pair were engaged, and before 'Somereed' was even cemented as 'a thing,' they tied the knot.
Though their nuptials were labeled as 'whirlwind', those who were closest to the couple were hardly surprised by the pace at which their relationship progressed. A source told US Magazine, "It may seem quick, but they knew it was right. They believe in the same things."
Another source added, that they were "madly in love" and that "They were friends before, the groundwork had been laid."
Ian Somerhalder and Nikki Reed's Wedding
The happy couple said 'I do' in a private ceremony on 26 April 2015, in a surprise outdoor wedding in Topanga Canyon. The wedding wasn't just a surprise to the media, but to the guests who attended!
The guests, who were comprised of Ian and Nikki's closest friends (including Paul Wesley and Lea Michele) and family members, were under the impression that they were attending a housewarming celebration when they were in fact shuttled off to the Canyon to witness the duo tie the knot.
Nikki wore a custom Claire Pettibo dress and Ian wore a white Nedo Bellucci suit. The color scheme was a mixture of white, green, and pale pink. In the tradition of 'something old, something new, something borrowed, something blue,' the unconventional couple had a blues band at their reception.
Ian, who is now the co-owner of 'Brothers Bond Bourbon,' and Nikki concocted special signature cocktails for their guests to sip on. While Nikki opted for a cocktail containing pear vodka, St. Germaine, and a hint of citrus, Ian chose a margarita made with spicy hibiscus.